One thing (of the many things) I love about French cuisine is the little mixtures of herbs and spices that, together, have become vastly important and common as one ingredient.  Herbes de Provence.  Fines herbes.  Quatre épices.  Blends that are ubiquitous in France, and synonymous with certain ingredients or preparations.
And the great thing is, quatre épices, a simple blend of ground ginger, nutmeg, cloves, and black pepper, is like a savory version of holiday spice.  Put it in anything, and it instantly assumes a kind of medieval banquet air that reminds you of gingerbread or mulled wine—but savory.
For this side, I do a simple glazed carrot.  It's very traditional in France to cook your carrots this way: with butter and water in a pan, letting the steam evaporate as it softens the carrots, and then letting the butter envelope them.  I simply switch up plain sliced carrots for the charming mini Chantenary variety, and add a pinch of quatre épices to spice things up.  They play so well with the natural sweetness of the carrots—it's perfect.
Excerpted from my weekly column French in a Flash on Serious Eats.  Bon app!
Quatre Épices Glazed Carrots
serves 4 to 6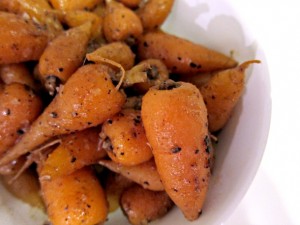 INGREDIENTS
1 pound baby Chantenay carrots
1 tablespoon butter
1/8 teaspoon each ground ginger, cloves, nutmeg, and black pepper
1/8 teaspoon granulated sugar
1/4 cup water
Sea salt
PROCEDURE
Place all ingredients in a medium-sized nonstick skillet over medium-low heat.  Cover and cook, stirring occasionally, until the carrots are tender, the water evaporated, and the spiced glaze thick: about 15 minutes.  Serve right away.
print this recipe