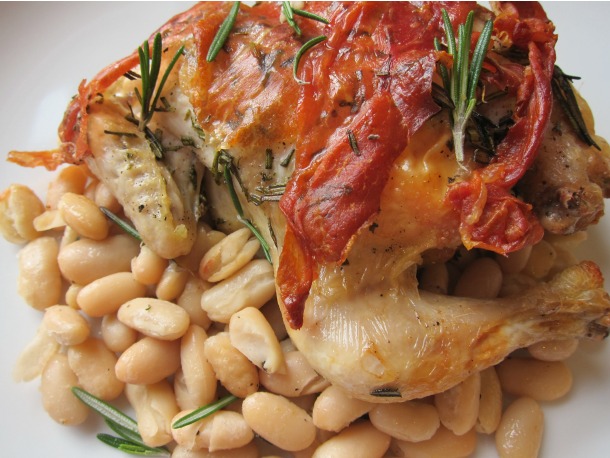 This meal is a show-stopper. An elegant and expeditious way to serve a roasted bird for a small crowd at the holidays. Although, you could make as many of these as you needed to, to serve a crowd.
Buy a couple of poussin (which are essentially what we call Cornish game hens in the United States), and, using some strong kitchen shears, cut out their backbones. Now, you have a flat bird that you rub with olive oil, salt, pepper, fresh garlic and rosemary needles. As the crowning glory, wrap the birds in prosciutto di Parma. As the birds roast, the skin bronzes, the garlic and rosemary perfumes the meat, and the prosciutto crisps to a salty shell. They're cooked in under 25 minutes.
All that's left to do is stir creamy cannellini beans into the juices, and let them roast for five minutes while the chickens relax on the counter. Then, you have a hearty but charming Italian roast dinner. Serve a mound of the garlicky beans, and top with the gorgeous poussin.
As I made this, Mr. English kept coming into the kitchen, sniffing around the oven, demanding "what's in there?!" He wasn't disappointed.
From my weekly column Dinner for Two on Serious Eats.  Check it out every Friday!
Poussins with Prosciutto and Rosemary with White Beans
serves 2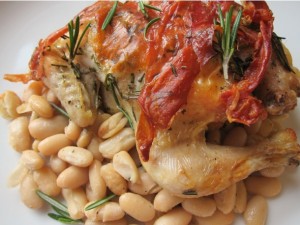 INGREDIENTS
3 teaspoons olive oil
2 poussins, 8 ounces each, butterflied
Salt and pepper
2 tablespoons chopped fresh rosemary
2 cloves minced garlic
4 slices (around 1.5 ounces) sliced prosciutto di Parma
2 15-ounce cans cannellini beans, drained and rinsed
PROCEDURE
Preheat the oven to 450 degrees F.  Drizzle a rectangular baking dish with 1 teaspoon of olive oil.  Drizzle each of the poussins, front and back, with 1 teaspoon of olive oil each.  Season with salt and pepper, and plaster with the chopped rosemary and garlic.  Lay breast-side-up in a single layer in the baking dish, and drape the prosciutto over the top of the poussins.  Bake for 25 minutes.
Take the poussins out of the pan, and replace with the beans.  Toss in the olive oil that is already in the pan, season with salt and pepper, and return to the oven for 5 minutes.  Serve with the poussins.
print this recipe