Salmon is my sit-down-and-be-good food.  The I-ate-too-many-latkes antidote.  And I've been doing a zillion variations on this theme this winter: a slab of salmon slow-roasted with olive oil on a bed of herbs.  Traditionally, I do a simple pairing of rosemary and thyme with a good cascade of olive oil.  But this is a lighter and brighter version, roasted over thyme and lemon.  Usually, I roast fish at 400 to 450 degrees–hot and fast.  But with this, I let it go longer at 350–the edges get crisp.  The cooking is more gentle.  The fish soaks up the flavor of the herbs and citrus.  Everyone is just more relaxed.
I serve it hot, for dinner, or room temp, for brunch, with a throw-together sauce of crème fraîche, thyme leaves, and three variations on the lemon theme: lemon zest, lemon juice, and minced preserved lemon (a gift from my Moroccan grandmother, who makes them herself).  It the salmon is hot, the cream melts and pools in the cracks in the cooked fish.  If the salmon is room temperature, it's like a dipping sauce.  Either way, this feels light and lean, and it pays due respect to the citrus season.
Salmon with Thyme and Three-Lemon Crème Fraîche
serves 3 to 4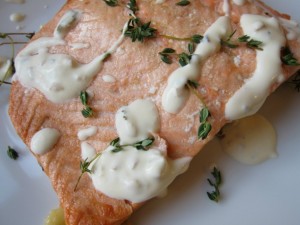 INGREDIENTS
1 bunch fresh thyme, plus 2 tablespoons thyme leaves
1/2 lemon, thinly sliced, plus the juice and zest of the other half
1 pound salmon, boneless and skinless
1 tablespoon olive oil
Salt and pepper
2 tablespoons finely chopped preserved lemon
1/2 cup crème fraîche
PROCEDURE
Preheat the oven to 350 degrees F.  Make a bed of the bunch of thyme and the sliced lemon.  Season the salmon and the thyme and lemon bed with the olive oil, and season the salmon with salt and pepper.  Place the salmon on the lemon and thyme, and roast for 25 minutes.
Stir together the remaining thyme, lemon, preserved lemon, and crème fraîche with the salt and pepper.  Serve the salmon either hot or at room temperature with the lemon sauce.
print this recipe