I think it might have been a chemical reaction triggered by my thirtieth birthday a few weeks ago, but a little nagging voice in my head has been whispering to me: "eat healthy."
I could stand to take the advice. Between rushed office lunches and the inevitable chocolate craving at four in the afternoon, dinner at home with Mr. English actually becomes the time where we both reset and try to behave like the responsible adults we're pretending to be.
The cakes are awesome for this purpose. They're kind of like crab cakes, but a Tex-Mex bean version that are low in fat and brimming with flavor. And the best part is, you can whip the whole thing together in five minutes in your food processor.
Just chuck cilantro, garlic, green onion, jalapeno, and bell pepper into the machine, and blitz it to a rubble. Then add smoky hot chipotle, black and kidney beans, and a bit of flour to hold it all together. You can use an ice cream scoop to mound the cakes onto a lined baking sheet, drizzle lightly with olive oil, and let them bake up in a super hot oven. They come out soft and cream on the inside, and so crisp on the outside you'd swear they'd been fried.
I serve them with a simple slaw of cabbage, cilantro, jalapeno, green onion, and lime. And I char some avocado for a soft, smoky accent on top.
Spicy, Smoky Bean Cakes with Limey Slaw
serves 2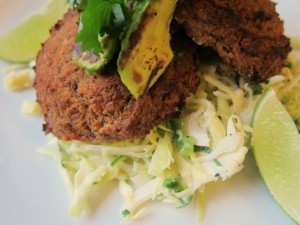 INGREDIENTS
3 cups shredded cabbage
1/4 cup cilantro, divided
5 scallions, divided
1 jalapeno, seeded
3 limes, divided
1 tablespoon mayonnaise
2 cloves garlic
1/2 red bell pepper
1 15-ounce can of kidney beans or pinto beans, drained and rinsed
1 15-ounce can of black beans, drained and rinsed
2-3 tablespoons chipotle in adobo
1/2 cup flour
Olive oil, for drizzling
1 avocado (optional)
Crumbled mature cheddar, Monterey Jack, or queso fresco (optional)
PROCEDURE
Preheat the oven to 475 degrees F.  In large bowl, stir together the cabbage; half the cilantro, chopped; half the scallions, finely sliced; 1/2 the jalapeno, finely sliced; the juice and zest of 2 limes; 1 tablespoon mayonnaise; and salt to taste.  Set aside.
In the food processor, blitz together the remaining cilantro, scallions, jalapeno, and bell pepper until it forms a rubble.  Add in the juice and zest of the remaining lime, and salt.  Pulse in the beans and adobo until you have a homogenous mixture.  Add the flour, and pulse to combine.
Line a rimmed baking sheet with parchment, and lightly drizzle the bottom with olive oil.  Place 6 equal patties on the baking sheet, and lightly flatten.  Drizzle lightly with olive oil.  Bake for 25 minutes.  Serve with the slaw, and some sliced ripe avocado and/or crumbled cheese and cilantro over the top.
print this recipe