I love the flavor of pasta, but sometimes, I don't want to eat pasta. Do you know what I mean? I get pasta guilt.
I've fallen hard for this dish. A super fresh puttanesca sauce, made from throwing olive oil, cherry tomatoes, olives, garlic, a fresh chili, capers, oregano, and lemon zest together, and used to poach a ton of giant, tender, meaty shrimp (I always keep jumbo peeled and deveined shrimp in my freezer for just such an occasion as this). The sauce is spicy and bright, and all those salty classic puttanesca ingredients go so naturally with seafood. I grill up some rustic bread, rub it with garlic, and dig in. Another super easy, slightly different one-pot wonder for you and your beloved after work this week.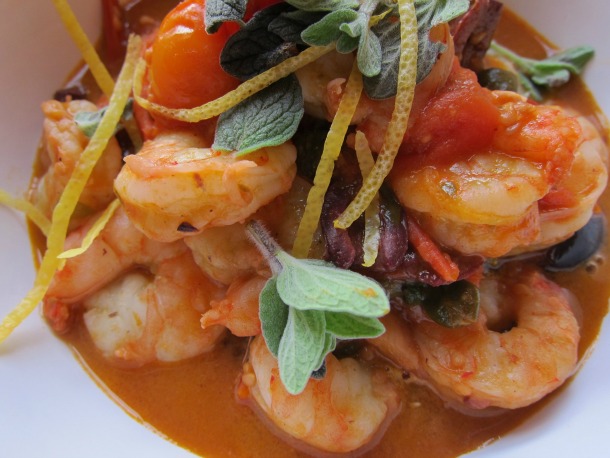 From my weekly column Dinner for Two on Serious Eats.  Check it out every Friday!
Chunky Cherry Tomato Shrimp Puttanesca
serves 2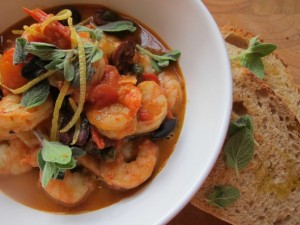 INGREDIENTS
1 tablespoon olive oil
3 cloves garlic, sliced or chopped
1 Fresno chili, seeded and sliced or chopped
1 tablespoon capers
35 pitted Kalamata olives, halved
1 teaspoon anchovy paste
1 pound cherry tomatoes
1 pound large peeled and deveined shrimp
Salt and pepper
1 tablespoon fresh oregano
The zest of half a lemon
PROCEDURE
Heat the olive oil in a large sauté pan.  Add the garlic and chilies, and sauté over medium heat just until fragrant.  Add the capers, olives, and anchovy paste, and stir around.  Add the tomatoes, clamp the lid on, and simmer for 10 minutes.  Use a potato smasher to smush the tomatoes.  Add the shrimp, season with salt and pepper, and cook until opaque—about 5 to 8 minutes.  Toss in the oregano and lemon zest, and serve with grilled bread (rub with garlic for extra kick!).
print this recipe