Every time Mr. English and I are in Paris, we never miss an opportunity to eat at Le Comptoir, our favorite restaurant, just down the street from where we used to live when I was in cooking school. It's become a lot more popular than it was back then, but the food remains, in my opinion, the best in Paris. Their scallops with endives is one of the best dishes on a menu packed with best dishes.
The dish is unpretentious, but unexpected: five giant sea scallops from Brittany, still on their enormous half shells, tucked under a blanket of soft, roasted endives, anointed with bubbling sweet butter. The sweetness of the scallops and the butter is gently counterbalanced by the bitterness of the soft endives. Breathtaking! And it only takes three ingredients and about 20 minutes. Paris, je t'aime!
Excerpted from my weekly column French in a Flash on Serious Eats.  Bon app!
Scallops with Butter and Endives
serves 2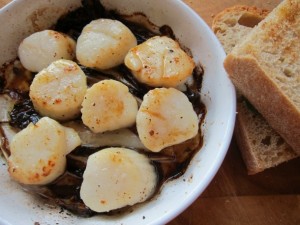 INGREDIENTS
8 to 9 ounces sea scallops
1 endive
1 tablespoon unsalted butter
Salt and pepper
PROCEDURE
Preheat the oven to 450 degrees F.  Line two gratin dishes with 8 endive leaves each.  Top with 1/2 tablespoon butter each.  Place the gratin dishes on a baking sheet and roast for 10 minutes.  Top with scallops, season with salt and pepper, and turn the scallops in the butter now melted in the bottom of each dish.  Bake about 8 minutes, until the scallops are cooked.  Served with good hearty bread.
print this recipe