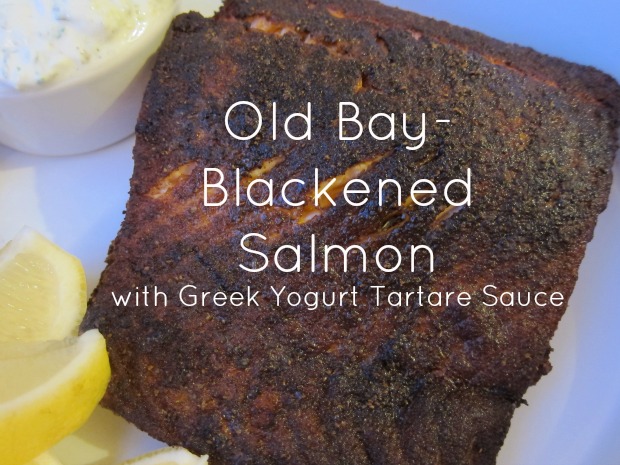 I got home late last night, craving something healthy, hearty, and full of Americana.  I brought one of those little tin tubs of Old Bay back on my last flight, thinking I might conjure up some homemade fish sticks or something like that.  But last night, confronted with a slab of fresh British salmon, I decided to go a different route.
I slathered the Old Bay on the salmon, and blackened it in a pan, finishing it off simply in the oven.  I have a really soft spot for the single 'side' of salmon that you divvy up around the table.  This wasn't quite a side, but for me and Mr. English, it had the same effect.  And to go with it, a Greek yogurt tartare sauce stuffed with cornichons, green onions, parsley, and lemon.
I love that smell of Old Bay–nothing quite like it, is there, kind of sweet, fresh, briny, and savory–charring in the pan.  I love the bite and coolness of the yogurt tartare (I actually exclaimed to Mr. English that I may never go back to mayo–we'll if that lasts, but this was a great sauce).  And I served with with Bon Appetit's Snap Pea and Cabbage Slaw.
It was the perfect dinner.  Bright, filling, and I think pretty healthy!
Old-Bay Blacked Salmon with Greek Yogurt Tartare Sauce
serves 2 to 3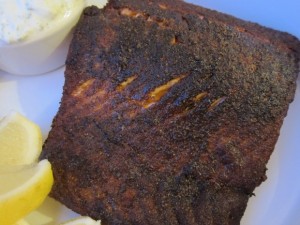 INGREDIENTS
Old Bay-Blackened Salmon
One 1-pound piece of skin-on, boneless salmon fillet
2 tablespoons Old Bay seasoning
1 tablespoons olive or canola oil
Greek Yogurt Tartare Sauce
8 cornichons
2 scallions, roughly chopped
1 tablespoon flat-leaf parsley
The juice from 1/4 lemon
One 7-ounce container of 2% Greek yogurt
S&P
PROCEDURE
Preheat the oven to 400 degrees F.  Rub the salmon all over with the Old Bay seasoning.  Preheat a nonstick skillet over medium-high heat and quickly add the oil.  Add the salmon, flesh-side-down, and sear for 5 minutes.  Carefully flip over, and put in the oven for 10 minutes for salmon that is cooked through.
For the yogurt tartare sauce, blitz the cornichons, scallions, and parsley in the food process until roughly chopped.  Add the lemon juice, yogurt, salt, and pepper, and blitz until combined but still just a bit chunky.  Serve together with lemon wedges!
print this recipe