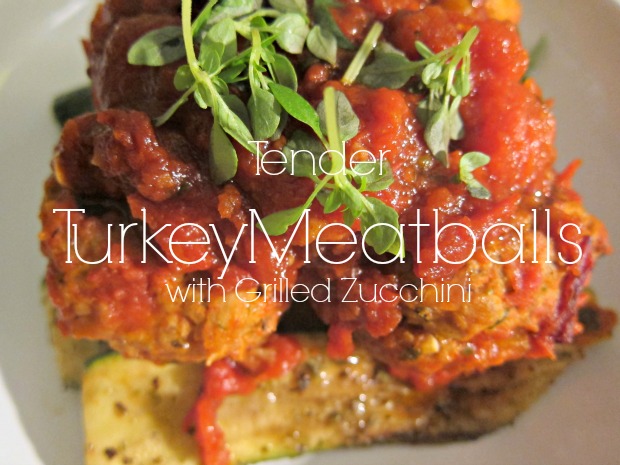 I have to say, I am PARTICULARLY proud of this recipe.  And I feel like it is very Summer-Sunday-Night-Supper.  I only wished it weren't so filling, so I could have eaten more of it.
Lately, I've really been on the pescatarian train.  But sometimes I just want to say, to hell with it, I want me some Mulberry Street spaghetti and meatballs.  I feel like this is an excellent compromise (Mr. English is probably scoffing that I'm even attempting the word–I'm very all or nothing!).  A bed of thick slabs of grilled zucchini, marinated in olive oil, herbs, and garlic, piled high with bold, juicy, and tender meatballs, stewed in really good tomato sauce (I buy the best jarred one I can find to keep this in my weeknight repertoire).  I made this around 9:30 the other night, and we crashed on the couch with big bowls of steaming meatballs, watching TV.  It was epically wonderful.  The meatballs, aided by their breadcrumbs, and stuffed full of meaty flavor with the Worcestershire and ketchup and herbs and garlic, were fork-fall-apart perfect.  And the zucchini was a nice fresh summer counterpoint, instead of a bowl of spaghetti.  I was so proud!
I was only disappointed that I couldn't fit the last meatball into my stomach.  I hate to waste something so good.
Tender Turkey Meatballs with Grilled Zucchini
serves 2 to 3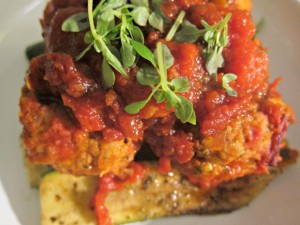 Turkey Meatballs
INGREDIENTS
1 pound ground dark meat turkey
3 cloves garlic, finely chopped
1/2 yellow onion, finely chopped
1/2 cup fresh breadcrumbs
1/2 tablespoon Worcestershire sauce
1 tablespoon tomato paste
2 tablespoons ketchup
1 tablespoon olive oil
1 tablespoon herbes de Provence
2 tablespoons water
S&P
1 24-ounce jar of tomato sauce
Fresh globe basil leaves for garnish
PROCEDURE
Preheat the oven to 425 degrees F.  In a large bowl, mix together all ingredients until just combined.  Form mixture into 8 meatballs, and place on a parchment-lined rimmed baking sheet.  Bake for 15 minutes.  Transfer to a sauté pan with the tomato sauce, and simmer, covered for 25 minutes, adding water if the sauce becomes too thick.  Serve over the zucchini, topped with fresh basil.  (I wouldn't complain if you wanted to shave over some good Parm or Pecorino either!)
Grilled Zucchini
INGREDIENTS
3 medium zucchini
2 tablespoons olive oil
1 tablespoons herbes de Provence
1 clove of garlic, grated
S&P
PROCEDURE
Slice each zucchini into 4 long planks.  Toss with olive oil, herbes de Provence, garlic, and S&P.  Place on a hot grill pan, and sear 5 minutes on each side.
print this recipe