As some of the regular readers may have noticed, I haven't been here for a while.  Because it's been a while, and because it's certainly not permanent, it's time I told you why.
In January, fresh back from Marrakech and ready to report all the amazing eating I had done there, I came down with a very bad gastrointestinal infection.  Not the best thing to develop when you're a food writer, especially if it escalates, which it did.  I developed something called POTS, and what that meant, simply put, is that every time I got up—to stretch, to get a glass of water, to walk to the bathroom—my heart rate would triple and I would collapse.  Not fun.  Terrifying, in fact.
After a barrage of tests that took several months, I was finally diagnosed, and able to start my recovery.  The great thing about my POTS is that it can self-correct and eventually go away, and after nearly six months, I am finally getting close to back to myself.  But I'll never forget when I first got out of the hospital, and came home wanting to make dinner for Mr. English and my mother.  The Ditalani with Chickpeas and Garlic and Rosemary Oil in Bon Appetit looked to die for, but after ten minutes of standing by the stove, I realized I couldn't go on.  It would be months before I could eat close to normally, and even longer before I could boil a pot of water.
As someone who had always lived to eat, I was suddenly put in the position of having to eat to live.  The treatment for POTS is oral—salt and water.  I was in the position of having to force myself to keep down miso soup and yogurt, begging my mom to just let me not eat today.  Was that really me?  I had never before been in the position to really regard food as a lifeline, rather than as a hobby—indulgent and pleasurable.
Don't worry, this is not going to turn into an eat to live website, full of seaweed crackers (although, those are kind of good…).  But I have started looking at food and my body differently.  What once was should, is now must.  I now have to drink three liters of water a day.  I now have to exercise every day.   And I now know what it feels like to be truly sick—the feel the separation between your core you, and your body, when they no longer work together.  It just made me look at food and the body and health differently, and I'm really enjoying the new perspective of loving food for what it is: delicious, wholesome, wonderful fuel, as I rediscover what it is to really eat.
While I have every confidence that I and this site will get back to where we were in 2012, for the coming weeks and months, I will be keeping things a bit more simple, and maybe, you'll notice, a bit more wholesome.  But don't worry—I'm still me, and if it's not good, we're not eating it.
I hope you'll love the food that I put together, and I hope we can get back to sharing that and this place.  Thank you to all the readers who emailed asking where I was.  I'm sorry it took me so long to tell you, but I didn't want to burden this happy place with anything less than a happy story.  Which this is.
Santé!  To health, happiness, and tomorrows full of terrific meals.
To kick it off, check out this recipe I've been making–a healthy riff on the classic pasta with pesto, potatoes, and green beans.  It's a wholegrain fusilli tossed with an organic arugula and basil pesto with roasted haricots verts.  It's delish, and cinch to throw together at night.  Leftovers make a great pasta salad for lunch.  Bon app!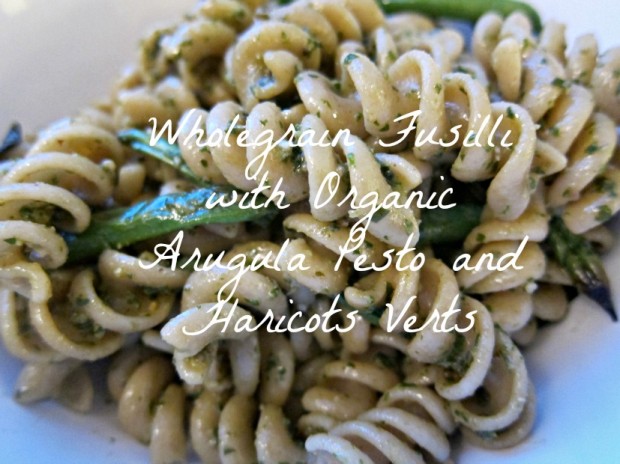 Wholegrain Fusilli with Organic Arugula Pesto and Haricots Verts
serves 2 to 4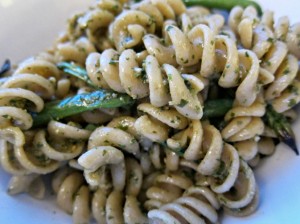 INGREDIENTS
1 pound whole grain fusilli
1/2 pound trimmed haricots verts, halved crosswise
1 clove garlic
2 cups organic baby arugula
1 cup fresh basil leaves
1/4 cup pine nuts, chopped walnuts, or chopped almonds
1/4 cup extra virgin olive oil, plus some extra
S&P
PROCEDURE
Preheat the oven to 400 degrees F.  Toss the haricots verts with a little bit of olive oil, S&P on a parchment-lined baking sheet.  Roast for the beans are tender and just starting to char–5 to 8 minutes.  Cook the pasta in a large pot of boiling salted water until al dente.  They should be done around the same time.  Reserve a cup of the cooking liquid, and drain.
Meanwhile, whiz together the garlic, arugula, basil, nuts, oil, and salt and pepper in a food processor, scraping down the sides as needed, until you have a nice smooth pesto.
Toss the pasta, the haricots verts, and the pesto together in a large bowl, adding pasta water if you need to loosen the sauce.  Eat up!
print this recipe