Wholegrain Fusilli with Organic Arugula Pesto and Haricots Verts
serves 2 to 4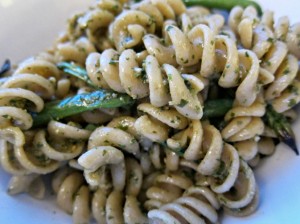 INGREDIENTS
1 pound whole grain fusilli
1/2 pound trimmed haricots verts, halved crosswise
1 clove garlic
2 cups organic baby arugula
1 cup fresh basil leaves
1/4 cup pine nuts, chopped walnuts, or chopped almonds
1/4 cup extra virgin olive oil, plus some extra
S&P
PROCEDURE
Preheat the oven to 400 degrees F.  Toss the haricots verts with a little bit of olive oil, S&P on a parchment-lined baking sheet.  Roast for the beans are tender and just starting to char–5 to 8 minutes.  Cook the pasta in a large pot of boiling salted water until al dente.  They should be done around the same time.  Reserve a cup of the cooking liquid, and drain.
Meanwhile, whiz together the garlic, arugula, basil, nuts, oil, and salt and pepper in a food processor, scraping down the sides as needed, until you have a nice smooth pesto.
Toss the pasta, the haricots verts, and the pesto together in a large bowl, adding pasta water if you need to loosen the sauce.  Eat up!