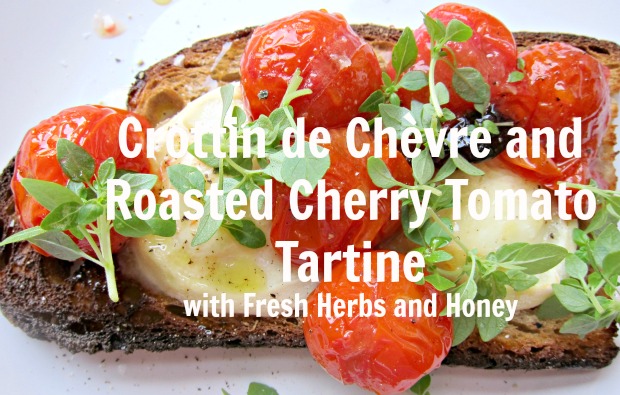 It was a surprise sunny Sunday afternoon here in London, and I wanted to make something to match.  I had that Poilâne bread I'd picked up when I passed by the shop last week.  Slightly past its peak, but perfect for a crisp tartine.  I'd recently been reunited with an old favorite I'd somehow forgotten about when I was in Paris a few weekends ago: warm salad with crottin de chèvre.  Remember when that was so popular in those California-style salads?  I had kind of gone off it, but after a reunion at Les Deux Magots, I realized I was the one missing out.
So, on Sunday, I made this little version.  I put cherry tomatoes and olive oil under the broiler until they popped and charred and wept tomato juice everywhere.  Then, I broiled the crottin into the bread, and spooned the tomatoes over the top.  Then fresh herbs: little lovely leaves of globe basil that I love getting this time of year, and fresh thyme, had I had any.  Sea salt.  Black pepper.  And, finally, a crowning drizzle on honey–thyme blossom if you've got it.
It was fresh, salty, sweet, hearty.  And the best part was the way the tomatoes burst like soft-boiled eggs, exploded their delicious freshness all over the plate.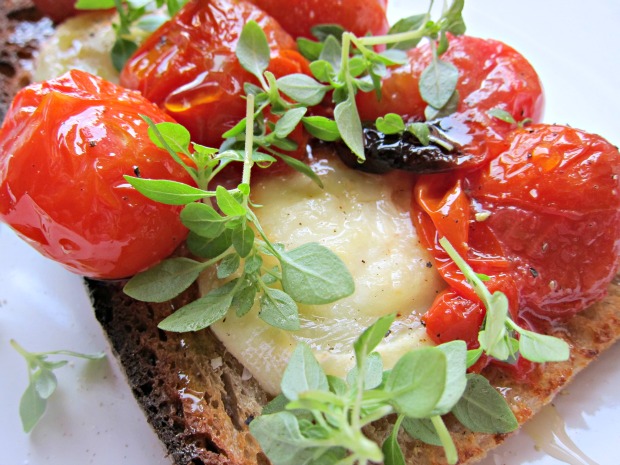 As featured in FrenchEntrée's 100 French recipes to celebrate 100 issues of FrenchEntrée magazine
Crottin de Chèvre and Roasted Cherry Tomato Tartine with Fresh Herbs and Honey
serves 2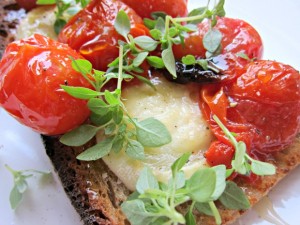 INGREDIENTS
1/2 pound cherry tomatoes
1 tablespoon olive oil
Sea salt
2 Crottins de Chèvre (about 5 ounces total)
2 large or 4 smaller slices of good pain au levain, such as Poilâne
Globe basil or thyme leaves
Freshly cracked black pepper
A drizzle of honey, preferably thyme flower!
PROCEDURE
Preheat the broiler with the oven rack in the top third of the oven.  Toss the cherry tomatoes with the olive oil and a good pinch of salt, and spread onto a parchment-lined baking sheet.  Broil for 5 to 10 minutes, until they have just begun to soften and char and burse.  Pour the tomatoes and their juice into a bowl, and set aside.
Slice each crottin into 4 discs, and arrange them on the bread.  Place the bread on a rack inside a rimmed baking sheet, and broil just until the corners of the breads toasts and the cheese softens: 2 minutes.  Place the tartines on a plate, and top with the roasted tomatoes and their juice, salt, pepper, leaves of fresh basil and / or thyme, and a very light drizzle of honey.  Devour immediately.
print this recipe