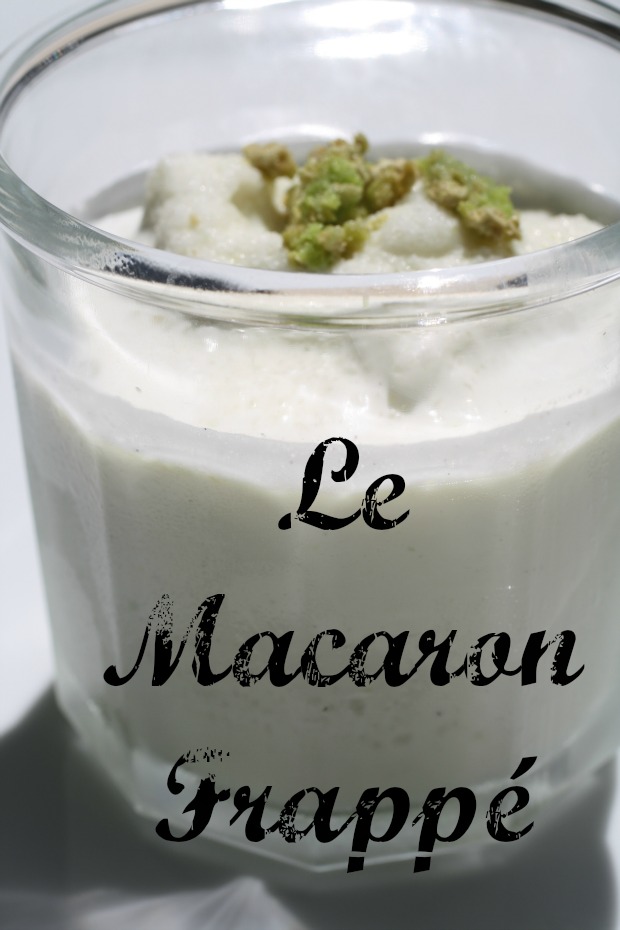 Some celebrations of Bastille Day are big and fun and fabulous, like watching the Can-Can dancers perform on the bar in the old Florent in NYC.  Some, much more low key, like playing pétanque with Mr. English and a bottle of dry Breton apple cider in the garden.  The point is, July is a very patriotic moment, and just like I dragged Mr. English to Pitt Cue at ten o'clock last Thursday to take a bite of Americana on the Fourth, so must I do at least a little something on the Quatorze.  A tip of my hat, or my béret, to my heritage.
I can't think of any better way to celebrate in the dead of summer heat (even here in London!) than with this utterly ridiculous iced extravaganza of a drink.  If you think of Bastille Day as the end of the bread-and-water regimen (although, if it was French bread and water…) of prison, then this pool of decadence couldn't shout independence any louder.  The Macaron Frappé.  I buy macarons, and whiz them up with ice cream, milk, and ice, for a thick, cold, creamy, and decidedly unique riff on a milkshake.
I usually make this with either pistachio or orange flower macarons--my two favorites.  The flavor of the macaron itself flavors the frappé very lightly, and then there are the almondy crunchy crumbs that disperse throughout.  The little pellets of perfectly diamond-hard ice.  The swish and swirl of the milk and ice cream.  It's insane!  Part granita.  Part milkshake.  Part Frappuccino.  Part Ladurée.  No French patissier could condone it.  But it is beyond bon.  I prefer it to regular milkshakes because it has more texture and interest from the macaron, but it's also lighter, cut with ice and flavored so delicately.
And, you could adapt it like maman does, and go crazy: pair coffee macarons with coffee ice cream.  Pistachio with pistachio.  Raspberry with raspberry sorbet.  For me, the vanilla lets the macaron shine through best, but who am I to dictate your frappé?  It is independence day, after all.
Happy Quatorze, mes amis!
As featured in FrenchEntrée's 100 French recipes to celebrate 100 issues of FrenchEntrée magazine
The Macaron Frappé
serves 1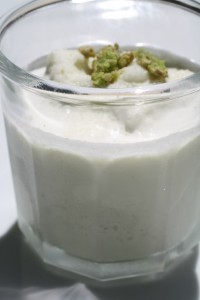 INGREDIENTS
1 macaron (about ½ ounce), in any flavor you like
1/2 cup milk
1/2 cup vanilla ice cream
1 cup of ice (about 8 ice cubes)
PROCEDURE
Put everything in the blender, and whiz until you get a slushy.  Crumble extra macaron on top as a garnish, and serve with a straw.
NOTES
If you can't find macarons, amaretto cookies make a good substitute.
You can also change up the flavors: do a coffee macaron with coffee ice cream, or pistachio with pistachio.  Or, do a raspberry macaron or lemon with vanilla ice cream.  The possibilities are endless.
print this recipe