If there is one thing I love most about my mother's cooking, it's her soups.
Creamy carrot.  Lima bean.  Barley.  Lentil.  She made, and makes, them endlessly, in huge pots that find their way into the back of the fridge, so we can spoon out bowlfuls to heat up when the fancy takes us.  They are always vegetarian.  Light soups, but hearty.  The kind of thing that you can have at nine o'clock and they will soothe away your day, but not weigh down your night.  Perfect concoctions filled with health and happiness and warmth.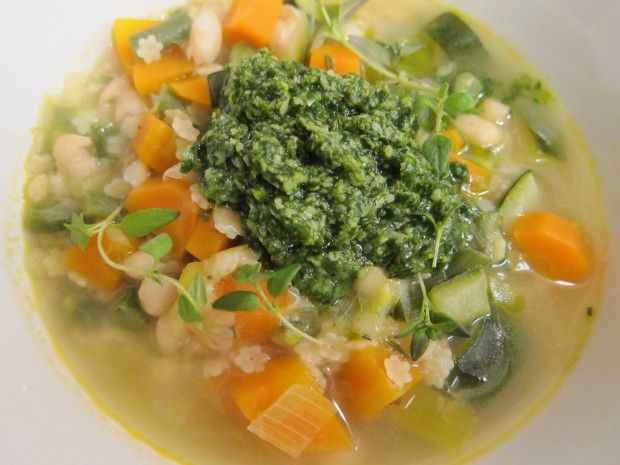 Soupe au pistou is a traditional soup in my mother's soup vein–and native, like her, to Provence.  The soup itself is a simple broth brimming with chunks of hearty vegetables–carrots, leeks, zucchini, and haricots verts.  Then, for heft, haricot beans (or use Great Northern or cannellini if you can't find the French originals), and pasta.  I use stelline, or little stars, for their bite-sizedness, and also their little wink of whimsy, which makes me smile.  The soup couldn't be easier.  Just some chopped vegetables sautéed in olive oil, stewed in vegetable broth or water, and bulked up with beans (straight from the can in my case!) and baby pasta.  It's done in 40 minutes with barely any attention.
Why it's called soupe au pistou is because it's always, always topped with a brimming spoonful (or two!) of pistou–a nutless version of pesto.  I smash up the garlic and basil–with a handful of baby spinach to keep it green and add more goodness–and stir in just slightly too much olive oil and good parmesan cheese.  The garlic starts to perfume the hot soup on contact, the basil seeps into every spoonful, and the olive oil and cheese start to melt in.
It is, very simply, the best vegetable soup.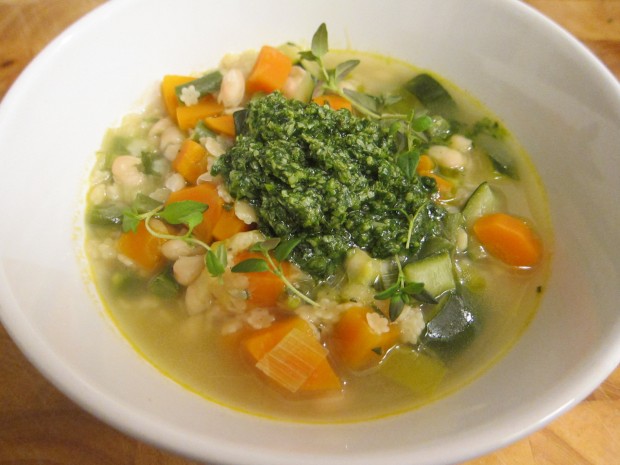 I have a big pot in the back of my fridge right now.
Soupe au Pistou with Thyme
serves 6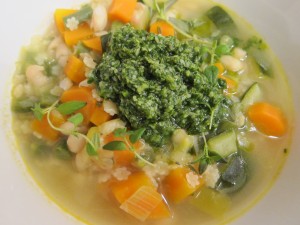 INGREDIENTS
8 tablespoons olive oil, divided
1 pound of carrots, peeled and diced
2 leeks, white and light green parts diced
1 pound zucchini, diced
1/2 pound haricots verts, trimmed and diced
Sea salt
Freshly cracked black pepper
1/8 ounce thyme on the stem (10 to 12 stems), tied with kitchen twine
1 bay leaf
8 cups vegetable broth or water, or a mixture of the two
1 14.5-ounce can haricot beans, or Great Northern or cannellini if not available, drained and rinsed
1/4 pound stelline pasta
1 clove garlic
2 cups, packed, fresh basil leaves
1 cup, packed, baby spinach leaves
1 cup finely grated Parmigiano Reggiano cheese
METHOD
In a large stockpot over medium heat, add 2 tablespoons of olive oil.  Follow with the carrots, leeks, zucchini, and haricots verts, and season with salt and pepper.  Make sure all the vegetables are chopped to roughly the same size.  Stir often for 10 minutes to sweat the vegetable, ensuring none of them brown.
Add the thyme, bay leaf, and vegetable broth, and bring the mixture to a boil over high heat.  Once the soup is bubbling, cover, and lower the heat to a simmer.  Cook for 20 minutes, and then add the haricot beans and the stelline pasta.  Raise the heat to high and boil, partially covered, stirring often, for 10 minutes.  Take out the thyme bundle and the bay leaf and discard.
While the soup is cooking, making the pistou.  Smash the garlic in the food processor, and add the basil and spinach.  Pulse to a rubble.  Season with salt and pepper and add the remaining 6 tablespoons of olive oil.  Whiz to combine, and stir into the grated Parmigiano cheese.  Set aside.
To serve, ladle the soup into a bowl, and top with a spoonful of pistou.  You can garnish with fresh thyme leaves, extra Parmigiano Reggiano, or a drizzle of olive oil if the mood strikes.
print this recipe