Soupe au Pistou with Thyme
serves 6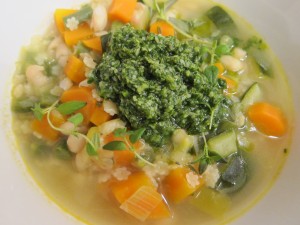 INGREDIENTS
8 tablespoons olive oil, divided
1 pound of carrots, peeled and diced
2 leeks, white and light green parts diced
1 pound zucchini, diced
1/2 pound haricots verts, trimmed and diced
Sea salt
Freshly cracked black pepper
1/8 ounce thyme on the stem (10 to 12 stems), tied with kitchen twine
1 bay leaf
8 cups vegetable broth or water, or a mixture of the two
1 14.5-ounce can haricot beans, or Great Northern or cannellini if not available, drained and rinsed
1/4 pound stelline pasta
1 clove garlic
2 cups, packed, fresh basil leaves
1 cup, packed, baby spinach leaves
1 cup finely grated Parmigiano Reggiano cheese
METHOD
In a large stockpot over medium heat, add 2 tablespoons of olive oil.  Follow with the carrots, leeks, zucchini, and haricots verts, and season with salt and pepper.  Make sure all the vegetables are chopped to roughly the same size.  Stir often for 10 minutes to sweat the vegetable, ensuring none of them brown.
Add the thyme, bay leaf, and vegetable broth, and bring the mixture to a boil over high heat.  Once the soup is bubbling, cover, and lower the heat to a simmer.  Cook for 20 minutes, and then add the haricot beans and the stelline pasta.  Raise the heat to high and boil, partially covered, stirring often, for 10 minutes.  Take out the thyme bundle and the bay leaf and discard.
While the soup is cooking, making the pistou.  Smash the garlic in the food processor, and add the basil and spinach.  Pulse to a rubble.  Season with salt and pepper and add the remaining 6 tablespoons of olive oil.  Whiz to combine, and stir into the grated Parmigiano cheese.  Set aside.
To serve, ladle the soup into a bowl, and top with a spoonful of pistou.  You can garnish with fresh thyme leaves, extra Parmigiano Reggiano, or a drizzle of olive oil if the mood strikes.
print this recipe