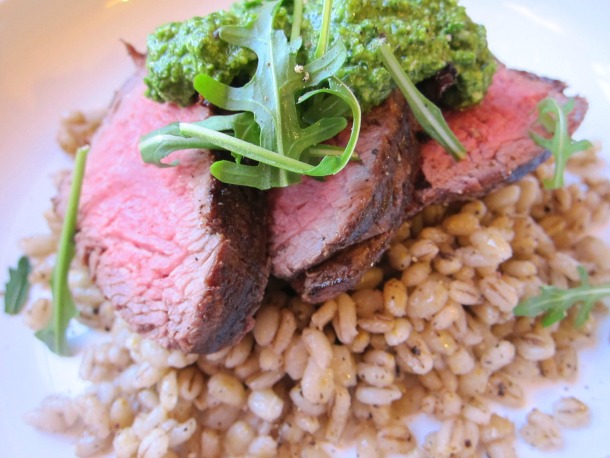 My last January recipe was very virtuous.  Over the years, I have come to understand that there are two kinds of virtue when it comes to food.  Caloric virtue, like this week's black rice salad and miso-charred mushrooms that is low in calories.  Or nutrient virtue, like this steak with barley cacao e pepe, that, while it may have some typically no-no ingredients, is high in nutrients.  As a woman who has been vegetarian, lactose-free, FODMAP-friendly, and pescatarian at one time or another, I have come to understand that for me, giving things up completely actually can be more detrimental than eating healthy, whole food.  I find that eating a huge variety of whole foods means that when it comes to the vitamin and mineral front, I very rarely am leaving anything out, or overdosing, for that matter.  To do that, lately I have been trying to make some clever substitutions, like barley in this cacio e pepe, rather than white pasta.  As my friend and nutritionist Jessie Katz calls them–"smart swaps."  Honestly, I love the barley so much in this dish, I feel like I went out collecting mushrooms and came home with a giant honest to goodness gorgeous black truffle.
The barley absolutely stole my heart, and I prefer this to the traditional pasta dish— I love this recipe.  I serve it with roasted kale.  Or caramelized fennel.  And charred artichoke hearts.  I eat it on its own.  I serve it with grilled fish.  It's addictive.  When I asked Jessie why barley is a "smart swap," I got an earful.  Barley is a source of both soluble and insoluble fiber, heart-healthy because it helps us regulate cholesterol.  It keeps us full and satiated by slowing the absorption of glucose into the bloodstream, helping us maintain stable blood sugar and energy levels.  Insoluble fiber keeps the digestive tract on track, and may help prevent colon cancer.  Fiber also provides food for the friendly gut bacteria that are so important to cultivate for good digestion and immunity.  Barley has a low glycemic index.  It's cholesterol-free and low in fat.  It's a source of niacin, thiamine, selenium, iron, magnesium, zinc, phosphorous, and copper.  AND it contains the phytochemicals and antioxidants that fight the free radicals that cause disease and aging.  It kind of almost doesn't matter that it tastes better than white pasta–chewy, al dente, nutty, fabulous–but it does.  Jess says that if you can get hulled barley, that's the kind to use, with the most health benefits.
I start with leftover cooked barley–or just cook some up on the night.  It put it into a skillet with a little bit of olive oil, instead of butter, and a lot of black pepper (the pepe) to toast. The barley starts to tan slightly in the heat of the pan, and the pepper starts to release its oils and gets even hotter and more peppery.  Then, a light sprinkling of Pecorino Romano cheese (the cacio) to finish it off with salty, nutty shower that melts into the barley.  You don't need a ton, just a hint.  And between the heat of the black pepper and the saltiness of the Pecorino, you have this perfectly seasoned, hearty, chewy, nutty barley.  It's fantastic.
I top it with simply grilled, sliced steak, which offers zinc, iron, and vitamin B12.  I start with a good filet mignon–Jessie recommends grass-fed beef because it's lower in saturated fat but higher in unsaturated Omega-3s that fight inflammation and antioxidants–and rub it with just enough olive oil to coat it, and crust it with salt and pepper.  Then on the grill to char.
And on top of that, to accentuate the pepperiness in the barley, a simple pesto made from bitter greens (watercress, baby spinach, and arugula) and olive oil.  Jessie calls a pesto made from dark greens a "superfood" pesto because it's full of vitamins A, C, and K, along with folate, iron, calcium, and magnesium.  Those nutrients, plus the antioxidants and phytochemicals found in dark greens "keep us healthy and strong, looking gorgeous, while helping to ward of disease, boost immunity, maintain bone strength, keep our energy levels up…and fight aging."  Basil just got a hard act to follow.  Plus, the walnuts and garlic have their own health benefits, including selenium, omega-3s, polyphenols (which help fight memory loss) and vitamin E (an antioxidant that is great for skin).
The pesto melts into the hot steak, and a little bit of it mixes into the peppery barley.  The whole thing, altogether, makes me very happy.
Thanks to Jessie Katz for her nutritional insight on these January dishes.  Santé, everyone.
Get a taste of this recipe on Serious Eats.
Cacio e Pepe Toasted Barley with Charred Fillet and Peppery Dark Greens Pesto
serves 2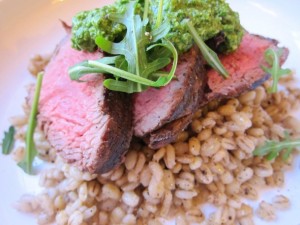 INGREDIENTS
2/3 cup barley, rinsed
Sea salt
12 ounces beef tenderloin
1 packed cup mixed bitter greens, such as watercress, spinach, and arugula
1/2 clove to 1 clove garlic
3 tablespoons chopped walnuts
2 tablespoons olive oil, plus 3 teaspoons, divided
1 tablespoon grated Pecorino Romano, plus 2 tablespoons
Freshly ground black pepper, plus 2 teaspoons
METHOD
I like to make the barley ahead of time, although that isn't necessary.  The night before, I put the barley and a good pinch of salt in a stockpot and cover with two to three inches of water.  Bring to a boil, then reduce the heat and simmer uncovered until tender, about 35 to 45 minutes.  Drain, rinse under cold water, put into a plastic bag or bowl, and refrigerate until ready to use.
When you are ready to eat, take the beef and barley out of the refrigerator, and let them rest on the counter for 10 to 15 minutes.  Preheat a cast iron grill pan over medium-high heat.
While the meat is resting, make the pesto.  Place the greens, garlic, walnuts, 2 tablespoons olive oil, and 1 tablespoon of Pecorino Romano, along with salt and a good amount of pepper, in the food processor and whiz until smooth.  Set aside.
Salt and pepper all sides of the beef generously, and rub with 1 teaspoon of olive oil—this will help ensure the meat doesn't still to the grill pan.  Char on the hot grill pan, turning four times so that all sides are charred, until desired doneness is reached.  For medium, cook 5 to 6 minutes on each of the four sides, until the internal temperature of the meat reaches 135 to 140 degrees F.  Set the meat aside on a board to rest.
While the meat is resting, make the cacio e pepe barley.  Heat 2 teaspoons of olive oil in a wide nonstick skillet over medium to medium-high heat.  Add the barley and 2 teaspoons of freshly ground black pepper, to toast.  Make sure to spread the barley out in the pan.  Stir intermittently for about 7 minutes.  Turn off the heat and scatter 2 tablespoons of Pecorino over the top.  Stir into the barley, allowing the residual heat to melt it.
To serve, divide the barley into two shallow bowls.  After the meat has rested for 10 minutes, cut into 1/2-inch slices, or thicker medallions—however you prefer.  Place on top of the barley.  Spoon one or two spoonfuls of the pesto over the meat, and top with some extra freshly cracked black pepper and / or torn arugula or watercress leaves for garnish.  Eat up!
NOTES
A great resource for the greens is actually the bagged salad aisle.  At my supermarket, they offer a bagged watercress, baby spinach, and baby arugula salad blend.  I just buy that and use it for my pesto.  The extra, I use for salad the next day, or I wilt it into wholegrain pasta.
print this recipe