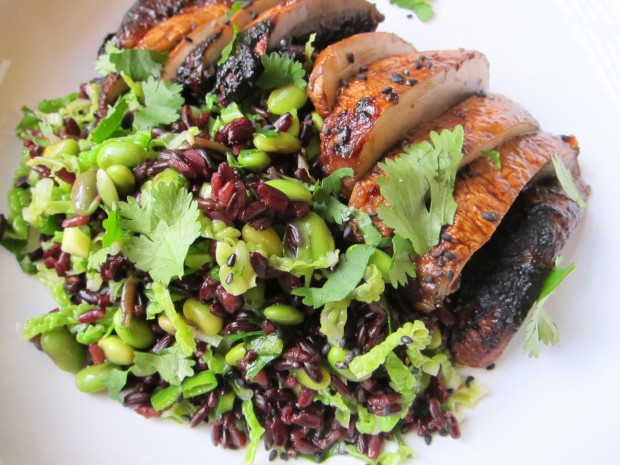 I can't help it.  I am addicted to self-improvement. At least in January, I can get away with it more easily when the rest of the world joins in. New year, new us.
I specialize in French recipes, as you know, and sometimes, those can be pretty not self-improving. I do, quite happily, fall prey to a beckoning potato gratin every now and again. But what I love about food is that not only can you take pleasure in eating, but you can also take care by eating. You can eat yourself well. I like that idea–in fact, at times, I cling to it. Those who read my posts will know that my maman taught me most of what I know about those gratins; but she also, in times of sickness, taught me about raw vegetable juices, herbal infusions, complete proteins and complex carbohydrates. In my posts this January, I will share a bit of my other obsession, food that is delicious, but devilishly healthy. I get a real smirking kick out of make something good, good for me. It feels like beating the system. To help me I've asked my good friend the fantastic New York nutritionist Jessica Katz to weigh in on some ingredients.
This dish is a fresh warm black rice salad, full of all things green, and topped with miso-charred meaty Portobello mushrooms. I first discovered black rice with Jessie about a decade ago when she took me to the Union Square restaurant republic, and I became obsessed with finding it. Thankfully, it's more readily available now.  It's nutty, both in flavor and texture, and is full of antioxidants. Whole grain black rice has more fiber, protein, vitamins, and minerals than white rice. So the salad starts with a pretty good base.
A little secret to rice, which I picked up in France, is to boil it like pasta in a big pot of salted water. To that, I add edamame beans and strips of Savoy cabbage to quickly blanch them. The latter adds vitamin C and more antioxidants. Then, to the warm salad, I add cilantro, jalapeno, lime (even a little more vitamin C!), and scallions. All low-calorie ways to add texture and flavor.  The dressing is light and simple: soy sauce, a dash of sesame oil, and rice vinegar. I let it steep together so the warm rice soaks up the flavors of the rest of the salad while I put together the miso-charred mushrooms.
I was vegetarian for a long time, so I know that mushrooms are so healthful, because they are a vegetarian source of vitamin B. They also contain minerals, phytochemicals, and can be a great wintertime source of vitamin D if they were exposed to sunlight before or after harvest. Another dish to which Jessie also introduced me was miso black cod, my inspiration for these mushrooms. I smother the Portobello caps in a mixture of freshly grated ginger, sweet mirin, and white miso, which according to Jessie contains more vitamin B, minerals, protein, phytochemicals, fiber, and interestingly, as a fermented food, probiotics. I char the mushrooms under the broiler, and as the mushrooms wilt and become juicy, the sweet and spicy marinade caramelizes and bubbles up. It is so good.
Thickly slice the mushrooms, almost like steak, and perch them atop a pile of the warm black rice salad, studded with little flecks of green. The dish is light, but intensely savory, and fresh. It just makes you feel good, better—even, improved.
As we always toast in my house on New Year's, santé!
Ginger and Miso-Charred Portobello Mushrooms and Black Rice Salad with Green Vegetables and Sesame-Soy Dressing
serves 2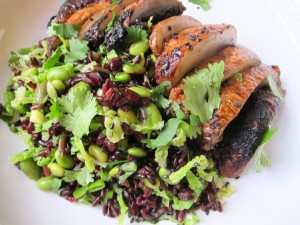 INGREDIENTS
1/2 cup forbidden black rice, rinsed
1/4 cup white miso
2 tablespoons mirin, plus 1 teaspoon
2 teaspoons grated fresh ginger
4 Portobello mushroom caps, wiped clean
1 scant tablespoon rice vinegar
1 scant tablespoon lime juice
1 teaspoon soy sauce (optional: reduced sodium soy sauce)
1 teaspoon toasted sesame oil
1/2 cup fresh edamame beans (option: frozen edamame beans)
3 leaves Savoy cabbage, sliced into very thin strips
2 scallions, very thinly sliced
1/4 jalapeno, minced
2 tablespoons chopped cilantro
2 teaspoons toasted white or black sesame seeds
METHOD
Bring a medium-large pot of salted water to a boil.  Arrange the rack in the center of the oven, and pre-heat the broiler.
Add the rice to the boiling salted water, and cook without a lid until tender, about 35 minutes.
In a bowl, whisk together the miso, 2 tablespoons mirin, and fresh ginger.  Slather the mushrooms, top and bottom, with the miso mixture.  Place on a parchment-lined rimmed baking sheet, and broil in the center of the oven until tender and charred, turning once, about 20 to 25 minutes total.  Set aside.
While the rice is cooking, make the dressing by whisking together the rice vinegar, lime juice, soy sauce, remaining 1 teaspoon mirin, and sesame oil.  Set aside.
Once the rice has been cooking for 30 minutes, add the fresh edamame beans.  When the rice has only one minute left to cook (it's been boiling for 34 minutes), add in the shredded cabbage.  If using frozen edamame beans, add with the cabbage at the 34 minutes mark.  Drain the rice, edamame, and cabbage all together in a fine-mesh colander.  Drain well, and decant into a large bowl.  Toss with the dressing, jalapeno, cilantro, and sesame seeds.
Serve the rice salad with the mushrooms, thickly sliced, perched on top.
print this recipe