Ginger and Miso-Charred Portobello Mushrooms and Black Rice Salad with Green Vegetables and Sesame-Soy Dressing
serves 2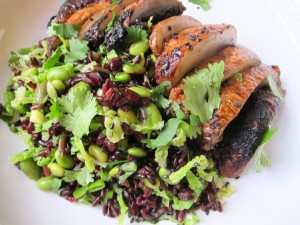 INGREDIENTS
1/2 cup forbidden black rice, rinsed
1/4 cup white miso
2 tablespoons mirin, plus 1 teaspoon
2 teaspoons grated fresh ginger
4 Portobello mushroom caps, wiped clean
1 scant tablespoon rice vinegar
1 scant tablespoon lime juice
1 teaspoon soy sauce (optional: reduced sodium soy sauce)
1 teaspoon toasted sesame oil
1/2 cup fresh edamame beans (option: frozen edamame beans)
3 leaves Savoy cabbage, sliced into very thin strips
2 scallions, very thinly sliced
1/4 jalapeno, minced
2 tablespoons chopped cilantro
2 teaspoons toasted white or black sesame seeds
METHOD
Bring a medium-large pot of salted water to a boil.  Arrange the rack in the center of the oven, and pre-heat the broiler.
Add the rice to the boiling salted water, and cook without a lid until tender, about 35 minutes.
In a bowl, whisk together the miso, 2 tablespoons mirin, and fresh ginger.  Slather the mushrooms, top and bottom, with the miso mixture.  Place on a parchment-lined rimmed baking sheet, and broil in the center of the oven until tender and charred, turning once, about 20 to 25 minutes total.  Set aside.
While the rice is cooking, make the dressing by whisking together the rice vinegar, lime juice, soy sauce, remaining 1 teaspoon mirin, and sesame oil.  Set aside.
Once the rice has been cooking for 30 minutes, add the fresh edamame beans.  When the rice has only one minute left to cook (it's been boiling for 34 minutes), add in the shredded cabbage.  If using frozen edamame beans, add with the cabbage at the 34 minutes mark.  Drain the rice, edamame, and cabbage all together in a fine-mesh colander.  Drain well, and decant into a large bowl.  Toss with the dressing, jalapeno, cilantro, and sesame seeds.
Serve the rice salad with the mushrooms, thickly sliced, perched on top.
print this recipe