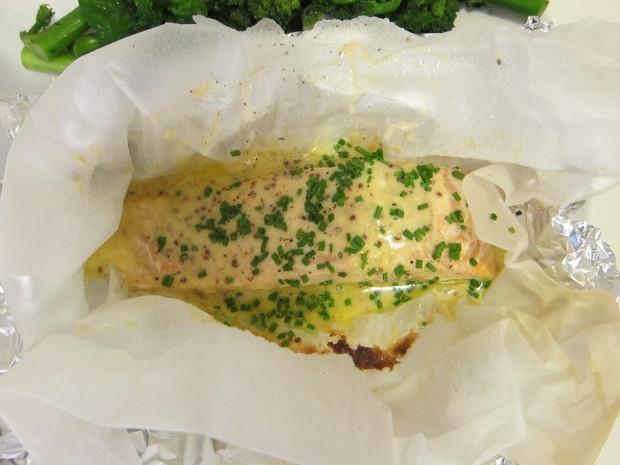 I am stuck in the dreary February doldrums.  In London, everyday it rains.  Sometimes in great smacking sheets, sometimes in impertinent little drops, but all the times our cup runneth so over that the sight of it is making my mind prune.  The rivers run wild, the ground is officially drunk, and it often seems like the sun will never come out tomorrow.
It's times like this when being inside of hyperimportance.  I was charmed to be invited to the London outpost of Maille mustard.  They could never have recruited a more fervent disciple.  My stepfather sits down to every lunch with a jar of Maille mustard and a jar of Maille cornichons (usually that we've wrapped in bubble wrap and spirited away from France) and states wholeheartedly the jingle "il n'y a que Maille qui m'aille."  I have been buying their cassis Dijon for years as a base for vinaigrette.  I was already a convert.
The store is a mix of elegance and French country.  The pale rustic wood shelves are neatly lined with flavor after flavor of Dijon or whole grain mustards.  Great taps pull some of the fancier and more basic flavors from what I can only assume is a mustard keg.  Upstairs in an airy, bright mustard tasting bar, enlivened by antique moutardiers.  The mind boggles at the applications for some of the more exotic mustards.  Coconut and Colombo Spices.  Apricots and Curry.  Gingerbread and Chestnut Honey.  But I found they were used in sauces, dressings—even cocktails.
I gravitated more to simple and heritage flavors.  For saffron and crème fraîche I envisioned a mustard bouillabaisse.  For the Provençale, a mustard-based aïoli.  For the walnut, a thick, true vinaigrette using the walnut oil so often used on salads in France—that's good!  And the black olive I bought and have been using straight out of the jar as a dip for multigrain pretzels.  I also loved the Sundried Tomato and Piment d'Esplette.
My favorite two, aside from classic Dijon and wholegrain that I always, always have (you can buy beautiful mustard pots at Maille, and they refill these with these two basic necessities from the upstairs tap), I was taken with the honey Dijon and the Honey Balsamic.  The Honey Dijon a creamy smooth tan, and the Honey Balsamic nearly black—stunning, unusual, and frankly breathtaking.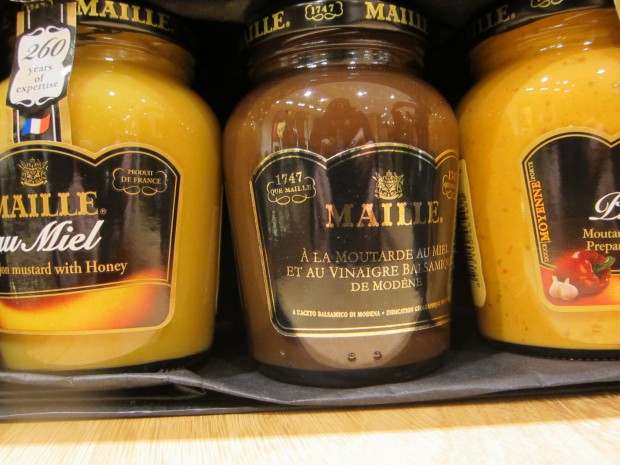 There is something cozy about stormy weather when you're stuck inside somewhere warm and beautiful, but it's another thing entirely when you arrive home work with your hair plastered against your cheek, pruned toes, and a chill in your bones.  I'm less inclined to cook, to make something complicated, because I'm just worn out.  But at the same time, I'm craving something hearty.  I was so happy, the other night, to pull out my Maille mustards and get to work on some mood-lifting, stomach-filling alchemy.
In a little bowl, I mixed together crème fraîche with some Maille Honey Dijon and Maille wholegrain mustard.  One for the sweet heat, the other for the texture and slightly winier flavor.  Into a little papillote it goes with salmon.  In the oven, the juices from the salmon loosen the thick mustard mixture and it runs into a sauce.  Honey mustard salmon, hot and steaming, served with some good pain au levain and some butter greens (I had beautiful English purple greens—purple sprouting broccoli and flower sprouts).  I made it just for the two of us, me and Mr. English, and we sat happily, wetly, coldly down only fifteen minutes later to a perfect dinner.  It was devoured.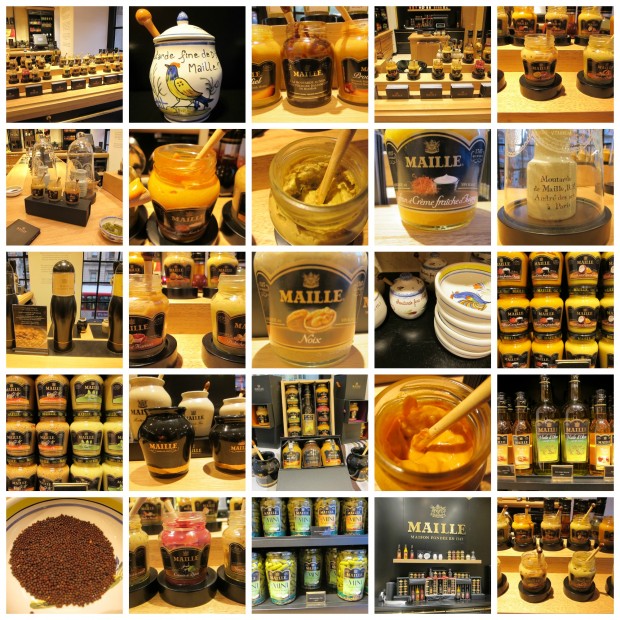 Visit Maille in London.  Thank you, Maille, for the wonderful experience.  More Maille to come, both on this blog and in the US.
Maille Honey Mustard Double Salmon en Papillote
serves 4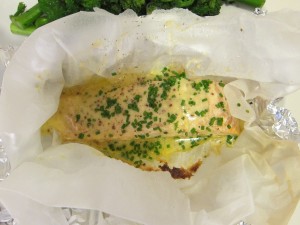 INGREDIENTS
1/4 cup crème fraîche
2 tablespoons Maille honey Dijon mustard
1 tablespoon Maille wholegrain mustard
1 tablespoons olive oil
4 6-ounce fillets of boneless salmon
Salt and pepper
Freshly snipped chives
METHOD
Preheat the oven to 425 degrees F.  In a bowl, mix together the crème fraîche, two mustards, and olive oil.  Set aside.
Cook the salmon en papillote, or in a parcel.  Tear off a sheet of aluminum foil large enough to comfortable envelope the salmon, and line it with a sheet of parchment just smaller than the foil itself.  Place one piece of salmon on the parchment on the foil, and season with salt and pepper.  Pour one quarter of the honey mustard mixture on fish.  Fold the parchment around the fish, and then fold the side edges of the foil in, then fold the top and bottom edges over each other to make a sealed packed.  Repeat with the remaining salmon and honey mustard sauce.  Place on a rimmed baking sheet and bake for 12 minutes.  Open the parcels, and scatter in a sprinkling of chives.  Serve with buttered greens.
print this recipe