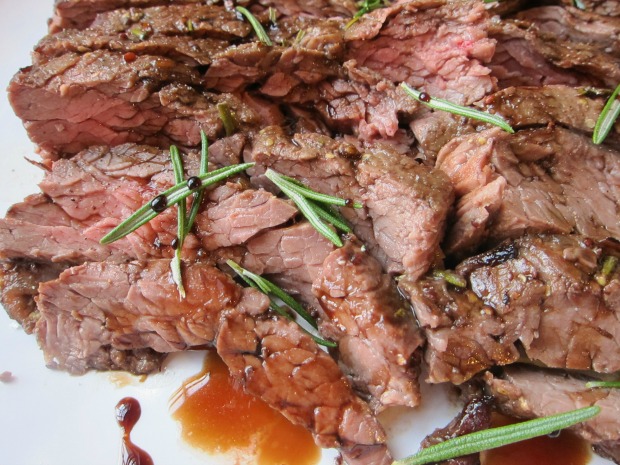 My mother and step-father rent a little place in the south of France for a few weeks more summers than not, and Mr. English and I make a point to save up our vacation to spend it there with them.  While we have officially stationed ourselves in one Provence or Riviera town or another, wherever our rental may be, these annually anticipated days are filled with wanderlust as we shuttle en famille between seaside towns and mountain perches, eschewing the glamorous hotspots for a daily search for traditional local eateries.  That is how we discovered bavette at one such establishment called Coquelicot somewhere in the vicinity of Cap d'Antibes or Juan les Pins.
Bavette is what we call flank steak, which after filet is my favorite cut for steak.  I love it spice-crusted and grilled in tacos.  Or marinated and seared.  Or, as it is here, flavored and broiled.  It's quick and easy, but tender and flavorful, and blessedly inexpensive.
In France, it is found in simple restaurants served with caramelized shallots and a haystack of salty, crispy frites that luxuriate in the onion jus.  I like it better when it's good and flavored up with bold tastes.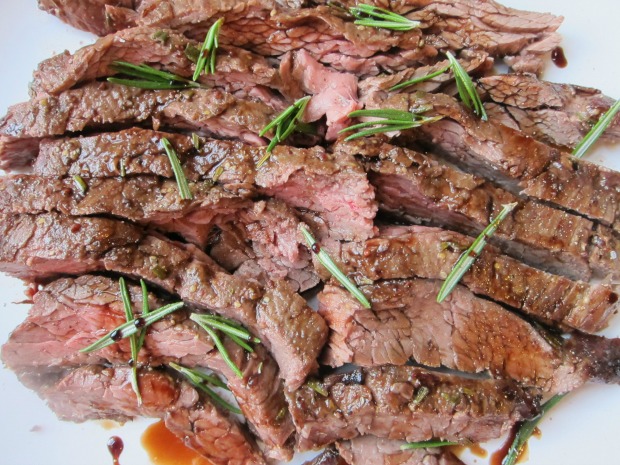 Maille mustard, which I've touted on this site as being our 'family' mustard many times, have recently given me access to the breadth of their mustard library, and I think my favorite, aside from the classics, has to be the honey balsamic Dijon.  It's a 'black' mustard that has the sweetness and spice of their top-notch honey mustard, but with the thick tang of balsamic built in, and a stunning color.  Here, it forms the base of a thick marinade-crust that goes on our bavette, along with wholegrain mustard, fresh rosemary (rosemary and mustard are like Frog and Toad—a wonderfully gentle but symbiotic relationship), and garlic.  Then, just ten minutes under the broiler, a sharp knife, and a drizzle of really great, thick balsamic, and you have this French-Italian hybrid steak that's perfect with grilled vegetables or sandwiches between some pillowy slices of focaccia.
Mr. English shamelessly put away the whole thing in less than the time it took to cool.  Bon app!
P.S. A great thing to do is to save a spoonful of marinade and toss it with a bunch of thick asparagus.  While the steak is resting, throw the asparagus under the broiler for five minutes for the perfect side dish.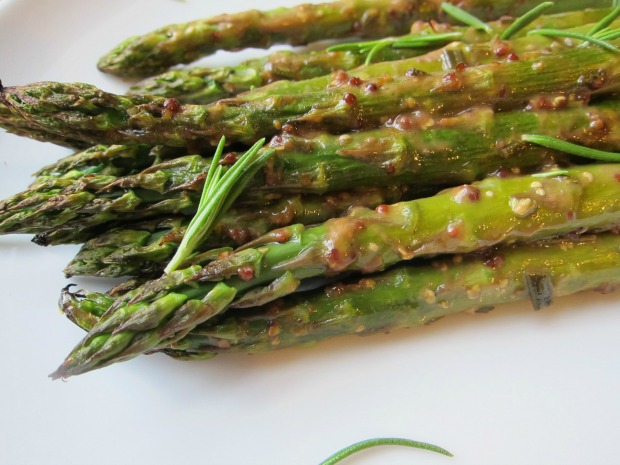 Il n'y a que Maille qui m'aille…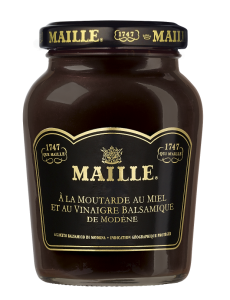 Honey Balsamic Dijon Charbroiled Flank Steak with Rosemary
serves 2 to 4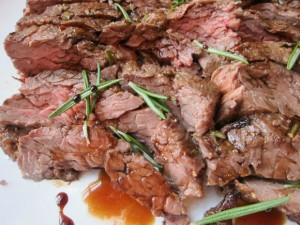 INGREDIENTS
2 tablespoons Maille balsamic honey Dijon mustard, courtesy of Maille
1 tablespoon Maille wholegrain mustard
1 tablespoon olive oil
1 tablespoon chopped fresh rosemary
1 garlic clove, thinly sliced or grated
1-pound flank steak / bavette
Salt and pepper
Good, aged balsamic vinegar for drizzling
METHOD
In a small bowl, whisk together the mustards, olive oil, rosemary, and garlic.  Spoon it into a gallon-sized Ziploc bag and add the steak.  Massage the marinade all over the meat, and then leave in the fridge for a minimum of two hours up to overnight.
Position the rack in the top third of the oven and preheat the broiler.  To speed cleanup, I line a small rimmed baking sheet with foil, and then cut a piece of parchment just large enough to go under the steak to place on the foil.  But you can skip the lining step.  Place the marinated steak on the baking sheet and season both sides very well with salt and pepper.  Broil 4 to 5 minutes on each side for a medium steak.  Let rest for 10 minutes, then slice against the grain.  I go for thick slices if I'm serving it as a steak, and thin if I'm serving it as a sandwich.  Drizzle with good, thick, aged balsamic vinegar (just a bit) and garnish with fresh rosemary.
print this recipe