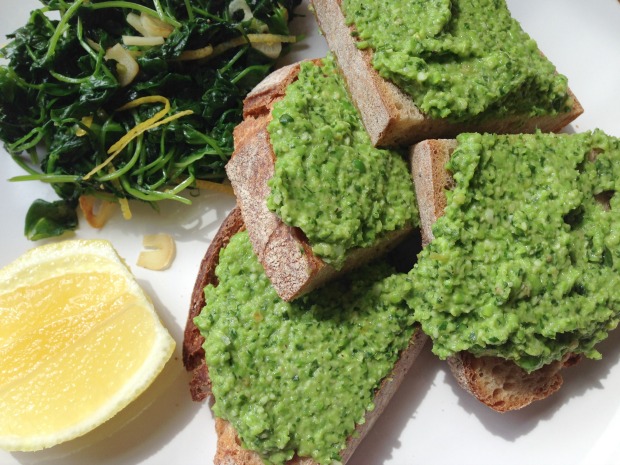 It's a bank holiday here in London–also known as Monday off.  It's so like the prize in a box of Cracker Jacks.  You know it's coming, but that still doesn't take away from the surprising sense of cherish you have for it.  The sun is shining, I'm just back from yoga, and I feel like something virtuous but interesting–and fresh!  Spring has been so long in coming this year, that I want to taste it at every possible opportunity.
I ransacked my freezer, where I always keep a bag of peas.  But, as it's spring, I also ordered a bag of pea shoots in this week's shop.  I love the French trope of doing something two ways.  On many a haute cuisine menu you'll see salmon two ways, asparagus two ways, or tomatoes two ways.  So, why not peas two ways?  And using both the pea itself and the sprout, I feel like this is a timely riff on vegetarian nose-to-tail cooking.  Who knew lunch by myself could be so cuilnarily political!?
I whiz up the peas with basil, pine nuts, lemon zest, Pecorino, and olive oil for a light, creamy, bright kind of pea pesto that I slather on grilled bread.  And on the side, a lightly wilted pea shoot salad.  Both get a last minute spritz of lemon for a little jolt.  Sweet peas.  Bitter pea shoots.  I devoured it.
Warm Pea Shoot Salad and Smashed Peas on Toast
serves 2 to 3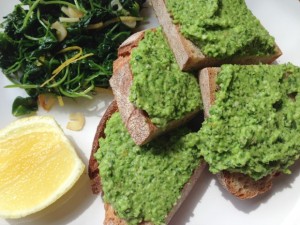 INGREDIENTS
Warm Pea Shoot Salad
2 tablespoon olive oil
1 clove garlic, sliced or grated (optional)
2 2.5-oz bags of pea shoots
Salt and pepper
Zest of 1 lemon
Smashed Peas on Toast
6 thick slices of good country bread—I prefer pain au levain
1 1/2 cups thawed frozen peas
1 cup loosely packed basil leaves
1 ounce Pecorino cheese, roughly crumbled by hand
2 tablespoons toasted pine nuts
Zest of 1/2 lemon
2 tablespoons olive oil
Salt and pepper
2 lemon cheeks, for serving
METHOD
In a small skillet, the olive oil over medium heat.  Add the garlic, if using, and 15 seconds later, add the pea shoots, salt and pepper.  Remove from the heat, and toss until wilted.  Add the lemon zest, toss, and set aside.
Set the bread on a grill or in the toasted to char lightly.  Meanwhile, combine the peas, basil, Pecorino, pine nuts, lemon zest, olive oil, and salt and pepper in the food processor.  Whiz until nearly smooth, but still with a big of texture.  Smear the smashed peas thickly on the charred bread, squirt with lemon, and eat NOW!
print this recipe