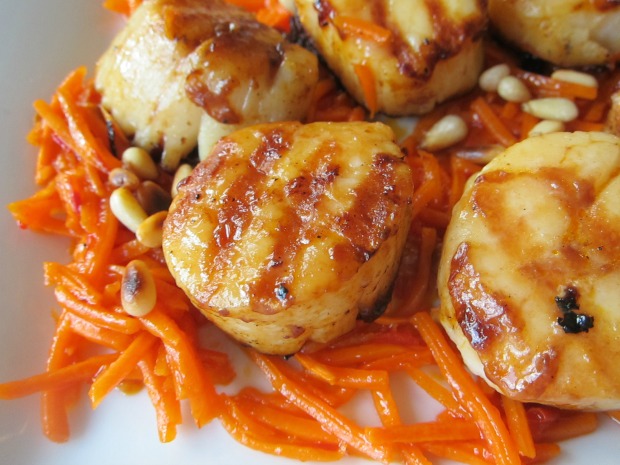 Comfort food.  Indeed, I find comfort in almost all foods.  But I always say comfort food is the food of memory—of childhood holidays and snowy nights and starry summer evenings.
It's funny.  I, like so many people, have a mixed bag of a heritage.  Sometimes I get stressed just deciding which comfort food I really need to de-stress.  I think that might be the New York in me.  Am I in need of a big bagel, poppy seeds spraying everywhere, to feel better?  Try finding that where I live in London…
Or my maman's pistou made from basil she picked up at the Woodstock farm stand, puddling over Fairway's cheese ravioli?  Or her salted roast whole duck?  Or her bubbling, blipping potatoes au gratin?
I love those things, and I reach for them often, but truth be told, sometimes all I want is my Moroccan fix, grace à my mémé, with her green olive stew and messy couscouses and sauces that I can spend an entire baguette wiping up.  Sometimes homesick means missing her giant spread of salads that I attack within five minutes of walking through her door.  Sometimes, I just need a kick up the fill-in-the-blank instead of the fatty blandness of so many other comforts.  There's nothing to clear your head like harissa.  You can take the girl out of Morocco—by a couple generations—but I guess you can never really get the Morocco out of the girl.
I'm sure many of you know harissa, but if you don't, it's a Moroccan condiment, a punchy pepper and spice paste made from chilies and olive oil and garlic and the usual heady secret blend of Moroccan spices.  (Little known fact: my great-grandfather ran an olive, pickle, and spice shop in Casa.  My hero!)  Harissa has a pungency that other hot sauces can only dream about and sniff at from the other side of the hot sauce aisle.  For years I was reduced to trafficking it from Paris in little tubes that I would hoard in the butter section of my fridge.  Not expensive, just impossible to find outside of the former French empire.  And irreplaceable.
So when harissa entrepreneur Mina asked if she could send me a few jars of her classic red and new green harissas, I thought, yes!  This is what the American (and now British) public needs!  Easy and consistent access to jars of harissa that, frankly, don't look a little bit suspect and have the ingredients list in our alphabet.  Shortly thereafter, I saw a headline proclaiming harissa to be this year's sriracha.  Finally!  For a harissa evangelist, I felt the satisfaction of the mounting 'I told you so' building at the back of my throat.  I smiled smugly.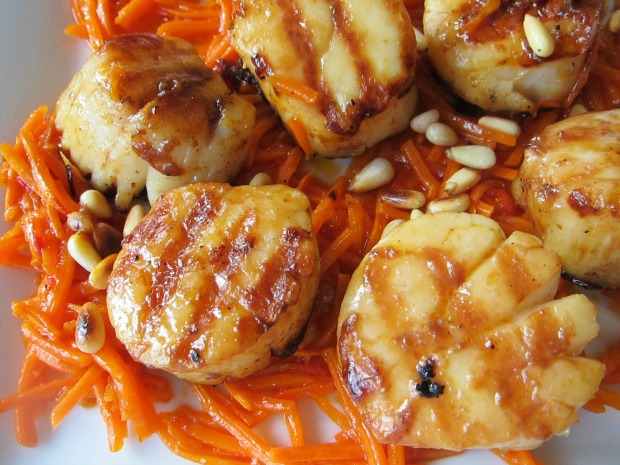 I brought the jars to maman's house a few weeks ago, when I knew Mémé would be visiting.  I love riling up her sense of dominance in the kitchen.  This is the woman who once didn't tell me the secret to her famed Moroccan salmon was preserved lemons because, well, that was the secret!  So she tends to be hyper-critical of my new-fangled Moroccan concoctions—in a loving way of course.
I made a two-course meal.  We always finish Moroccan nights with fresh fruit, so that doesn't count.  The first was Grilled Sea Scallops with Honey-Harissa Carrots.  I love seafood with Moroccan flavors.  The sweet delicacy of the fish may seem too demure to match the heat and spice of a harissa, for example, but the pairing is actually the perfect balance.  Another thing to try: fried calamari dusted with ras-el-hanout and doused in citrus.  It's incredible.
I took a cheat and bought matchstick carrots at the supermarket.  I cooked them in just a little too much butter just to soften them slightly, and then I stirred in the harissa and a little bit of honey to balance the heat and accentuate the sweetness of the carrots into the butter to create a sauce.  The harissa turns the butter lava red, and the pungency finds its vehicle to spread itself through all the carrots, and in the end, the nooks and crannies of the scallops.  Harissa butter is to die for.
I top the carrots with simply grilled scallops and toast pine nuts.  Serve it with some kind of vehicle for dredging up that butter—for us, it's baguette.
Mémé actually said, "Kerry, this is delicious."  She ate every bite.  In true Moroccan fashion, she wiped the harissa butter from the plate with the baguette.  Mina, I owe you one! You are my preserved lemons!
The recipe for the Lamb Shank Mechoui with Green Harissa Slaw and Citrus Couscous will be on the blog later this week!  Bon app!
Grilled Sea Scallops with Honey-Harissa Carrots
serves 4 to start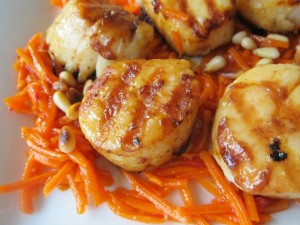 INGREDIENTS
8 large sea scallops, patted dry on paper towel
Olive oil
2 tablespoons unsalted butter
1 cup julienned or shredded carrots
Salt
1 tablespoon Mina red harissa
1 teaspoon honey
2 tablespoons toasted pine nuts
METHOD
Preheat a grill pan on the stove.  Rub the scallops light with olive oil, and sear 2 to 3 minutes per side, or until firm and opaque in the center.
Meanwhile, in a smallish nonstick skillet, melt the butter over medium heat and add the carrots.  Season with salt.  In just 1 to 2 minutes, they should slightly soften and lighten.  You want them still slightly crisp, so at that point, shut off the heat, and stir in the Mina red harissa and honey.  Spread the carrots and their honey-harissa butter on a serving dish, either individual plates or a platter, top with the grilled scallops and finally pine nuts.
print this recipe