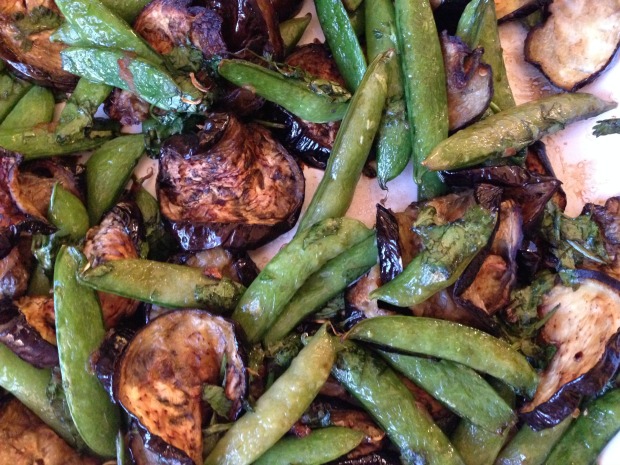 After six years, Mr. English and I are moving back to New York.  I thought this day would never come!  And now it's coming so fast I don't think I can my life together in time.  Instead of my original plan—living it up like tourists in London and seeing every last thing, visiting every last favorite place, walking down every light white-buildinged streed—we spent our Saturday in our little 'flat', doing life admin—like figuring out whether you can ship cases of French wine back into the States.
I made a virtuous dinner for our evening of adult responsibility.  Ginger Soy Eggplant and Sugar Snaps, inspired by a recipe from Gwyneth Paltrow's It's All Good, one of the cookbooks that I actually use religiously in my day-to-day life (I cherish my signed copy!).  I served it up with my favorite recipe from that book, Seaweed Brown Fried Rice.  I often make it once a week, and it's worth the price of the book alone.
I roast the eggplant and sugar snaps, rubbed in ginger and chilies, separately, but at the same time, so the snaps stay snappy and the eggplant become soft and charred.  Then, a quick toss in toasted sesame oil for that nuttiness, soy for that saltiness, and cilantro for that grassiness.  It is so good.  Below, my riff on the original (which is grilled and has no sugar snaps).
Ginger Soy Eggplant and Sugar Snaps
serves 2 as a main and 4 as a side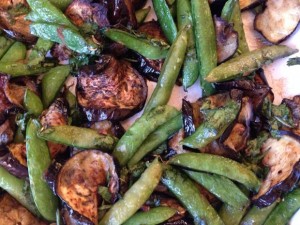 INGREDIENTS
2 tablespoons coarsley grated ginger
1 chili, minced
1/4 cup sunflower oil
Sea salt
1 pound sugar snap peas
2 medium eggplants, medium sliced
2 teaspoons sesame oil
4-5 teaspoons low-sodium soy sauce (or taste)
1 small bunch cilantro, chopped
METHOD
Preheat the oven to 400 degrees F.
Mix together the ginger, chili, sunflower oil, and a pinch of salt.  Toss the sugar snaps with one spoonful of the mixture and place on a small parchment-lined baking sheet.  Set aside.  Toss the eggplant with the rest of the ginger paste.  Place on a large parchment-lined baking sheet, and bake for 20 – 30 minutes, or until soft and golden-brown.  5 minutes before the eggplant are done, place the the sugar snaps on a second rack in the oven.
Meanwhile, in a serving bowl, mix together the sesame oil, soy sauce, and cilantro.  Add the hot eggplant and sugar snaps and toss to combine, allowing the eggplant to soak up all the flavor.
print this recipe