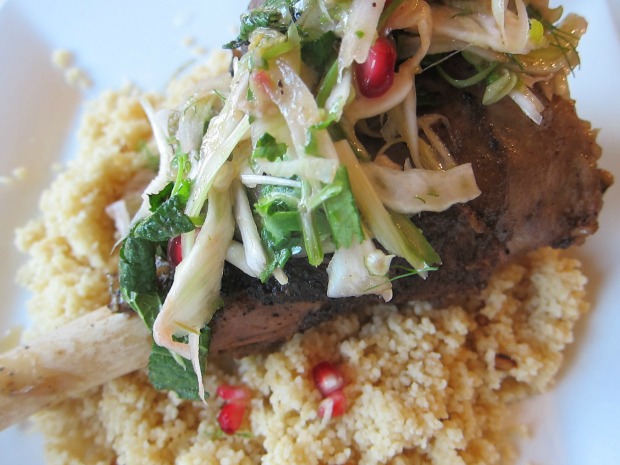 Most little girls grow up dreaming of the big white wedding.  I grew up dreaming of my henna.  The night before any good French-Moroccan girl's holy matrimony, the whole wedding party gets together for what I have always described as a co-ed bachelorette.  The fête gets its name from the henna that is used to stain the palms of the hands of all the female attendants—instead, I asked a henna artist to come and paint intricate patterns.  Mémé was aghast at the change in tradition—she had given me her WWII reparations money to pay for the party, and was so lovely and generous about allowing me to do anything I wanted with it, despite her obvious trepidation.  I wore a white silk velvet caftan I'd bought at La Maison du Caftan in Marrakech, embroidered in gold.  But it was short, with slits, and long sleeves, and I wore it with gold Prada platforms.  Mémé clucked at me from her floor-length version.  Leave it to me to New York the henna, and I sensed her worry that her precious party was about to go to a place she didn't recognize.
We booked out Le Palmier in Tours, a wonderfully mosaiced restaurant, reminiscent of memories of Mémé's childhood riad, that I stocked with the henna artist, a live Moroccan trio, a belly dancer, and a card magician—a tradition you'll see in restaurants in Morocco, where a man will come sit at your table and entrance you with sleight of hand.  My great uncle David, Mémé's brother, had mesmerized me as a child at Friday night dinners, and I just had to have it.  For dinner, we served all my Moroccan favorites, which Mr. English has come to love too, thanks to Mémé and the trip to Marrakech to get the caftan.  Crisp, juicy, spicy and smoky merguez, charred black.  Couscous with vegetables and chick peas in broth to pour over it.  A million little salads to start, fresh and crisp and bright.  And of course, mechoui—slowly braised shoulder of lamb, simply done in broth, so that the meat falls apart and shreds and the broth soaks into the couscous and makes it savory and stunning and addictive.
After dinner, once the mint tea had been drained and the sesame cookies had been reduced to crumbs.  Once Tonton David has asked all my prettiest friends to join him in belly dancing while he had a bottle of red wine open on his head.  Once Mr. English had danced with Mémé, a fez bought in the souk perched on his decidedly English head, she turned to me with tears in her eyes and said, unbelievingly, "But Kerry, you thought of everything!  It is as a henna should be."  And I realized how strange it must be to her, who left Morocco for France as a teenager after the war, to end up with a New Yorker for a grand-daughter.  It meant very much to me for her to see that our difference in the brave new world was something to be openly celebrated.  And our American and English guests were just as celebratory as the French and Moroccan—Moroccans know how to party, and that's a language everyone can understand.
Mina, the harissa evangelist behind Mina harissa, sent me her new green harissa and asked me to develop a few recipes around it.  When I told her I'd be starting with mechoui, she wrote back, "Good—the king of dishes!"  It is regal, the feastiness of it, which is why I chose it to anchor our henna banquet.  But as I am always trying to reinvent Moroccan classics, again to Mémé's horror, I wanted to find a way to merge the litany of small Moroccan salads into our main meal, to lighten up the mechoui, and to bring some modernity to the course load of a Moroccan dinner at home.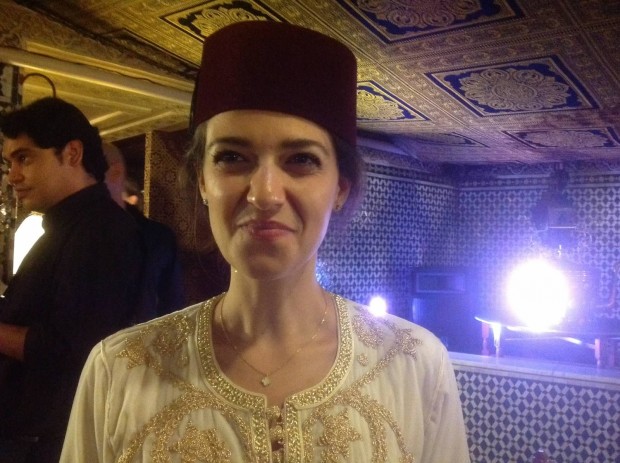 For the mechoui itself, I used lamb shanks—they braise so beautifully and make for individual portions of mechoui, which I like.  I braised them in broth with mint and cilantro and cumin and garlic—simple but honest.  I served them with my citrus couscous.  It's the best alternative to plain white couscous.
Then, as a bright relish, I created a fennel and herb salad to top the stewed meat and add crunch and flavor and freshness.  Mina's green harissa, with its mild heat and cumin smokiness, formed the cornerstone of its dressing, and the fresh mint and cilantro echoed the cooked braising herbs.  The contrast was so fresh and the flavors so authentic—even if the preparation decidedly wasn't—that even Mémé, so incredulous during the three-hour braise that she had fully snacked her way through a bag of almonds and a Scotch on the rocks, ate with gusto.
Proof that the more things change, the better they can become, so long as a little kernel, at the root, remains the same.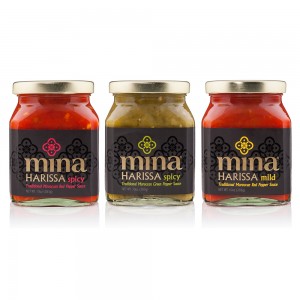 Lamb Shank Mechoui with Mina Green Harissa Fennel and Herb Slaw and Whole Wheat Citrus Couscous
serves 4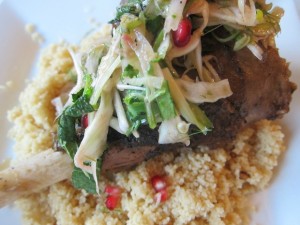 INGREDIENTS
Lamb Shank Mechoui
1 tablespoon ras-el-hanout
1 teaspoon cumin
4 lamb shanks
Salt and pepper
2 tablespoons olive oil
8 cloves garlic, whole
2 cups beef broth (low-sodium and organic if possible)
1 small bunch mint
1 small bunch cilantro
1 small bunch thyme
Citrus Couscous
2 cups whole wheat couscous
The zest and juice of 1 lemon
The zest and juice of 1 orange
1 tablespoon olive oil
Salt
Green Harissa Slaw
1/2 cup mint leaves
1/2 cup cilantro leaves
1 fennel bulb, thinly sliced
5 scallions, thinly sliced on an angle
2 tablespoons olive oil
2 tablespoons fresh lemon juice
Salt
2 tablespoons Mina green harissa
The seeds from 1 pomegranate (optional)
METHOD
Preheat the oven to 375 degrees F.  In a small bowl, mix together the ras-el-hanout and cumin.  Season the lamb with salt and pepper, and the spice blend.  In a heavy, wide braising pot, heat 2 tablespoons olive oil over medium-high heat.  Sear the lamb to a light golden brown on all sides.  Add the garlic, the beef broth, 1 cup water, and the small bunches of mint, cilantro, and thyme.  Bring the broth to a boil.  Cover, and place in the oven for 3 hours.
To make the couscous, boil 2 cups of water.  In a bowl, stir together the couscous, lemon zest and juice, orange zest and juice, olive oil, and a pinch of salt.  Top with the water, and cover the bowl with a lid, plate, or plastic wrap—anything so the steam can't escape.  Let sit 5-6 minutes, then fluff with a fork.
Next, make the slaw.  Put the mint, cilantro, fennel, scallions (I slice the fennel and scallions with the thin slicing disc on a food processor, but you could also use a mandoline or a knife), olive oil, lemon juice, a pinch of salt, and the harissa in a bowl, and toss to combine just before serving.  Decant into a serving bowl and top with the pomegranate seeds if using.
Bring the lamb mechoui, steaming, to the table, along with the bowls of fluffy, bright couscous and the crisp, hot slaw.  I serve with Greek or natural yogurt and more Mina green harissa on the table.  Let everyone build his or her own Moroccan feast.  Regale yourself.
print this recipe