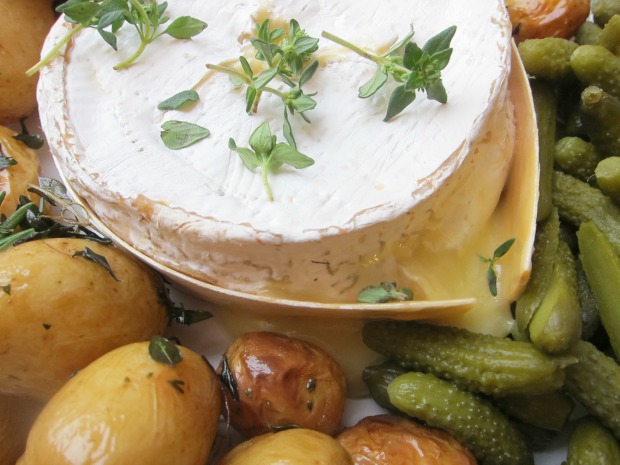 I feel so lucky.  My favorite weeks of the year are my summer holiday in France, and here I am!  We drove our little rented diesel Peugeot into the medieval town of Issigeac in the Perigord for market day today; then we stopped our car on the way back to the hotel in a field of sunflowers to feast on my finds.  The rain shot down all around us in angry cords, but we were warm and happy as we tucked into my little market bag.  Nothing can take away from the quivering happiness I take in the discussions I have at local French markets.  Mr. English indulges me by parking himself in a nearby cafe with his International New York Times.  Under the drizzle, I spent five full minutes with the tomato dealer debating the sweetness and firmness of a spectrum of tomato specimens.  My olive dealer walked me through his five varieties of tapenades, all with samples, before we settled together on La Melisse, a concoction of both black and green olives that he assured me was 'faite maison', or made by him himself.  And I spent considerable time in a frank conversation with the melon guy.  He didn't want me to be disappointed.  We look forward to our melon de pays each summer, and this was to be our first.  'They are very sweet,' he assured me, 'but if you want to eat it today, well, it's complicated.'  Only in France could a melon be complicated.
I rounded it off with some tomme de brebis, aged six months, and a really huge baguette.  Mr. English got out the Laguiole pocketknife he bought yesterday in Sarlat for this exact purpose, and set to work on the tomatoes and melon and cheese on the dashboard.  I just started dipping the giant baguette into the tapenade.  The melon juice ran down on fingers.  It was happy.
Tomorrow, for le quatorze juillet, we will be eating duck confit in a little inn on our way to the Midi.  Hopefully, we will catch some fireworks, and be able to squeeze in our traditional annual game of pétanque.  But before I left London, I came up with the perfect recipe for cheats' Camembert fondue in case you're having people over for the occasion.  It will also work well as a nation-neutral snack for the big game tonight.
Start with a round of Camembert in a wooden box.  Open up the box and unwrap the cheese, then put the cheese back into the box, and wrap the box all around in aluminum foil.  Put the cheese in a hot oven for half an hour, break through the rind, and voilà, you have a little fondue-in-a-box.  I serve it with boiled or roasted new potatoes, and some little Maille cornichons.  It might sound weird to dip pickles into a cheese fondue, but it's traditional.  The French always serve something sharp and fresh with things that are rich and heavy—like cornichons with pâté.  And I love it, so I do it too.  Just stack a potato and a cornichon on a little cocktail stick and dip into the molten Camembert.  It's so good and convivial, and definitely easier than traditional fondue.
Bon app!
Camembert Fondue-in-a-Box
serves 10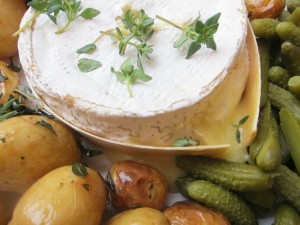 INGREDIENTS
1 250g round of Camembert in a wooden box
2 pounds boiled or roasted baby new potatoes
50 Maille cornichons
METHOD
Preheat the oven to 375 degrees F.  Open the Camembert box, and take the wrapper off the cheese.  Place the cheese back on the box, wrap the box tightly in aluminum foil, and place the box on a small rimmed baking sheet, just to catch any melted cheese that might escape.  Bake for 30 minutes.  At that time, pierce the top rind of the cheese, and the cheese should be runny within.  If not, rewrap the box in the foil, and continue baking until the cheese is molten and dip-able.
Serve with roasted or boiled baby new potatoes, cornichons, and cocktail sticks.  I will either boil the potatoes in salted water until tender, or roast them with olive oil, salt, and fresh thyme in a 400 degree F oven for 20 to 30 minutes.
print this recipe