Life back in New York has begun.  Every minute feels like it needs to be packed with the things that were missed.  Family.  Friends.  New York Times crossword puzzles on the East River.  Half sour pickles.
While cramming in one more New York essential — a trip to Broadway — we were transported back to our summer, blissfully between jobs, in Europe.  As the lights went down in Studio 54 and the disco ball started to glitter on Michelle Williams and Alan Cumming in Cabaret, I thought back to the 48 we had spent in Berlin in July.  We stayed at the Soho House, which in that city, I found delightfully unpretentious.  Our room was full of housemade cookies and classical music twinkling out of a 1930s-style radio, and Cowshed products in which I doused myself in the dimly-lit shower.  The bar, too, was quietly populated and the bartender shared his recipe for homemade ginger ale.  I am sworn to secrecy, otherwise I would post it here!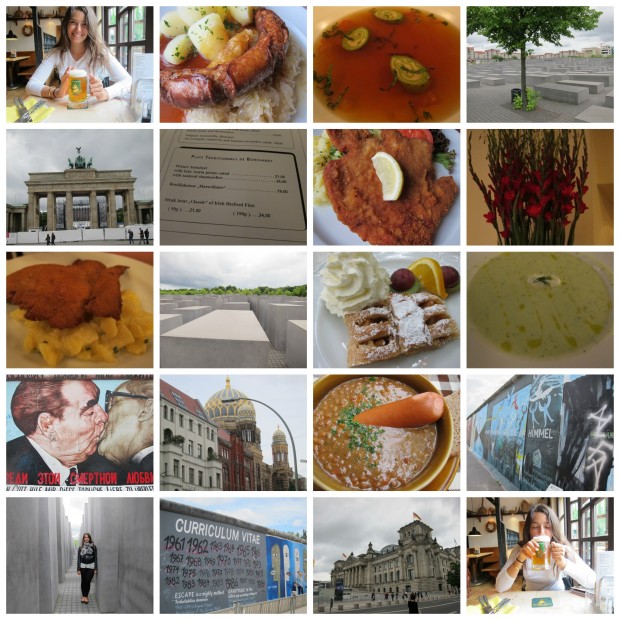 We only had one night, and we spent it at Borchardt.  The maitre d' is a French dynamo of a man who spoke to me in French from word one despite the fact that we were in Berlin and we were clearly Anglo-Americans.  I liked that about him.  Berliners populated all the tables, fashionable on a Sunday night.  A news boy (do these still exist?) came by table by table touting tomorrow's paper, and selling early editions.  Brobdingnagian displays of crimson gladioli stood in urns around the room.  It was a restaurant of banquets—not too fancy, but a determined hint of pomp and class.  And the specialty was schnitzel.
Our waiter was perhaps the kindest, most jovial Berliner in Berlin.  He advised me to order just half the schnitzel—which was good council, as it still hung over the rims of the plate.  You could order it with the traditional potato salad, as Mr. English did, or you could go for the true house special—Schnitzel with Chanterelles.  Which, of course, I did.  I apologize for the darkness of photo, but I still had to post it here, because as a schnitzel fanatic, I attest that this and Figlmuller in Austria were the two best schnitzels I have ever had.  And while Figlmuller feels like a banquet hall, this is a glamorous schnitzel.  The atmosphere, the chanterelles, the Riesling, the flowers.  Thin as a sheet, and with a crust that seems to live apart from the meat inside it, nested with a flurry of tiny mushrooms.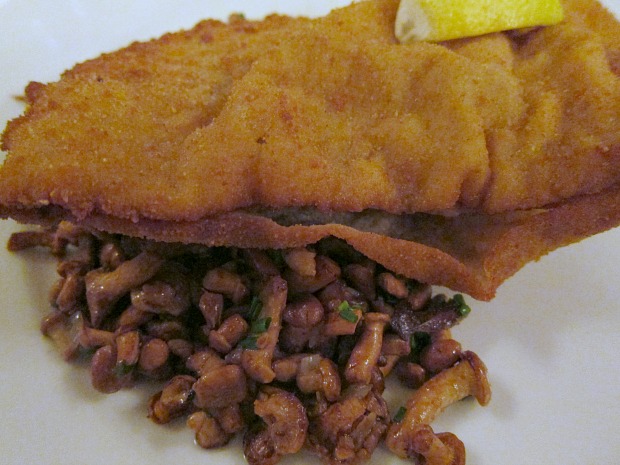 Cabaret, incidentally, was as good as the Borchardt schnitzel and I couldn't recommend it more.  After the show, I went out and bought my husband a pineapple.  If you don't know what I'm talking about, you'll have to go and see the show!
To see more from our European adventure, check out my Instagram: @kerrysaretsky!