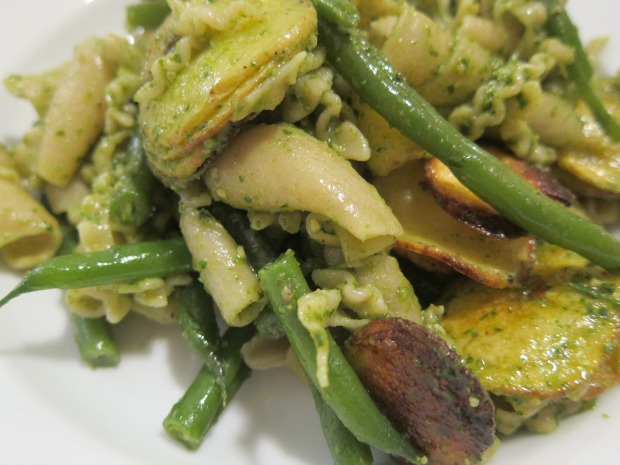 Since moving back to New York, I have fallen prey to the city.  Working by day; cheap but sensational restaurant food by night.  I grew up in New York eating out every other evening, and old habits die hard (or rather, I've been waiting for this opportunity for seven years abroad, and am not able to resist!).  But one morning recently Mr. English turned to me and said, "Can we please stay at home and have something healthy tonight?"  He wasn't born a New York restaurant glutton.
His definition of healthy is his own, but I know it normally means fish or vegetarian, and lots of vegetables.  I agree, but I insist on whole grain.  But no matter whose definition of healthy we're using, two realities still exist: (1) I have not finished unpacking my kitchen, and (2) I'm too tired after working hard in my new job to make anything other than something quick and easy.
We both fell madly for this pasta.  And for Mr. English that was despite the fact that it was whole wheat.  There is a traditional Italian dish that mixes pasta with pesto and green beans and potatoes.  I had a little fun messing with it.
First, I sliced the potatoes super thin and roasted them with rosemary so the pasta would be studded with almost a savory baked potato chip.  If I had found blue potatoes, it would have been even more fantastic.  Second, I boiled the whole wheat pasta in water flavored with rosemary, to impart a more savory, autumnal flavor than the traditional summer basil pesto.  Third, I cooked the haricots verts right in that rosemary pasta water, to save time and effort.  And finally, I went New Yorker, and went to my supermarket where they sell fantastic fresh pestos.  I bought the spinach and walnut pesto, rather than the usual basil, because it acted more as a vegetable than a sauce, and allowed that fantastic rosemary flavor to permeate the dish without competition.  Plus, it's cheaper, super-nutritious, and stays wildly green.  If your supermarket doesn't sell it, use any pesto recipe you like, swapping the basil for baby spinach and the pine nuts for walnuts.
The dish is so vibrantly verdant from the spinach and the haricots verts.  The potatoes add such a welcome crunch.  The rosemary and the heartiness of the whole wheat pasta echoed the fresh coolness in the air.  Perfect perfect perfect.  I can't wait to make it again.  Bon app!
Whole Wheat Pasta with Spinach and Walnut Pesto, Haricots Verts, and Rosemary Roasted Potatoes
serves 4 (or 2 with leftovers)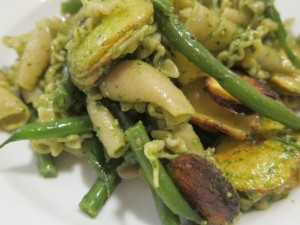 INGREDIENTS
2 stems of fresh rosemary
7 smallish Yukon Gold potatoes, sliced thinly on a mandoline (or use blue potatoes if you can find them!)
2 – 3 teaspoons olive oil
Salt and pepper
1 pound haricots verts, trimmed and halved
1 pound whole wheat short pasta, like campanelle
1 cup spinach-walnut pesto (I buy mine ready made from the refrigerated section of my supermarket)
METHOD
First things first: Preheat the oven to 400 degrees F and bring a large pot of salted water to a boil.  Add one stem of rosemary to the water.
Place the sliced potatoes on a parchment-lined baking sheet.  Remove the leaves from the other stem of rosemary, chop, and add to the potatoes along with the olive oil.  Season with salt and pepper, toss, and roast until golden around the edges—about 20 minutes.  Set aside.
Once the rosemary water comes to a boil, cook the haricots verts until just tender, 3-6 minutes depending on the thickness of the green beans.  Remove to a bowl with a spider.
In the same rosemary water, cook the whole wheat pasta until al dente.  Reserve 1 cup of the cooking water before draining.
In the same big pot, toss together the whole wheat pasta, haricots verts, roasted potatoes, and the spinach-walnut pesto.  Moisten with the reserved pasta water if needed.  Serve hot or at room temperature.  You can't go wrong.
print this recipe