Whole Wheat Pasta with Spinach and Walnut Pesto, Haricots Verts, and Rosemary Roasted Potatoes
serves 4 (or 2 with leftovers)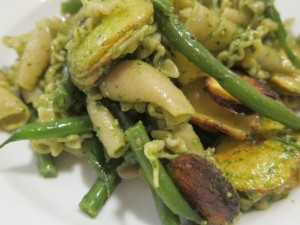 INGREDIENTS
2 stems of fresh rosemary
7 smallish Yukon Gold potatoes, sliced thinly on a mandoline (or use blue potatoes if you can find them!)
2 – 3 teaspoons olive oil
Salt and pepper
1 pound haricots verts, trimmed and halved
1 pound whole wheat short pasta, like campanelle
1 cup spinach-walnut pesto (I buy mine ready made from the refrigerated section of my supermarket)
METHOD
First things first: Preheat the oven to 400 degrees F and bring a large pot of salted water to a boil.  Add one stem of rosemary to the water.
Place the sliced potatoes on a parchment-lined baking sheet.  Remove the leaves from the other stem of rosemary, chop, and add to the potatoes along with the olive oil.  Season with salt and pepper, toss, and roast until golden around the edges—about 20 minutes.  Set aside.
Once the rosemary water comes to a boil, cook the haricots verts until just tender, 3-6 minutes depending on the thickness of the green beans.  Remove to a bowl with a spider.
In the same rosemary water, cook the whole wheat pasta until al dente.  Reserve 1 cup of the cooking water before draining.
In the same big pot, toss together the whole wheat pasta, haricots verts, roasted potatoes, and the spinach-walnut pesto.  Moisten with the reserved pasta water if needed.  Serve hot or at room temperature.  You can't go wrong.