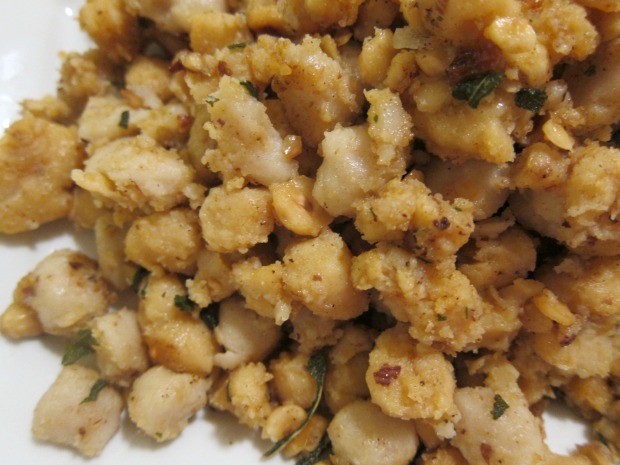 Every year–every year as long as I can remember–we have had potatoes au gratin for Thanksgiving.  And I love them.  As a kid, they were my favorite main course, and I still think they are just about the greatest thing on a cold winter night.  But this was my first Thanksgiving in my own apartment, cooking for my family, back in New York, and a trip down the pasta aisle in Fairway made me want to try something different.  Sweet potato gnocchi–such a cool find!
My family protested.  Outcry and gasps over the phone from my mother.  Snide comments from my husband.  I think my father may even have suggested we try BOTH.  But I had stashed the little golden gnocchi in the freezer, and I was not going to be dissuaded.
We had our Thanksgiving earlier this weekend, as we won't be with the French-American side of the family on Thursday.  It was in the face of severe skepticism that I boiled my sweet potato pillows, brown my butter, crisped my sage, and crushed my hazelnuts.  Even I wondered as I brought the dish to the table whether experimentation on Thanksgiving was really worth it.
It was.  The brown butter is nutty.  The gnocchi are sweet.  The sage is mossy and vegetal.  The hazelnuts and butter give it almost a pecan pie feel, and the texture is hearty.
On Sunday, for leftovers lunch, EVERYONE asked for the gnocchi.  So there.
Sweet Potato Gnocchi with Brown Butter, Sage, and Hazelnuts
serves 8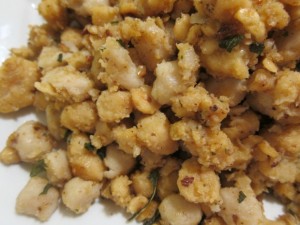 INGREDIENTS
3 pounds sweet potato gnocchi
4 tablespoons unsalted butter
12 whole sage leaves
1/2 cup toasted chopped hazelnuts
Sea salt
METHOD
Cook the gnocchi in boiling salted water according to package directions.
While the gnocchi cook, melt the butter in a sauté pan over medium heat.  The butter will begin to foam.  While the butter foams, add the sage.  Cook until the foam subsides and the butter solids turn a nutty golden color.  Remove from the heat.  Add the drained gnocchi, the hazelnuts, and sea salt, and toss.  Serve immediately.
print this recipe