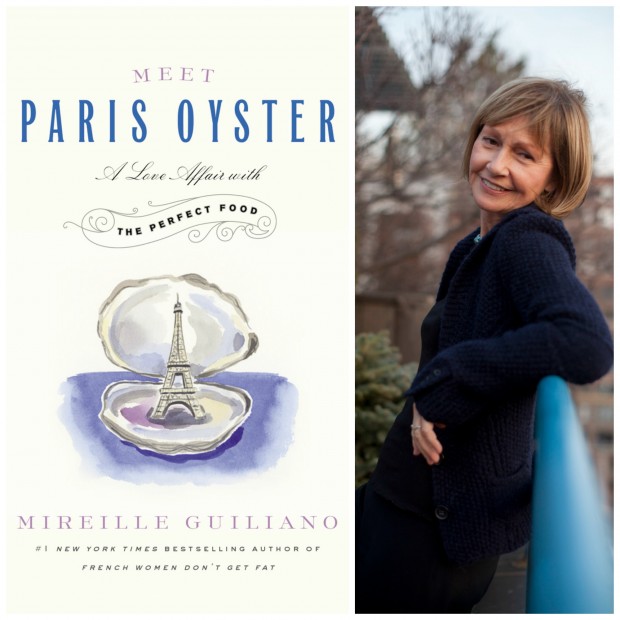 Today, Mireille Guiliano, the doyenne of French-American living who brought us French Women Don't Get Fat, publishes her latest book, Meet Paris Oyster: A Love Affair With The Perfect Food.  I was lucky enough to receive an advance copy.  Quelle chance!  I could not be more over the moon that Mireille agreed to do an interview for French Revolution on oysters, food, love, where to eat, and just generally how to live with joie de vivre.  She is honest and opinionated as ever.  Merci, Mireille!
I remember—vividly—lying in my bed, senior year of college, diving into French Women Don't Get Fat with the same flurry of excitement that I usually reserve for chocolate mousse.  Ironic, I know.  But as Mireille Guiliano taught us in 2005, it's all about moderation and life's little pleasures.
Since then, I have been a devotee of Mireille, reading every one of her volumes.  They even have their own corner on my bookshelf.
I admire Mireille on three levels.  First, of course, in cuisine.  French Women Don't Get Fat came out at a time when we were still fighting the battle of the bulge with aspartame.  Her advice to eat with joie de vivre and sensibility, with an ear to one's own body to feel bien dans sa peau was a liberation.  Second, professionally.  She is the former CEO of Veuve Cliquot, and as a businesswoman by day myself, I can't help but admire the grace and savoir faire that she brings to business.  And third, in love.  The way she talks about her American husband after decades of marriage is an inspiration to us young marrieds everywhere.  I think in Mirielle I have always found that same marriage of France and America that has colored my entire life—that I find familiar and wonderful and, frankly, aspirational.
The entire slip of a book is devoted to the oyster, and quite like the oyster itself, it is joyful, winning, and over too quickly, while leaving the consumer better off after than before.  The book is told predominantly through stories of those who consume them—most notably Régis, owner of Huîterie Régis in Saint-Germain in Paris, and Mireille herself.  It is an unusual perspective, but on reflection, just right—how else does one grow to know and love a food than through those who already know and love it?  It is the enthusiasm that these gastronomes—these evangelists—bring to cuisine that gets us to try—and love—such improbable delights as raw oysters.
Mireille, ever a beloved teacher, shares recipes (not all raw!), wine pairings, nutritional breakdowns, lessons in varieties, and even a list of the best places to eat oysters—many of which, I was delighted to find, I had visited, including the Oyster Bar in Grand Central Station in New York and J. Sheekey Oyster Bar in London, a personal favorite after my many years there with Mr. English.  So, you leave the book knowing how to eat oysters—in two ways.  You can order the right variety in the right place at the right time of year and with the right wine.  But you can also order them with celebration, with love, and above all, with a sense of fun, adventure, and anticipation.
One of my favorite parts of the book is devoted to oyster virgins—that moment when you go from being a person who has never tasted a raw oyster to one who has.  Irreversible.  Irrevocable.  My first time was at the Union Oyster House in Boston, being cheered on by a group of my friends, a regular group of old men seated at the bar, and the oyster shucker himself as the briny little pearl slid down my tongue to my throat.  I smiled.  It was, like most irreversible things, nothing like I had imagined.
From then, it has been as Mireille says.  Oysters are for celebrations.  I have eaten them at La Closerie des Lilas in Paris, Hemingway-style.  In New Orleans, fried and stuffed in improbable numbers into a Brobdingnagian po' boy.  At a wedding in San Antonio, perched on nachos.  Each winter at my family's holiday dinner, when my father and I share a frosty dozen at the same classic New York restaurant.  I remember each and every time.  Each time, a fête.  It's the sharing, the lingering, the specialness—the strangeness—that makes them, as Mireille concludes, délicieuses.
In honor of her appearance here, I have the privilege to give away two free copies of her new book, Meet Paris Oyster.  Thank you, Grand Central Publishing, for providing the books.  And thank you, Mireille, for taking the time to answer my questions.
Here's how to enter.  On Facebook, post on the French Revolution page with a memory of the first time you ate an oyster—please like the page if you do!  And on Instagram, post your favorite oyster moment.  Please tag all posts #mireillegiveaway, #frenchrevolutionfood, and @kerrysaretsky.  And do be sure to check out Instagram, as I post most of my food photos there.  I will choose one entry from Facebook and one entry from Instagram next Monday, November 10.  I will announce the winners on Facebook and Instagram.  US only, please, unfortunately!  Good luck, thanks for being a part of it, and you'll love the book!  Over to Mireille…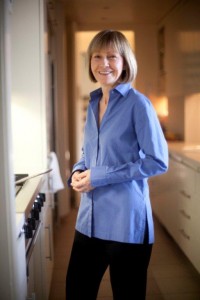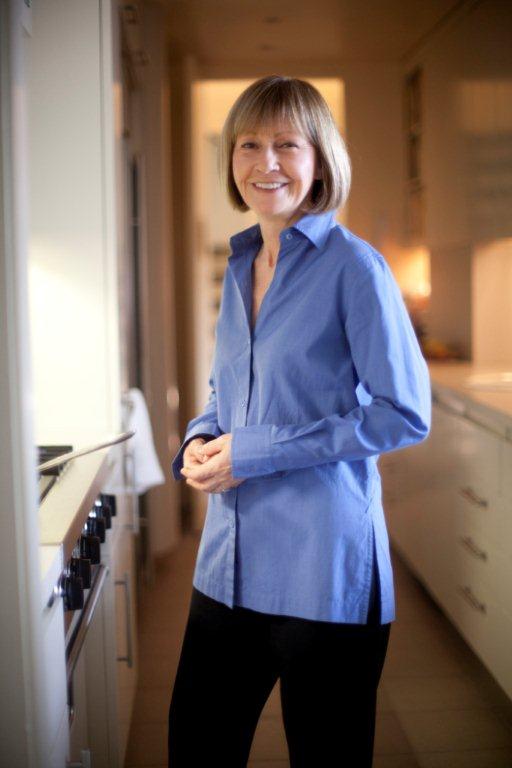 An Interview with Mireille Guiliano
Interview
Kerry Saretsky: Why oysters?
Mireille Guiliano: At least for two compelling reasons: because they give us pleasure and are nutritional powerhouses.
KS: What is the best way to appreciate food?
MG: Eat with all your senses.  Most people eat mindlessly multitasking not sitting / chewing / resting between bites…and get fat.
KS: Where do we need to eat in New York and in Paris?
MG: I have not spent much time in New York this year but still love ABC Kitchen, Upstate, Bar Boulud, Basta Pasta, 15E15, Gotham Bar and Grill, Millésime, Nomad.
For Paris: see http://frenchwomendontgetfat.com/content/where-should-eat-paris.
KS: How do we age gracefully?
MG: Don't like this term at all. I prefer aging with attitude which is about taking a new mindset facing and accepting reality.  Grace is the stuff of a young ballet dancer and for people who believe in eternal youth.
KS: What is the secret to a long and loving marriage?
MG: For me it is Partnership (the 3 F[s]: friendship / fidelity / faith), a recipe with ingredients like love, respect, trust, generosity, compromise, communications, tenderness, some common values, a sense of humor and a sense of mystery to keep the flame hot and going.
KS: What is the secret to success?
MG: Not a word I like.  Life is about why and how we live, the rest is small stuff.
The Epicurean Proust:
 1.    What is your idea of perfect happiness?
Perfect does not exist, and if it does [it] must be boring.  Happiness is about moments and intensity, it comes and goes and can / should be cultivated like a garden…seeing the glass half filled instead of half empty is a good beginning.
6. What is your greatest extravagance?
Summer in our "mas" in Provence
13. What is the quality you most like in an oyster?
Transporting me to the seaside
15. What or who is the greatest love of your life?
My friend, lover, husband, poet, man of my life, my "Amérique à moi''  Edward
19. What do you consider your greatest achievement?
Living life to the fullest into 2014
22. What is your most treasured recipe?
My magical breakfast 
see below!
25. What is your most marked characteristic?
Loving and laughing
35. What is your culinary motto?
Less is more
Mireille Guiliano's Magical Breakfast Redux, from French Women Don't Get Facelifts
In Provence, when I have houseguests, I always include a big bowl of Magical Breakfast Redux on the counter buffet-style, and it keeps fine for twenty minutes. Because of its popularity, I alert my guests that a second bowl is waiting in the fridge, and more often than not, both bowls are empty when breakfast is over. Women, men, and kids all love the stuff.
Serves 1
½ to 2⁄3 cup yogurt (or, if you are in France, faisselle)
1 teaspoon flaxseed oil (olive or other oil works, too)
Juice of 1 Meyer lemon
1 teaspoon honey
2 tablespoons raw old-fashioned oatmeal
2 teaspoons chopped walnuts
1. Place the yogurt in a bowl and add oil. Mix well. Add lemon juice and mix well. Add honey and mix well. (It is important to add each ingredient one at a time and blend well to obtain a homogeneous mixture.)
2. Add the oatmeal and walnuts to the yogurt mixture and mix well. Serve at once.
I can't help pointing out how amazing this breakfast is because it is complete with balanced carbs, protein, and fats. The honey in it makes it "dessert," and we know that dessert at breakfast allows for maintaining lower levels of ghrelin (the hormone that stimulates appetite) and sustains higher levels of fullness. Plus, when you eat what you like, you decrease cravings. Lots of people think breakfast is important, but lots of people actually skip it. Surveys show that a good 22 percent of Americans skip breakfast, and among those who eat breakfast, at-home eaters are more likely to have a lower body mass. However, over 40 percent eat fruit and 30 percent eat cold cereal (Cheerios, anyone?) because it is fast. Not the best way to age well. After forty, a complete, what I refer to as "mature," breakfast is key: the Magical Breakfast Redux is one and is supereasy to make.
Excerpted from FRENCH WOMEN DON'T GET FACELIFTS by Mireille Guiliano. Copyright © 2013 by Mireille Guiliano. Used with permission of Grand Central Publishing. All rights reserved. 
print this recipe