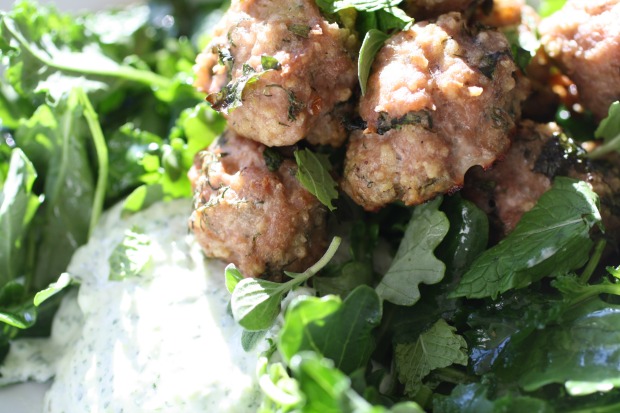 I am a really bad eater of breakfast.  I just don't really like breakfast food.  So when I say that I eat anything with consistency before noon, it's a big statement.  I have been a devotee of Chobani for about a year and a half.  It started when I had a bug and couldn't eat anything.  The doctor recommended yogurt and the blended Chobani flavors appealed enough to give me a bit of appetite.  Later and back in London, I would stop in the little Tesco's on my way to work in Hammersmith and pick up a blood orange Chobani.  I liked its consistency with my life back in New York, and I also loved the pulpy blood orange tang.  And now that I'm back stateside, I raid Fairway's shelves for limited batch pumpkin spice Chobani.  I stir in my salty Early Bird granola and it's a breakfast I actually eat.  In fact, I had it this morning!
So when Chobani told me about their #MadeWithChobani project, I figured I owed them for being one of my few suppliers for the most important meal of the day.
The truth is, in addition to little flavored pots for breakfast, I love using Greek yogurt in savory recipes.  I use it as a substitute for sour cream, crème fraiche, and mayonnaise in so many dishes.  You get the benefit of less fat and less cholesterol, plus healthy bacteria for your digestive system.  I mix in mashed avocado and lime juice and dollop on tacos.  I stir in horseradish or herbs and smear on sandwiches.  I use it to finish soups.  It's a really basic ingredient that I always have on hand.

Here I use it to make a twist on a classic tzatziki, a Greek sauce my cousin in Montreal made for me when I was sixteen, and I have been hooked ever since.  Traditionally, tzatziki is made from yogurt, cucumber, and garlic, and it's the perfect dip for stacks of warm grilled pitas.  But Chobani did as for unique and healthy, so here's my spin.  I make a cool – hot version by adding jalapenos, fresh mint, and Meyer lemon to the traditional tzatziki.  I spoon it onto a bed of lemon-marinated baby kale, and top it with my Greak turkey mini meat balls, stuffed with oregano, mint, dill, parsley, and garlic, and made tender with whole wheat couscous.  It's a great light dinner, but today, I ate it for lunch al desko.
So that's my #MadeWithChobani recipe.  Savory, light, hopefully a little different—and really, really easy and good.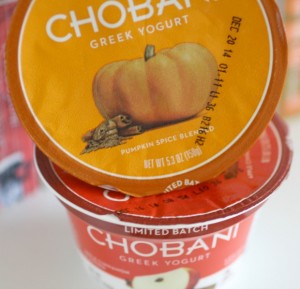 Greek Turkey Meatballs with Chobani Jalapeño and Mint Tzatziki
serves 4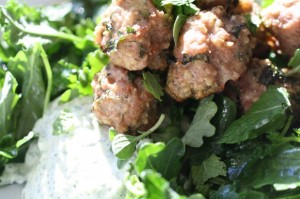 Meatballs
INGREDIENTS
1 pound ground turkey
1/2 cup cooked whole wheat couscous
1 tablespoon freshly chopped of each: oregano, dill, parsley, mint
3/4 teaspoon dried oregano (optional)
1-2 gloves garlic, grated
1 tablespoon olive oil
Salt and pepper
METHOD
Preheat the oven to 375 degrees F.  In a large bowl, mix all ingredients until just combined.  Use a small ice cream scoop to place uniform meatballs onto a baking sheet.  Bake until golden and cooked through, 25 – 30 minutes.
Tzatziki
INGREDIENTS
1 cup Chobani Greek yogurt
1/4 chopped chopped fresh mint
1 tablespoon chopped fresh parsley
1 clove garlic, roughly chopped
1 jalapeno, seeded and roughly chopped
Zest and juice of 1/2 lemon
Salt
1 Persian cucumber
METHOD
Place all the ingredients except the cucumber in a small cucumber and whiz until completely blended.  Finely grate the cucumber onto a few layers of paper towel.  Wring out all the moisture and stir into the tzatziki.
To serve, arrange a bed of baby kale tossed with equal parts lemon juice and olive oil.  Top with some tzatziki and nestle the turkey meatballs on top.
print this recipe