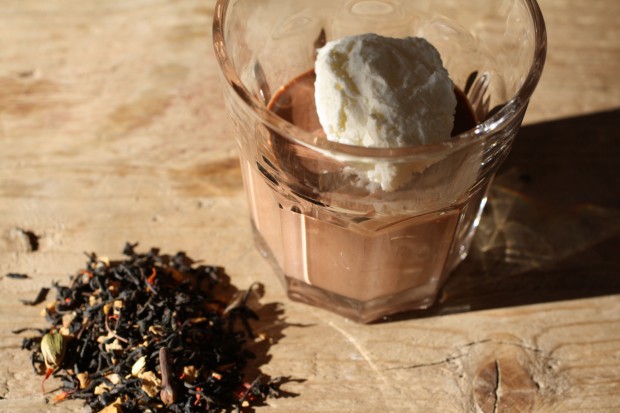 I like to listen to the Ella Fitzgerald and Louis Armstrong station on Pandora while I'm cooking.  There is a classic lightness to it that I find both grounding and energy-giving.  It has also accompanied me through not a few Excel models at the office – a true companion!  Yesterday, as I was whizzing together these little pots de crème, I couldn't help despairing at the lyrics that floated through the kitchen: the snow is snowing, the wind is blowing, but I will weather the storm…
I cannot weather another storm!
I couldn't believe it as I looked out my window that the snow really was still snowing, the wind still blowing.  I had braved my little local farmer's market under an unrelenting dusting of flurries that morning in the hopes of finding seasonal wonders.  I had come back with apples – not spring asparagus or anything else of note – and the still snow paraded steadily past my window.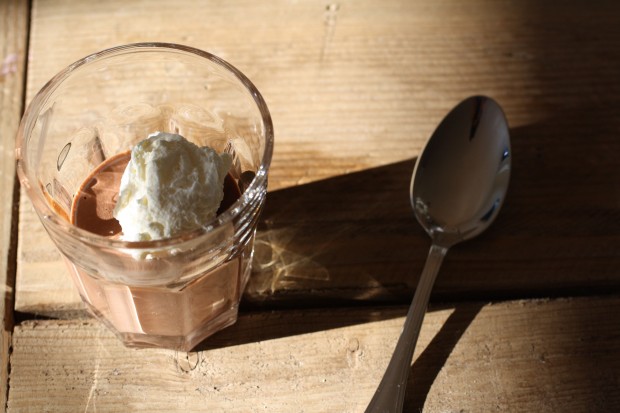 Times like this call for pot de crème, or as I affectionately call it, old reliable.  I recently heard pot de crème described on the Cooking Channel as chocolate pudding your mom could never make – or something like that.  It is better than chocolate pudding – so thick you have to tug it off the spoon with your lips; so dense and velvety and intense it's like staring down the maw of some chocolate demon.  It's marvelous.  But, it's also easier to make than chocolate pudding!  And what I love about it is that it's a pantry classic.  You don't need Mother Nature to cooperate in any way, and the little chocolate pots of wonder will offer you more comfort on a stormy night than even Ella and Louis.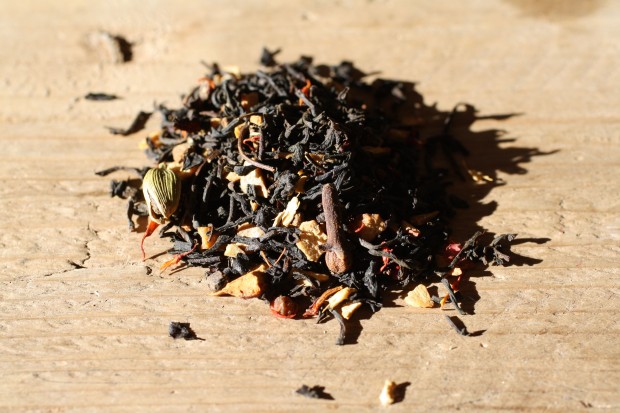 Because after this New York winter I am starting to get my usual itch to travel to faraway (read: warmer) places, I spiked my classic dark chocolate pot de crème with a spicy, enveloping loose chai tea sent to me by Palais des Thés (merci!), a French maker of wonderful, approachable whole-ingredient loose tea.  When the spoonful of chocolate first hits your tongue, you taste that bittersweet dark chocolate, and then, after a second, the flavors of ginger, orange, pink peppercorns, cinnamon, and cardamom break through that bitter note to explode in this warm, exotic spiciness.  The chocolate warms your heart, the spices warm your soul, and the whole thing whisks you away to a better place.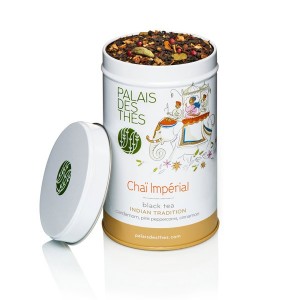 I served it last night at a dinner party in our little Manhattan apartment.  And though the snow was still snowing, the wind still blowing under the streetlights far below, I have my pot de crème – and my friends, and my love, of course – to keep me warm.
Thank you, Palais des Thés for the Chaï Impérial.
I also think this pot de crème would work terrifically well at an Easter lunch or Passover seder.
Bon app!
Rich, Exotic Chocolate - Chai Pot de Crème
serves 4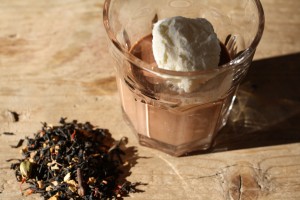 INGREDIENTS
1 cup heavy cream
1 tablespoon Palais des Thés Chaï Impérial
1 teaspoon vanilla extract
3 ounces 70% cocoa dark chocolate, broken up
2 egg yolks
2 tablespoons granulated sugar
Small pinch of sea salt
METHOD
In a small saucepot, combine the cream, chai tea, and vanilla extract.  Heat over medium heat until bubbles form around the edge of the cream.  Take off the heat, and allow to steep for 15 minutes.
Add the chocolate, egg yolks, sugar, and salt to a blender.  After the cream and tea have steeped, heat them again together just until bubbles form around the edges (you want the cream warm when you add it to the chocolate so they melt together).  Strain the cream into the blender.  Whiz everything together until smooth and incorporated.
Pour the pot de crème mixture into four small glasses or ramekins, knocking each one gently against the counter to burst any air bubbles.  Cover with plastic wrap, and refrigerate for at least four hours, but preferably overnight.  Top with homemade whipped cream to lighten the dense, velvety chocolate.
print this recipe