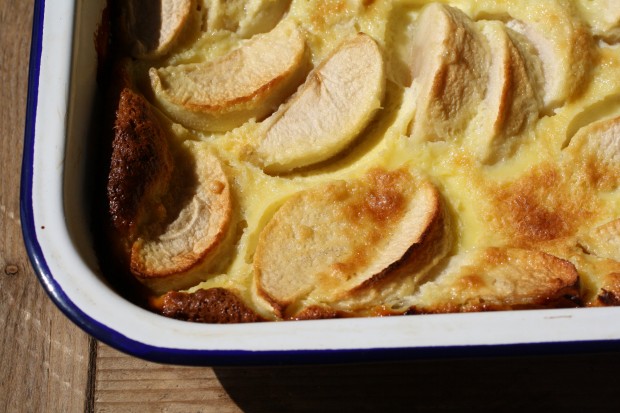 Spring is finally here, but it's been a long time coming.  When I received the galley of Elizabeth's book, I sat down to read it, all along looking for ways that it would work on French Rev.  As I said in my review of the book, the pages transported me back to Provence.  And for me, Provence is a synonym for markets.  Mr. English and I pretty much ONLY picnic in Provence.  Stopping by markets for melons and white peaches, bottles of strange liqueurs, olives, tomatoes, and even saucisson.  The flavors are like prizefighters — so punchy they take up more space than they should, packing more force than they have any right to, filling the air with smells so strong you can actually taste them.
Feeling forlorn about the state of my New York produce, I saw Elizabeth's recipe for clafoutis, and I thought, there is something that works anywhere and any time.  Just swap out the cherries for whatever is in season.  That is the French way!  That is why clafoutis was invented!  I can do that, even here!  Plus, I had just found out about a little farmers' market just two blocks away in a small parking lot on Saturdays.  Not exactly Elizabeth's Forcalquier, but something!
Clafoutis is a classic French dessert.  Like a soft pancake custard, sweet, fluffy, cream, and poured over the season's prized fruit — usually cherries.  I couldn't wait to see what my cherries would be.  The Saturday before last rolls around.  I am up; I am ready.  I run to the elevator, and out the door.  It never pays to be late to a farmers' market.
I emerged into the snow.  Great flakes pouring down around me, so ridiculous I felt like I must be standing under one of those snow machines they use in the movies.  I was shocked to see that they really truly melted — real snow.  I arrived at the little market, looking for signs of life.  Daffodils.  Asparagus.  Spring!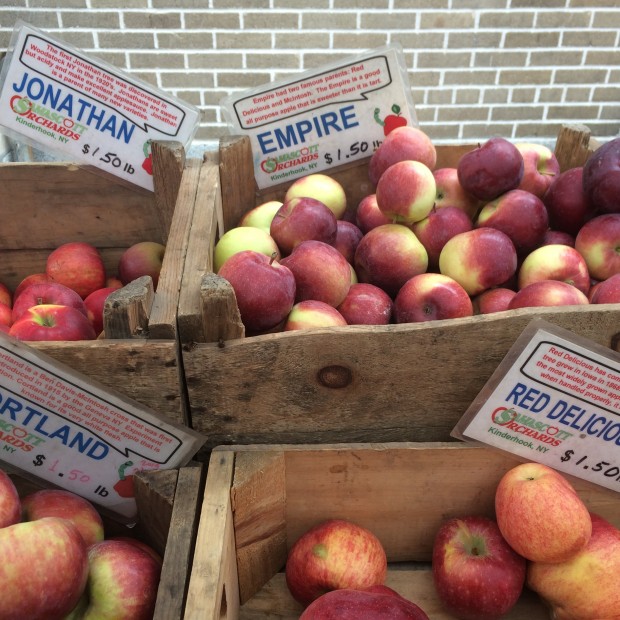 Instead, amidst the flurries, I found rows and rows of apples.  It felt nearly medieval — like these apples had been stored underground in some cellar as the only bit of freshness to tide us over until the spring that would never come.  This is New York, the Big Apple, so I shouldn't have been shocked by the multitude of apples.  Apples I'd never heard of, that by the chalk signs on the crates were hybrid descendants of other apples I'd never heard of.  But when New York gives you apples, I said to Mr. English, we make apple clafoutis!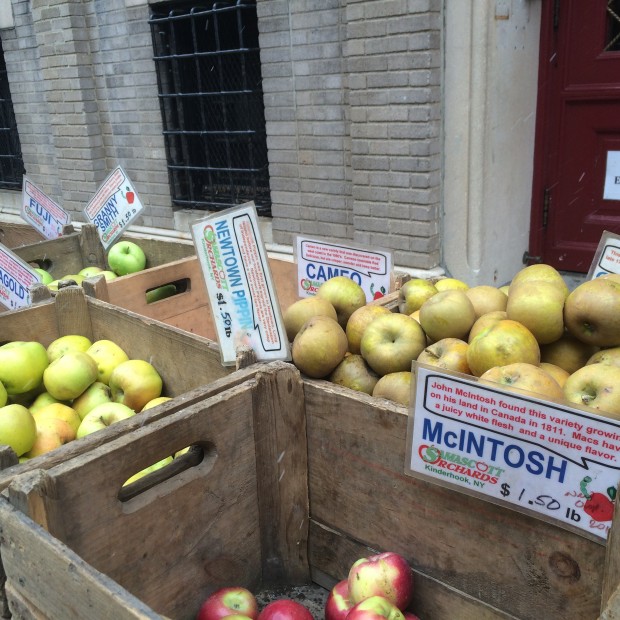 I have never heard of apple clafoutis, but in true Franglais fashion, that is what we had for our Sunday breakfast.  Apples, baked in the oven under a pillow of custard, biting their thumbs at the snowy drifts outside, as we tucked cozily in.
Of course, I used Elizabeth's clafoutis recipe, simply swapping out the pound of cherries for a pound of peeled, cored, and sliced apples, and exchanging the amaretto for a spoonful of true Norman pommeau that I snuck back last spring.  I asked Elizabeth about clafoutis and markets down in Provence, and this is what she has to say…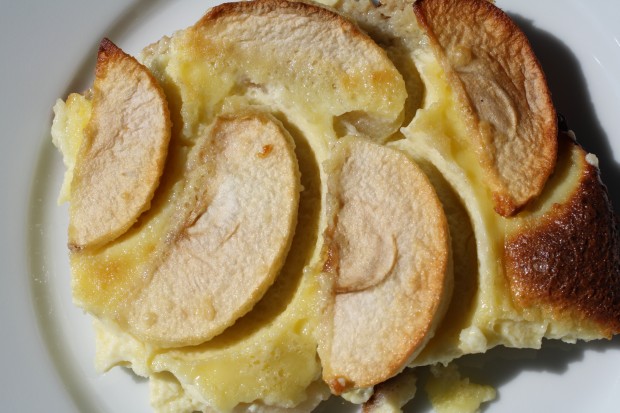 Elizabeth Talks Clafoutis
Kerry Saretsky: How did you learn to make clafoutis?
Elizabeth Bard: I played around with the custard base in Paris, but it was after we moved to Provence and our neighbor, Mr. Cappelletti, invited us to pick cherries from his tree that I had to get serious about perfecting my clafoutis. Like pancake batter, the key is not to overmix. 
KS: What produce most inspires you in Provence?
EB: I'm a fig lover, every year when the fresh figs arrive I throw myself a little fig fest – Figapalooza, if you will. 
KS: What is the market culture like in the South of France today?
EB: It's still the best and cheapest way to buy seasonal ingredients. There are still a lot of small producers, people selling from their own farms or their own herds. I only go to the supermarket once every three or four months, for staples like pasta, chocolate, and cleaning products. The rest I buy at the butcher and the Sunday market in Reillanne. 
KS: Do you believe in clafoutis for breakfast?
EB: I believe in clafoutis 24 hours a day!
Merci, Elizabeth!  Picnic in Provence comes out in just a few short hours!  Pre-order it here.