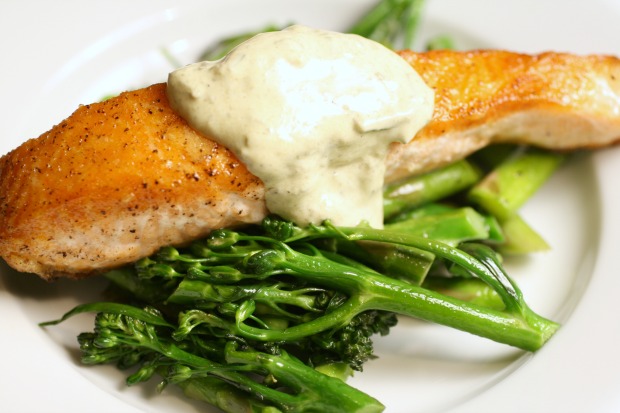 When I was young I had a friend named Catherine.  Our mothers were friends, and every now and again we'd take the drive out from Manhattan to their cottage in Jamesport, just by the sea.  I have vivid, cinematic memories of the place because it was so extraordinarily sensory.  The smoking steam of hamburgers sizzling on the barbecue.  The clouds of perfume shrouding lilacs collapsing on their vines in the summer air.  The pant and froth of the horses as we trotted through the heat.  The pages of Narnia as they were turned in the little wooden cottage.  The chestnut brown of the prehistoric horseshoe crabs nestled in their sandy beds on the gray beach.
It's been nearly twenty-five years since those summers.  For Mothers' Day this year, Maman and I had determined that we would go away together somewhere different, like we did during what we like to call our "adventures" when I was young.  She and me, contra mundo.  But when I looked at flights for the May weekend, everything was over $500.  So much for spontaneity!  Desperately disappointed, I tried to take Mr. English's advice: "Don't panic," he often admonishes me.  "Problem solve."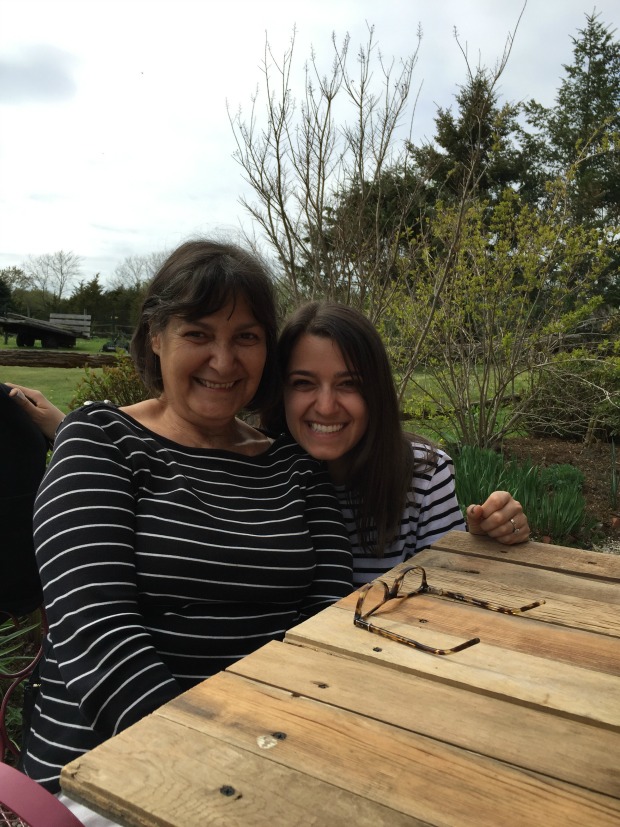 So I pluckily resolved to find a destination that was cool enough for our adventure and within driving distance of New York; I had been hearing so much about the vineyards on the North Fork.  Seven-year-old me had no idea that Jamesport was on what is known as the "North Fork" of Long Island, so I was delighted as I was plotting our wine-tasting, farm stand-hopping trip to realize that our modern-day adventure was a frolic through one from our ancient past.
We began the weekend at Noah's in Greenport.  My father used to take my mother on treks to Long Island in their early marriage just for the duck, so naturally Maman and I ordered Long Island duck confit with bacon-flecked black lentils.  We had a head of roast garlic, to smother onto grilled bread.  We had a kale Caesar splintered with julienne of apples.  And a fritto misto of calamari, sugar snap peas, and lemon slices.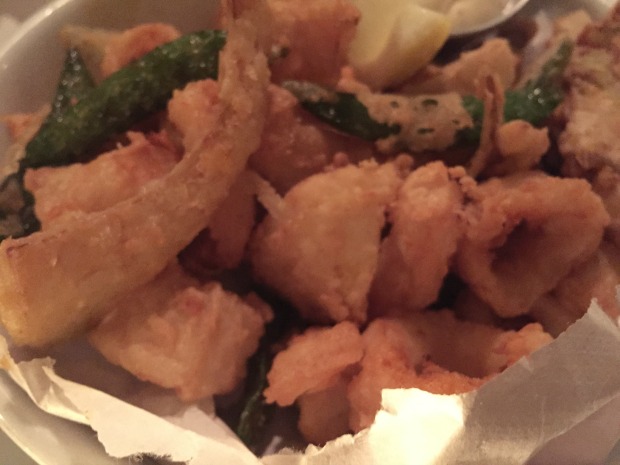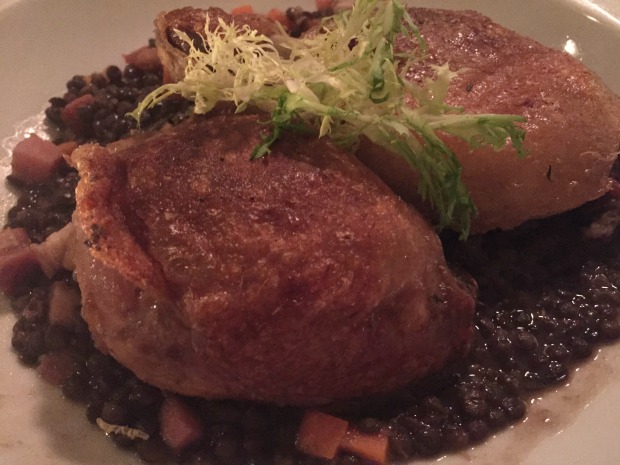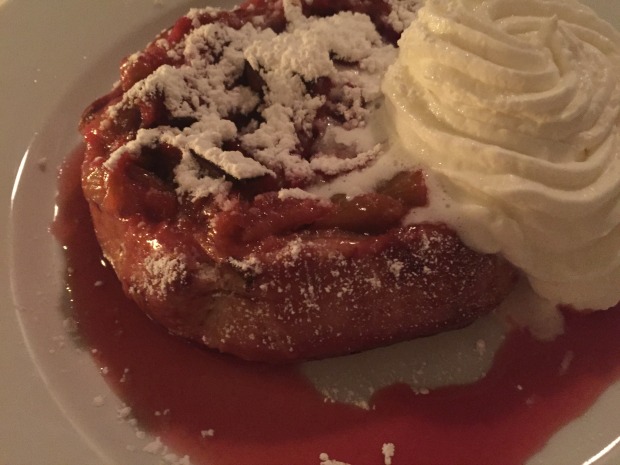 When I announced that I wanted the rhubarb crostade for dessert, Maman looked at me and asked, deadpan, "What is roo-bart?"
With that, it had to be ordered, a wonderful handfolded pie of astringent rhubarb offset with a turban of fresh whipped cream.  Maman declared it the best thing she'd ever eaten and set out on every subsequent meal in search of roo-bart.
The next morning came more firsts for my mom.  At Harbes Family Farm, I introduced her to the joys of apple cider donuts.  "Mmm!" was the exclamation.  Unfortunately, the roo-bart had not come to harvest time yet at Harbes, but I bought two gorgeous bouquets of fresh green asparagus, and all the organic herbs for my windowsill herb garden that I'd been dreaming of through the winter.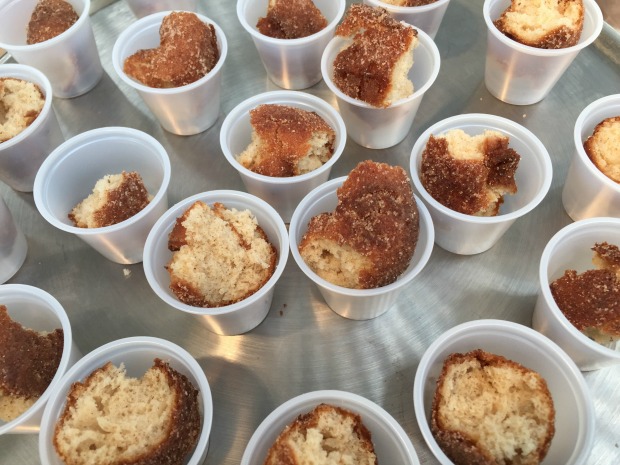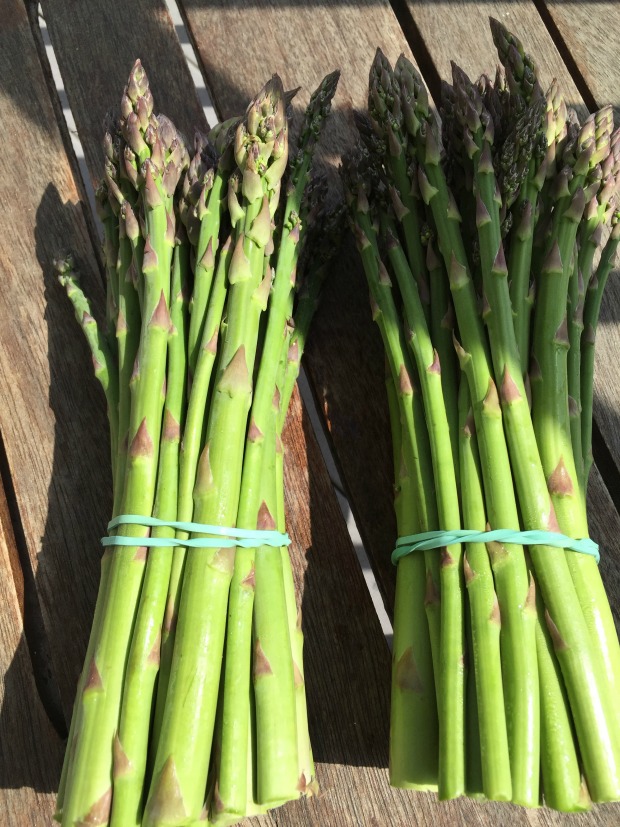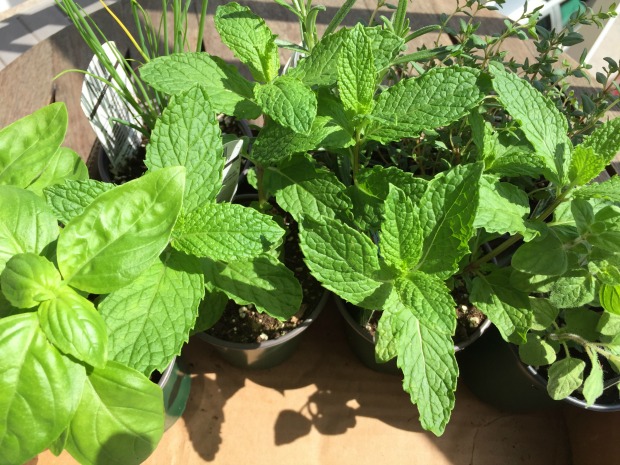 Later, we ran into friends at the rosé-only vineyard Croteaux (apparently New York is not only a small city, but also a small state), and sampled six rosé varietals.  I finally settled on one with wild fermented yeast to bring back for Mr. English.  And that night we dined at the famed North Fork Table and Inn, where I experienced the North Fork harvest brought to life in fresh spring pea soup with buttered crab and stinging nettle cavatelli which may have been the most original and well executed American pasta I have ever had.  Maman's fennel and orange cheesecake was the lightest, most exquisite dessert, but no, she confirmed, it did not rival her new beloved roo-bart.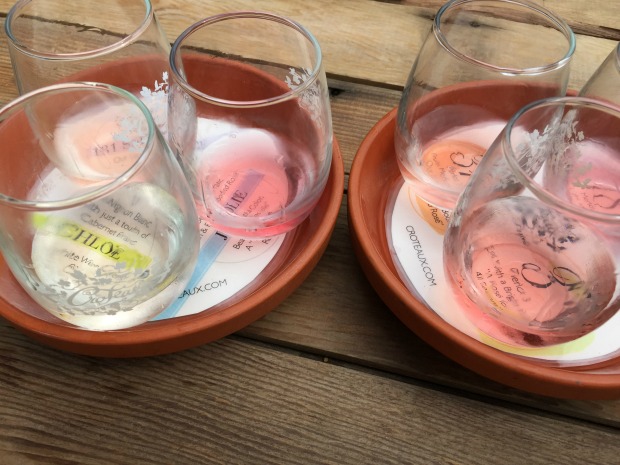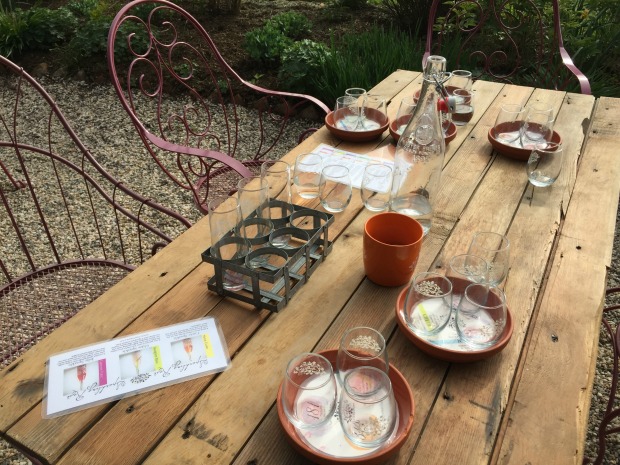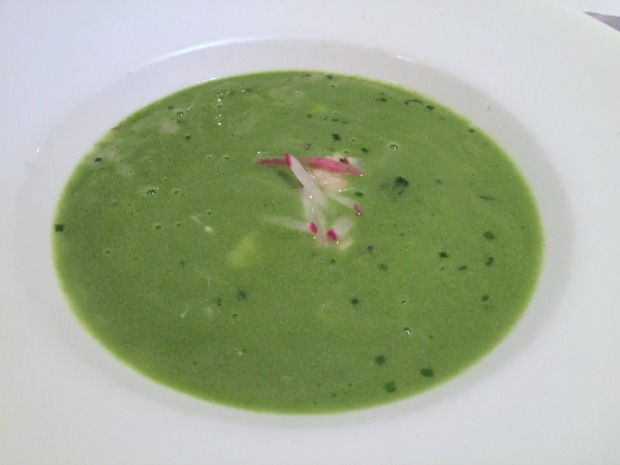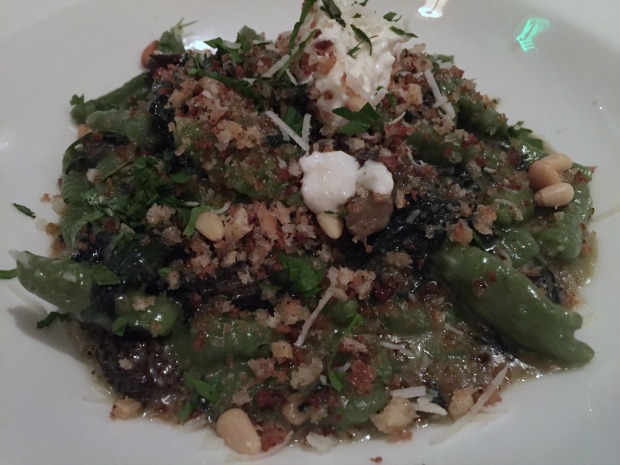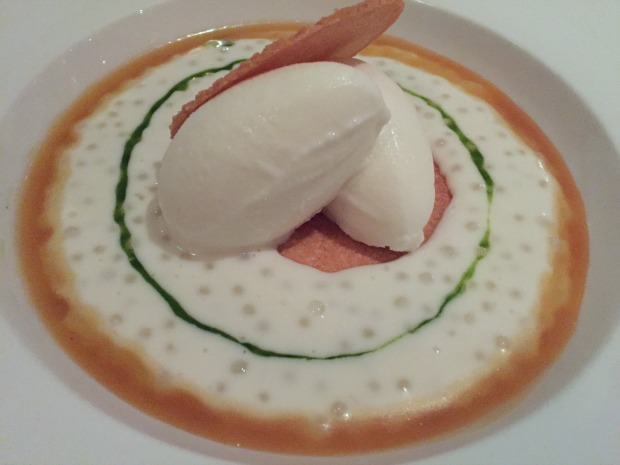 Sunday found us back at the North Fork Table and Inn, sitting at a picnic table under their leafy trees sampling their food truck.  Season salad.  Artisinal hotdogs.  Fries.  It reminded me of those cookouts so many years ago, albeit more refined.  We headed out to Orient to walk the beach and collect sea glass and shells, trying ineffectually to skip rocks.  Finally, heaving sighs, we decided to drive back to the city.  Oh, let's just stop here, we said at the lavender farm as we sniffed at the different sprigs.  Ooh, and here! we excused ourselves as we stopped by Catapano farms to sample their homemade goat cheese and buy a pot of chervil to complete my herb collection.  We were now running officially late for our city dinner at Little Owl, but when I saw a huge sign on the side of the road shouting "fresh sorrel", I stunt-drive swerved off the road and into the little road-side stand's parking lot.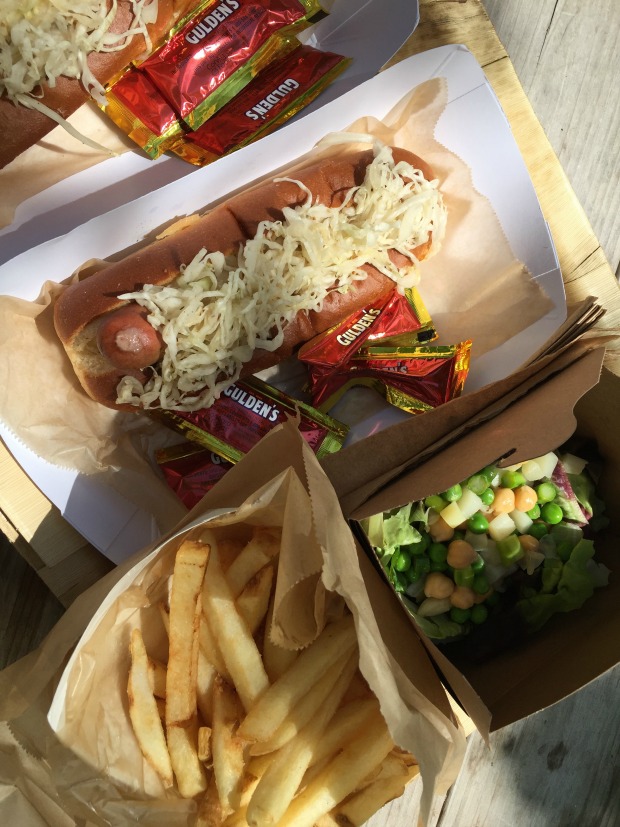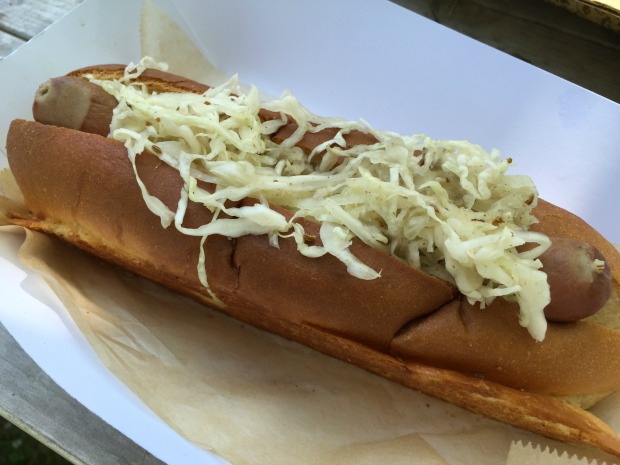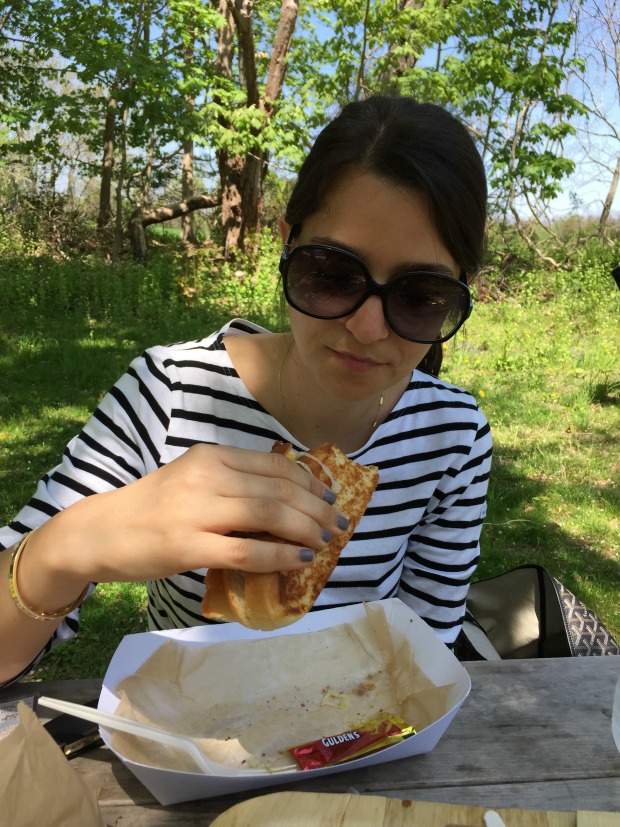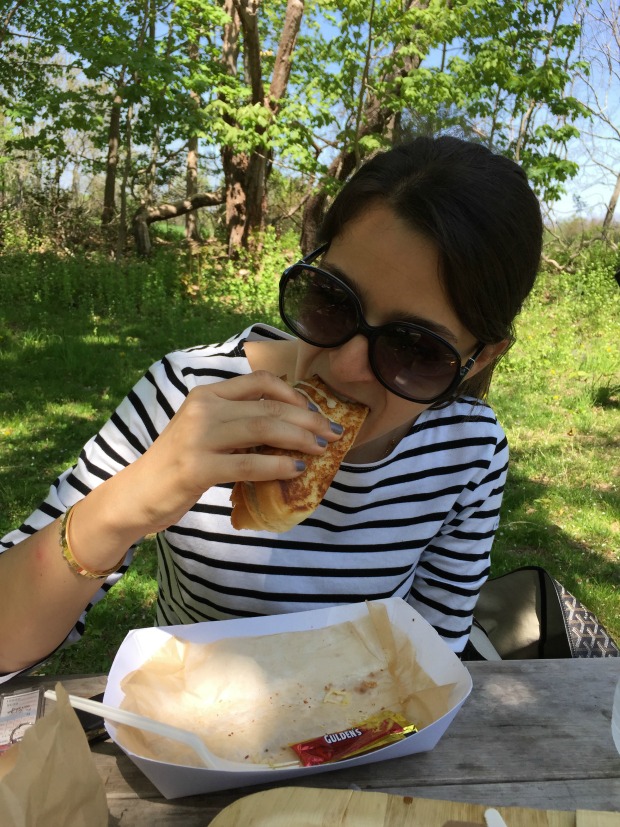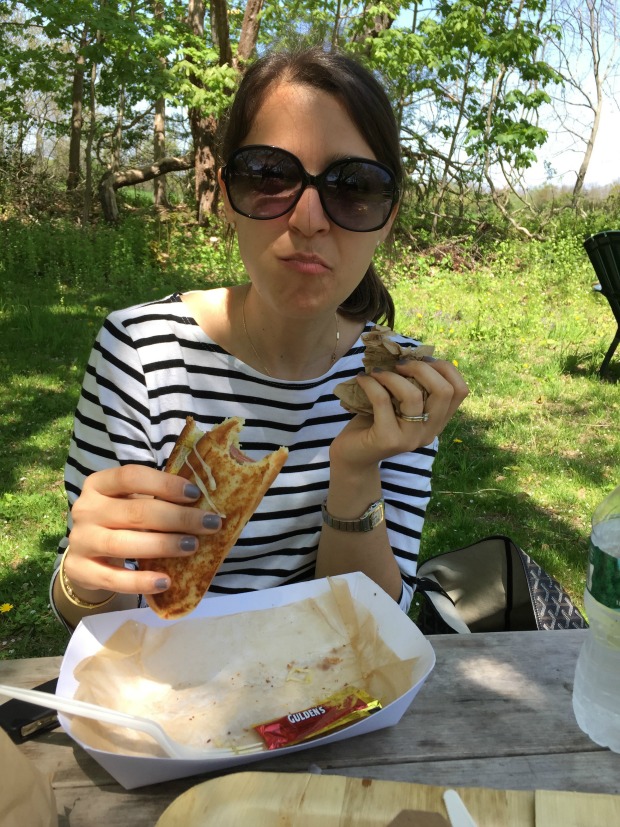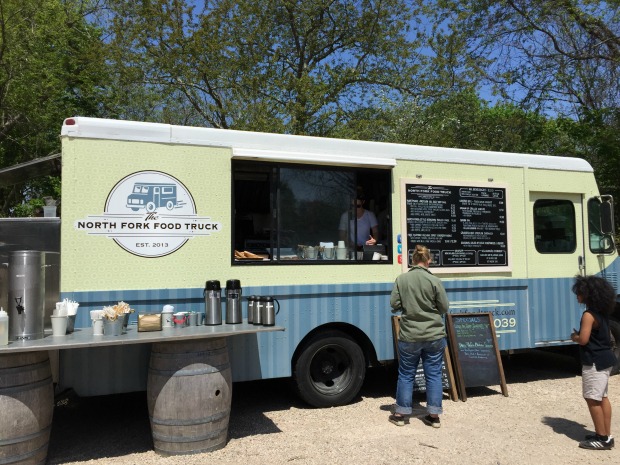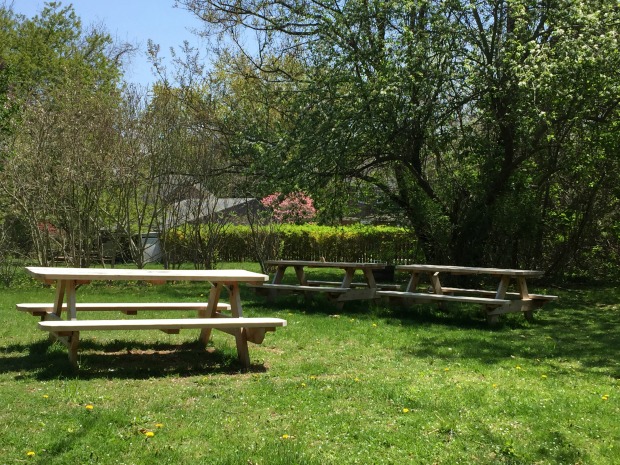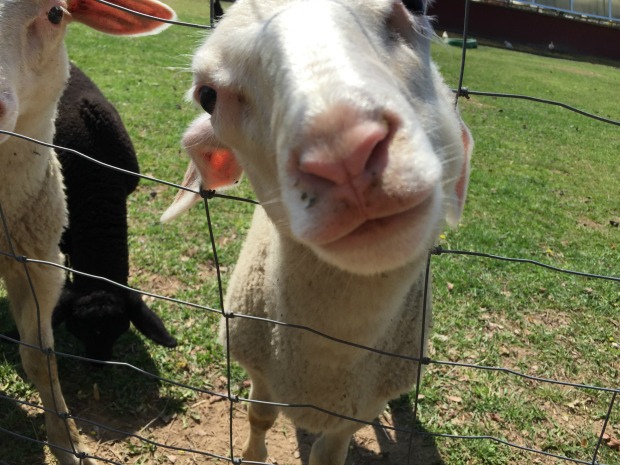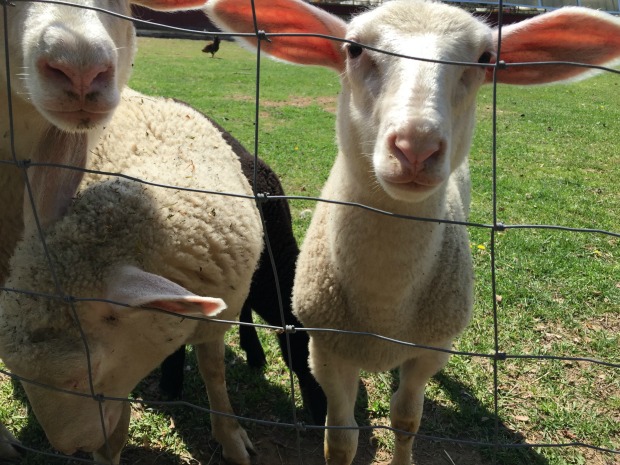 I love sorrel.  I don't know why it's not a bigger deal here in the States.  I can often find it at Whole Foods for about $3, but the volume is so infinitesimal compared to the recipes that call for vast quantities of the astringent herb in French cookbooks.  To know me is to know that I love traditional French pairings, to France what peanut butter and jelly are to America: terrine and mustard, fondue and cornichons, sausages and lentils, and my favorite, salmon with sorrel.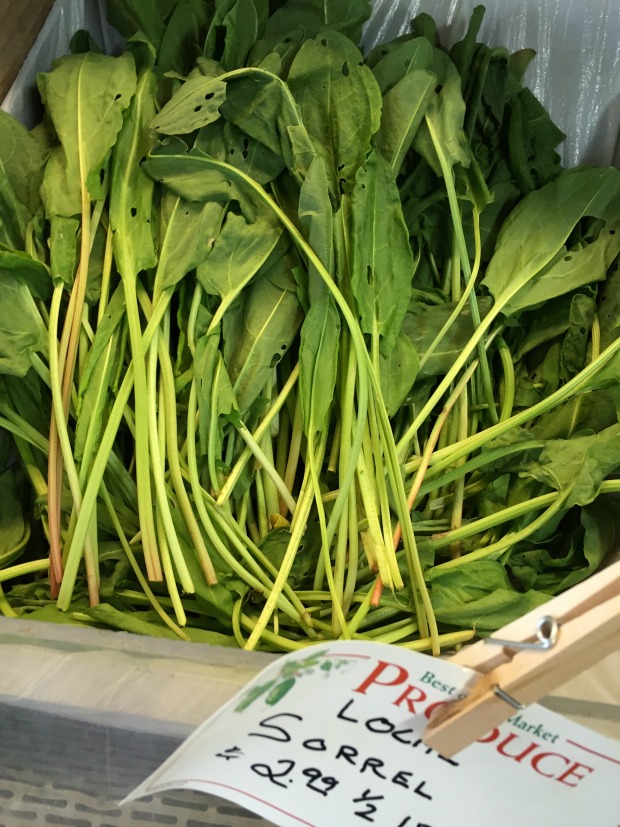 Sorrel, in its astringency, is almost a citrus, even though it looks like a green leafy vegetable.  Traditionally, salmon is seared, and served with a lightly creamy sorrel sauce in fine restaurants, or an almost creamed spinach version in hearty homey restaurants.  Inspired by the French-American fusion I saw at Noah's, I created my own simple version of salmon with sorrel.  I seared the salmon with just salt and pepper in olive oil until crisp.  For the sorrel sauce, I wilt the sorrel in just seconds with a few chives and a splash of white wine.  Then I whip it together with just a bit of Greek yogurt – it's healthy, and the tang goes so well with the sorrel.  You could also use crème fraiche for the same effect.  Although not the healthy part.  The sauce melts in tiny rivulets into the ravines of the crispy salmon.  The acerbic tang of the herb cuts through the fatty richness of the salmon.  It is so, so good.  I serve it on top of fresh medley of green vegetables, just sautéed until tender crisp.  You could, of course, use just Long Island asparagus.
At the farm stand, I grabbed a big handful of sorrel, convinced it would cost a fortune.  When the till rang up $1.25, I went back to grab more.  "No," Maman exclaimed!  "Mr. English is waiting!  We are late!"
They sell sorrel for pennies; I am thinking that kind of savings means I can start looking at real estate.
Springtime Sorrel Salmon for Two
serves 2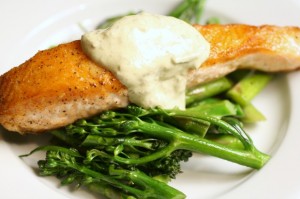 sorrel sauce
INGREDIENTS
1 tablespoon olive oil
¼ ounce chives, chopped
¾ ounce sorrel leaves, chopped
Salt and pepper
¼ cup dry white wine, like Sauvignon Blanc
¼ cup Greek yogurt
METHOD
In a small ceramic nonstick sauté pan, heat the oil over medium heat.  Add the chives and sorrel, season with salt and pepper, and wilt for 30 seconds.  Add the wine and reduce to 1 tablespoon.  Add everything to a small blender, add the yogurt, and whiz until smooth.  Set aside.
salmon
INGREDIENTS
1 tablespoon olive oil
2 5-ounce filets of salmon
Salt and pepper
METHOD
In the same pan as the sorrel (no need to wash it!), heat the oil over medium-high heat.  Season the salmon with salt and pepper.  Place the salmon flesh-side-down in the pan.  Cook for 5 minutes.  Reduce the heat to medium, flip the salmon, and cook for an additional 5 minutes for medium-well.
TO SERVE
To plate, spoon some sautéed vegetables (if you want) in a wide, shallow bowl.  Place the salmon on top, and crown with sorrel sauce.  Eat up!
print this recipe