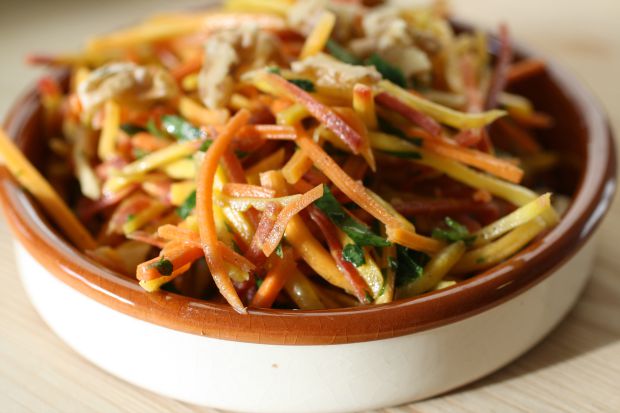 I grew up eating carrot salads.  My mémé's Moroccan one: spicy, lemony, overflowing with toasty and smoky cumin seeds, and punctuated with parsley, served on Friday nights.  My mom's more Mediterranean one – shredded carrot floss, golden nuggets of Parmesan, olive oil, more lemon, more parsley, served on sunny cold winter days by our pool when we were living in Florida.  Whereas my friends ate salads that had carrots in them, we ate carrot salads.  Just carrots.  I like the humbleness of them. The healthfulness of them.  I like that they are cheap and cheerful, crunchy and sweet and savory.  A carrot is an honest vegetable; I have faith in carrots.  Old reliables.
When I'm in France, mostly in the summertime, I love to lose myself in the hypermarchés.  Yes, of course, everyone loves the markets.  But I love the supermarkets too, where prepared carrot salads are ubiquitous and I insist on bringing one to every picnic.  I move methodically, up one aisle, down the next.  No item undiscovered, unconsidered, unremarkable.  Mr. English puffs out his cheeks, stands impatiently tapping his foot as I consider five brands of Camargue gray salt, and want to consider at thesis level the advantages and disadvantages of each.  "It's just salt," he mumbles.  But not.  Everything there is a little different, and that little difference, for me, is wonder.
Take, for example, the carrots.  If you get a good hypermarché, the bagged salad section will also be replete with angel-hair shredded carrots, celeriac, and carrots with celeriac.  I make rémoulades without hesitation.  (The mustard selection is another twenty-minute decision!)  It's amazing how just the little differences – the finer shred to our American shredded carrots – leads to such a feeling of novelty.  The carrots there are less crunchy, more downy, creating nests rather than piles or stacks.  Grass rather than hay.  It's not better.  Just different, and to me, embarrassingly, a little exciting.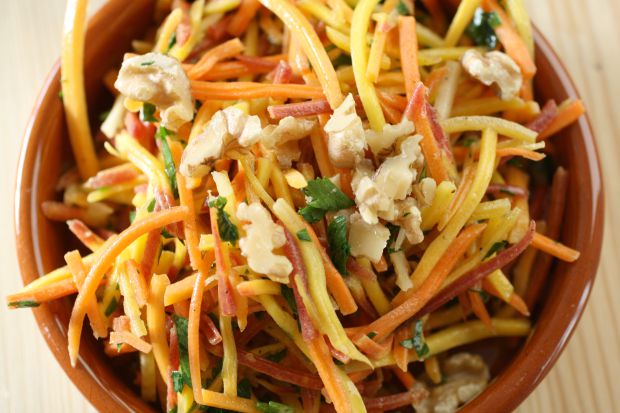 I was shopping at my usual supermarket in New York this week when I came across a bag of shredded organic heirloom rainbow carrots.  Beet-ish purple-red.  Golden.  Standard-issue orange.  And ghost white.  All tossed together in a 10-ounce plastic sack.  There it was.  The novelty!  The excitement!  The rush of want.  And I didn't have to cross the Atlantic.
I have long been working on my own version of a carrot salad.  I probably have editions of it on this blog that I have forgotten.  But I wouldn't be my meme's granddaughter and my mom's daughter if I didn't have a carrot salad.  Mine is with walnuts.  Carrots, root vegetables, earthy.  Walnuts, so woody, almost like tree bark.  I love them both, and I love them together.
Maille recently gifted me a jar of their walnut mustard, and I was immediately struck by just how walnutty it was.  A touch a honey (Tupelo!), a splash of white wine vinegar, a stack of Maldon salt flakes, crushed between my fingers.  Then, walnut oil, olive oil.  In go the rainbow shards of carrot, followed by parsley (can't break that family tradition), and smashed toasted walnuts for a walnut triple-threat.  The result is so wonderfully of-the-earth.  Thoughtful, but simple.  I had some Terra Original chips, as I almost always do.  The colors matched my carrots, and I crumbled a few on top of the salad, the way my Le Comptoir places blue potato chip shards on its dishes in Paris, for salt and crunch and surprise.  It was just the perfect touch – very me – to autograph my contribution to the family carrot album.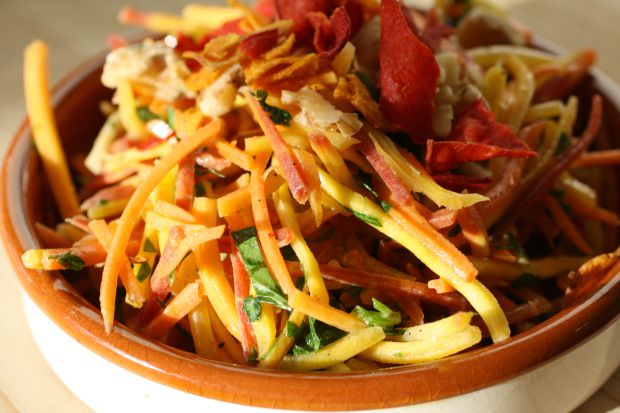 Merci, Maille, pour la moutarde!
Bon app!
Rainbow Carrot and Walnut Salad
serves 4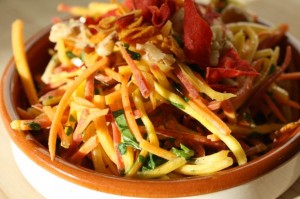 INGREDIENTS
1 teaspoon walnut mustard
1/8 teaspoon honey
1 tablespoon white wine vinegar
2 tablespoons walnut oil
1 tablespoon extra virgin olive oil
1 10-ounce bag of shredded rainbow carrots
1/3 cup chopped toasted walnuts
2 tablespoons chopped fresh parsley
Optional: Terra chips, crumbled on top
METHOD
In a small bowl, whisk together the mustard, honey, and vinegar with salt and pepper.  Whisk in the two oils.
In a medium bowl, combined the carrots, walnuts, and parsley.  Toss with the vinaigrette.  Serve!
If you want, top with the Terra chips just before serving.
print this recipe