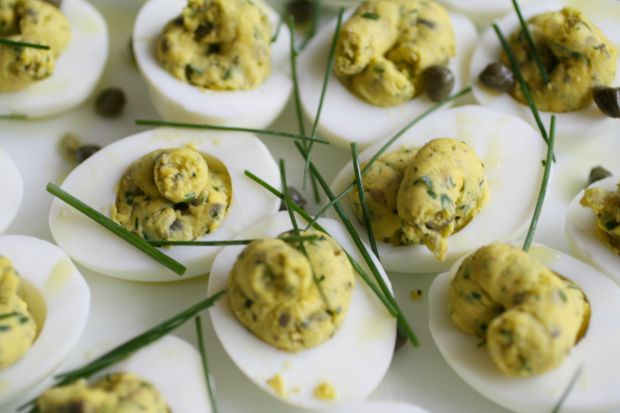 In the elevator, rocketing up from the sizzling sidewalks, I hope my apartment, so high in the sky, will offer some relief.  It turns out I'm just twenty-odd stories closer to the sun. It is still hotter than hot.  I know what hell is like – I have known for as long as I can remember.  It is New York City in August.
I am just back from two weeks in the South of France, where it was even hotter than hotter than hot.  But the heat was dry, the mistral was blowing – and, we must not forget, there were pools…and fountains, and a sea.  Still, even with the respites available, I was surprised to see the locals eating pappardelle à la crème; courgette lasagna; brandade parmentier.  Of course, I am no fool.  When in France, do as the French do – and I did.  But as a rule, in the summer heat, I prefer lighter things.  These are the only months when I want no cream, little cheese, and definitely no mayo.
Egg salad à la campagne is a tartine I have made for a long time.  While I am a born New Yorker, I have never understood traditional New York egg salad, bursting with mayonnaise, squirting out over the edges of an over-stuffed bagel.  Ick.  But my improvisational French country version, full of hard-boiled eggs smashed together with peppery sea glass-green olive oil; fresh, grassy herbs like chervil, chives, and parsley; capers; cornichons; and sometimes shallots is so much lighter AND at the same time, much more flavorful with so many different bright flavors punching through the richness of the eggs.  Plus, I don't fear that it will loose its cool in this heat, as mayo has no part in it.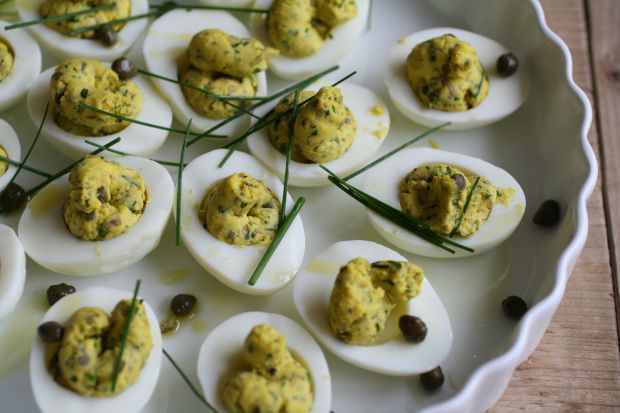 Usually, I serve egg salad à la campagne as a tartine on pain au levain, a wheat sourdough.  But I thought, for a picnic, it might work well as a riff on deviled eggs.  I mash the yolks with parsley (chervil is best if you can get it) and chives, lots of olive oil, and tangy capers.  Lots of salt and coarse black pepper.  Then, I add my favorite part: the cornichons.  I adore Maille cornichons (I've been known to eat a jar in a day), and they are getting easier and easier to find in the States.  They are super-crisp and not at all sweet – vital to the supreme cornichon.  Plus, each jar is fitted with an ingenious cornichon basket that lifts out, so you don't need to fish around in the brine with your fingers.  I also chop up a few of pickled pearl onions that come in each jar, and added, of course, a spoonful of Maille mustard.  Then I nested the mixture back in the waiting hard-set egg whites.
To me, while they are decidedly old-world, these deviled eggs are at the same time very modern.  Fresh, bright, light, and full of flavor instead of fat.  Pack them for a picnic this summer, serve them at a shower.  They dress up or down and go anywhere.  Bon app – and stay cool!
Merci à Maille pour les cornichons!
Deviled Eggs à La Campagne
serves 4 to 8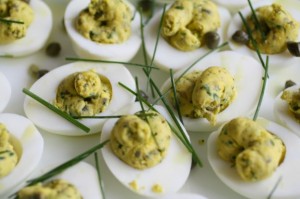 INGREDIENTS
8 eggs, hardboiled and peeled
¼ cup extra virgin olive oil
2 teaspoons Maille Dijon mustard
6 Maille cornichons, finely chopped
2 Maille pickled pearl onions (from the cornichon jar), finely chopped
2 tablespoons finely chopped capers
1 tablespoon finely chopped chives
1 tablespoon finely chopped chervil or parsley
Salt and pepper
METHOD
Slice the hardboiled eggs in half vertically and scoop out the yolks into a large bowl.  Arrange the whites on a serving tray.
Add the olive oil, mustard, and salt and pepper to the yolks, and mash until smooth.  Add the remaining ingredients, and stir to combine.  Pipe or spoon the yolk mixture into the hollows of the egg whites.  Drizzle very lightly with olive oil and garnish with extra herbs.
print this recipe