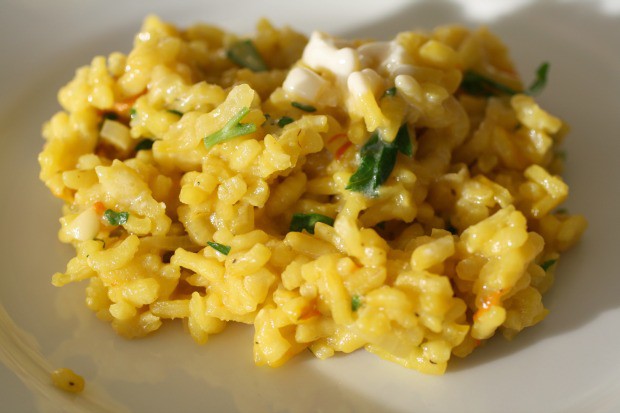 I promised a few weeks ago that I would make a zucchini blossom risotto with saffron and crème fraîche – and I did!
I had my dad over for dinner. Growing up, I spent every Tuesday, Thursday, and Saturday night out to dinner with him. Sometimes it would be Steve's pizza on Second Avenue – garlic bread, a pie, iceberg salad with lots of dried oregano and red wine vinegar. Occasionally, it would be lobster. He taught me how to eat in New York. And he continued to treat to me to such outings – well, he still does! But more and more now, I try to have him over for our dinners. He can't boil water, so I think a home-cooked meal is as exotic to him as dinner out is to most people.
Last time he came over, I made this risotto. Shallots, butter, Arborio rice. Marigold-bright zucchini blossoms, torn into ribbons. White wine, steeped with saffron. So good! And to finish it off, instead of cheese, tangy, rich crème fraîche. It's just so good. And golden and beautiful.
Saffron Risotto with Zucchini Blossoms and Crème Fraîche
serves 2 to 3
INGREDIENTS
8 large zucchini blossoms
1 ½ cups vegetable broth, mixed with 2 cups of water
¼ teaspoon saffron
1 tablespoon olive oil
2 shallots, thinly sliced
2 cloves garlic, smashed and peeled, but otherwise whole
1 cup Arborio rice
¼ cup dry white wine
1 tablespoon unsalted butter
¼ cup crème fraîche
2 tablespoons chopped parsley
METHOD
To prepare the zucchini blossoms, slice off the stem, and remove the stamen. Then tear into petals. Set aside.
In a small stockpot, heat the vegetable broth – water mixture with the saffron over medium heat.
In a wide braising pan, heat the olive oil over medium heat, and add the shallots and garlic. Sauté until translucent. Add the rice and zucchini blossoms, and toast for 1 to 2 minutes. Add the white wine and reduce. Then, ladle the saffron broth into the rice, one ladle at a time, stirring and adding more as the rice absorbs the liquid. After 20 minutes, the rice should have absorbed all the broth, and should be tender. Stir in the butter and the parsley. Spoon into bowls, and top with a dollop of crème fraîche.
print this recipe