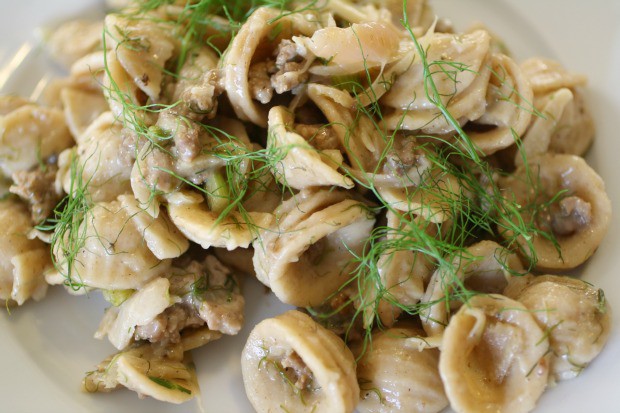 Everyone who knows me knows I hate summer.  Now, I have to admit that it's growing on me.  The office slows down.  We travel.  The fruits and tomatoes are in explosion.  But really, once August rolls around, I'm done.  After Labor Day, when the rest of the world stops drinking rosé and starting mourning the end of summer Fridays, I am celebrating the return of pumpkin pie-everything and starting discussions (negotiations!) about Thanksgiving dinner potato options.
Now, while the air is turning fresh and crackling with possibility, the sky feels blue and unlimited, I am quietly rejoicing in the return to fall cooking.  Hearty.  Harvest.  Whole grains.  Meats.  Vegetables that don't spoil if you look at them the wrong way.
I love this pasta dish.  I have to confess – I loved it so much that when I had leftovers, I ate it for breakfast before work and didn't need to eat again until dinner.  It starts with red onion and fennel – sweet and hearty.  I caramelize them until they become nearly a jam, and then add in fennel-studded pork sausage, and white wine, and a little bit of broth.  I finish it all off with a mess of lacey fennel fronds and crème fraîche.  It's rich and tangy from the sausage and crème fraîche; sweet and earthy from the onions and fennel; bright and airy from the fennel fronds.  I toss it all with whole wheat orecchiette that traps the sauce and bits of sausage.  It is so good!  I am dreaming up a version with turkey sausage and Swiss chard as I write this.
Happy fall, and bon app!
Whole Wheat Orecchiette with Sausage and Caramelized Fennel
serves 4
INGREDIENTS
1 tablespoon olive oil
1 pound Italian sausage (about 4 links, with fennel inside)
1 red onion, very thinly sliced
½ fennel, very thinly sliced
1 clove garlic, sliced
¼ cup dry white wine
½ cup vegetable broth
1 tablespoon unsalted butter, cold
½ cup crème fraîche
1 pound whole wheat orecchiette
½ cup grated Parmesan cheese
½ cup chopped fennel fronds (or parsley)
Salt and pepper
METHOD
In a heavy-bottomed, wide pan, add the olive oil. Remove the sausages from their casings, and add to the oil. Cook over medium-high heat, breaking up with a wooden spoon, until golden brown. Remove with a slotted spoon and set aside.
Add the onion and fennel to the pan with the drippings from the sausage. Season with salt and pepper, and add about 2 tablespoons of water. Cook over medium heat for 20 – 25 minutes, until the vegetables are caramelized. If the pan ever starts to burn, add a spoonful of water. Add the garlic and warm through. Add the wine and reduce by half, scraping the good brown bits off the bottom of the pan. Add the vegetable broth and the reserved sausage into the pan. Bring to a boil, and stir in the cold butter. Finally, stir in the crème fraîche.
While the onion and fennel cooks, cook the pasta according to package instructions until al dente.
Add the cooked orecchiette on top of the sauce. Top with the Parmesan and the fennel fronds. Then, toss to coat, finishing the pasta in the sauce. Add up to ¼ cup of pasta water if the sauce seems too dry. Devour!
print this recipe