I have to admit, until this year, I have been terrible about Thanksgiving leftovers.  It's as if the glory of the main event is so great, that I don't want to tarnish its memory with seconds — second bests, second servings.  I never could understand what everyone is raving about.  I find turkey sandwiches crammed with cranberry sauce to be dry and completely un-enticing.
But I am also an obsessive bargainer, and there is no better deal for feeding a houseful of family that what's already bought and paid for in the fridge.
What I didn't want to do was to make things that were a sad recreation of the great feast.  Instead, I went off-piste.  Turkey salad is nothing novel, but I wanted to do away with the traditional Thanksgiving flavors.  I peeled off the turkey skin that was coated in autumnal herbes de Provence, and Mr. English and I shredded the white meat with our fingers.  In a large bowl, I whisked together an olive oil-based mayonnaise, the zest and juice of a lemon, a finely chopped shallot, and copious amounts of fresh tarragon leaves, that smell like mint and licorice got married.  It feels fresh and bright — the opposite of warm, woodsy Thanksgiving flavors, which, as much as I love them, had been sufficiently represented for the time being.
I brought the turkey and tarragon salad to the table for six with warm whole wheat pitas and salads of fresh cherry tomatoes with olive oil and salt, and a fennel cole slaw.
Dry leftover sliced turkey has been a hard sell; this time, we had nothing left.
Try whole wheat baguette or croissants, too!  Bon app…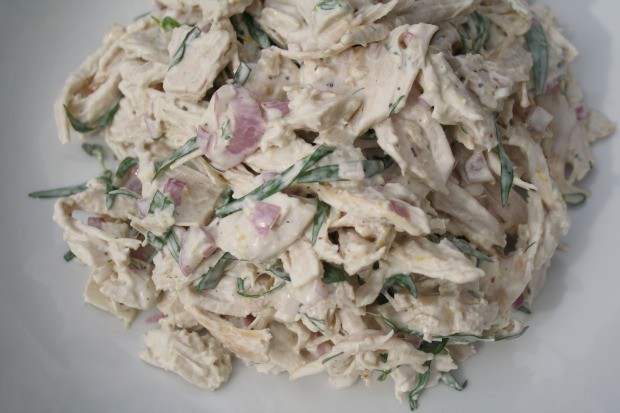 Leftover Turkey Salad with Lemon and Tarragon
serves 6
INGREDIENTS
½ cup mayonnaise
Zest and juice of 1 lemon
1 shallot, minced
2 tablespoons milk or buttermilk
½ cup whole tarragon leaves
Salt
Pepper
4 cups shredded leftover cooked turkey meat (I like the white meat for this!)
METHOD
In a large bowl, whisk together everything but the turkey. Then fold in the turkey, so it is completely covered with the sauce. I serve in warm whole wheat pitas, or with multigrain baguettes, or even, if that's where we are that day, on whole wheat croissants!
print this recipe