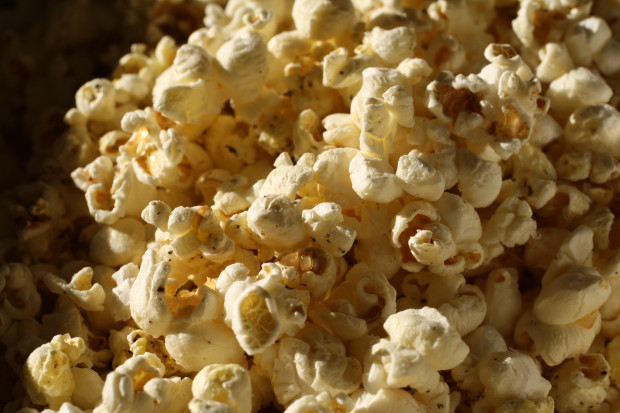 Yes, Super Bowl Sunday is arrived! I'll admit, I will watch any sport before I will watch football. BUT, I still join in the game day enthusiasm for two reasons: (1) it seems to be Mr. English's favorite thing about America, and (2) I love anything that gives me license to snack unlimitedly.
I very often make my Avocado and Chèvre Dip, and serve it with chips and crudités. But for tomorrow night, it's just us, and I'm thinking pizza delivery (I Love NY), a green salad, and my freshly invented Ritzy Black and White Truffle Popcorn.
My mom and I used to have this old (think '80s off-white with brown bands) electric popcorn air-popper, and I loved it. Whenever we would sit around and watch Nick at Nite marathons, we would pop two Amy's mac and cheeses in the oven, and air pop a pile of popcorn kernels that we would toss in too much butter and a few pinches of salt. Does anyone remember those deep-dyed rainbow kernels from the '80s? Those were interdit unless it was a very special occasion, but I thought they were super cool.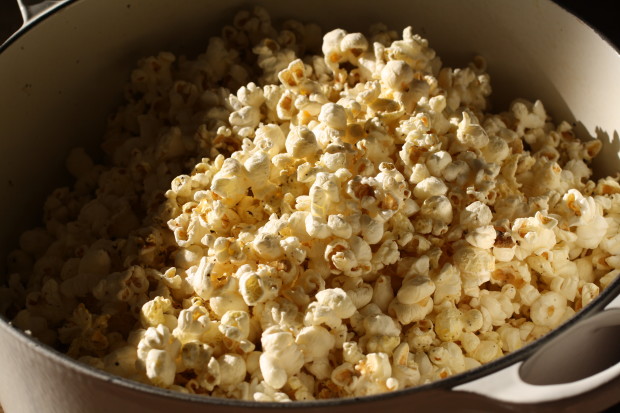 I like the endless munching that popcorn provides, and while rainbow kernels are kind of interdit for all of us now, copious amounts of truffle butter and truffle-infused Pecorino cheese most certainly are not. The first thing I registered for when we got married was an air-popper. I take it down, and wait until the avalanche of fluffy white kernels erupts from the center of the machine in the largest pot I can find. Then I toss with melted truffle butter, grated truffled cheese, salt, and because I can't stop and I had some lying around, truffle oil. Holy moly! It's to die for.
I can't say I know who's playing, but I know what I'll be eating when I find out!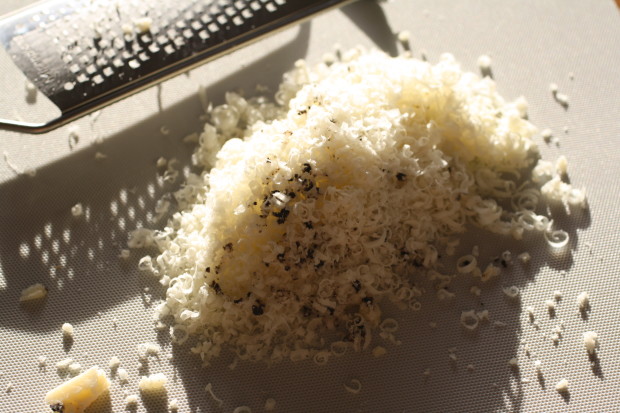 Ritzy Black and White Truffle Popcorn
makes 16 - 20 cups
INGREDIENTS
1 cup popcorn kernels, popped (yields 16 – 20 cups)
6 tablespoons black or white truffle butter, melted
1 ½ teaspoons fine sea salt
1 overflowing cup finely grated truffle Pecorino
1 teaspoon black or white truffle oil (optional)
METHOD
Pop the popcorn the way you usually do (I use an air popper, but some prefer the stovetop method). Meanwhile, in a small saucepan, heat the truffle butter until it is just melted. Take off the heat, and stir in the salt. Pour the butter and salt mixture, the grated cheese, and the truffle oil over the popcorn and toss until the mixture is evenly distributed. Devour!
print this recipe