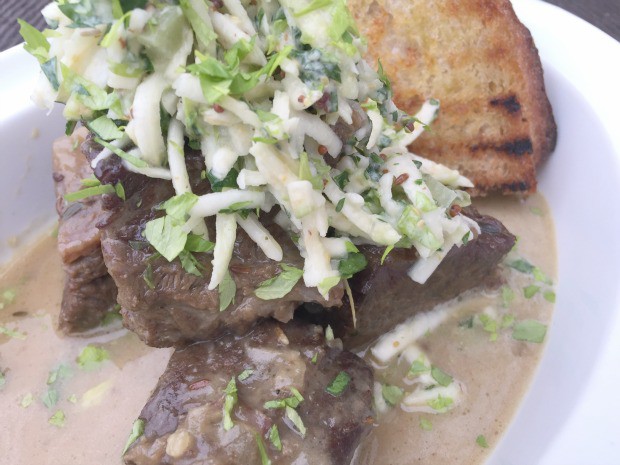 Being married on Valentine's Day in a wonderful thing.  Marvelous, even miraculous, and intensely reassuring.  It's also monotonous.  There is no face I'd rather see one pillow over when I open my eyes than Mr. English's, but at the same time, after eight years, Valentine's has kind of fallen by the wayside.  Anniversaries.  Holidays.  Birthdays.  We do them to the extreme.  But Valentine's?  It kind of feels like it's for new love.  For falling, tumbling head over heels.  We've already tumbled.  I think we're on the outside of Valentine's Day.
While I am not the kind of girl to fall in love with a new man every month, I am the type to fall in love with new things.  This year, I discovered and loved the western wine regions of Germany, perfectly stepped into the hillsides with gorgeous Germanic precision.  Snowshoeing, which I did for the first time after a snowstorm in Vermont.  It felt like trouping through Narnia!  Maman's cavapoo Beau.  And caraway seeds.
I remember caraway seeds from Jewish deli rye, perfect on a grilled Swiss or with the tuna salad I used to order on 57th Street.  But outside of that little ecosystem, I never saw it.  Then, at my best friends' joint bachelorette in Miami, we went to The Dutch for dinner, where they served beef short ribs with caraway.  What a revelation!  I was overcome by the aroma of them, cutting through the richness of the meat with a kind of licorice exoticism.  Then, I started seeing them everywhere.  In slaws in Bon Appetit magazine.  In my favorite Ottolenghi recipe for salmon, similar to Meme's famous Moroccan rendition.  In potato salad served with cod on Shelter Island.  Now I use them everywhere.  It's the rare jar of spice that I might actually buy and finish in the same year.
This dish is a kind of hybrid between that dinner at the Dutch and a pot-au-feu I had in St. Germain about two years ago in Paris.  It's a combination of richly stewed beef, simmered to oblivion, and a fresh, crunchy, bright celery-spiked salad.  Like at the Dutch, I crust the meat in caraway.  But then, I take on some French inspiration by stewing it in wine with onion, garlic, thyme, and bay, and then serving it with a kind of upside-down pot-au-feu slaw.  Instead of stewing the vegetables with the meat, I turn them into a fresh salad, using grated celeriac and fresh celery leaves, chopped with cornichons and parsley, and tossed in a dressing of creme fraiche and whole grain mustard.  Served with grilled bread, it is so good.
Bon app!  I hope you fall in love with many things this year.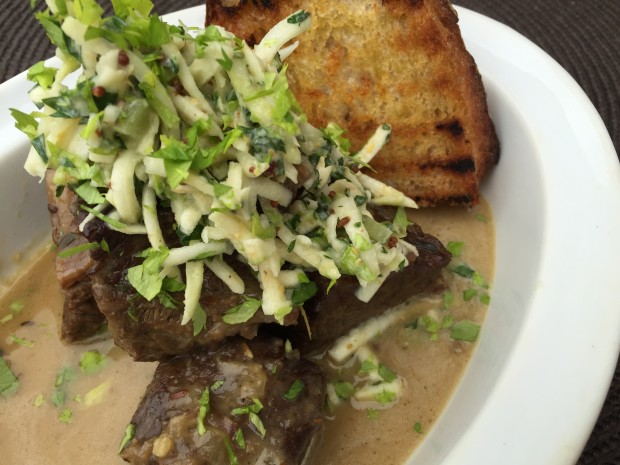 Caraway-Braised Beef Short Ribs with Celeriac and Celery Slaw
serves 2
INGREDIENTS FOR THE BEEF
2 1/2 pounds beef short ribs
2 teaspoons caraways seeds, freshly pounded or blitzed
Salt and pepper
1 tablespoon olive oil
1 small onion, finely diced
2 cloves garlic, peeled and smashed
About 6 stems of thyme
1 bay leaf
2/3 cup dry white wine
1 1/2 cups beef broth
INGREDIENTS FOR THE SLAW
1 tablespoon creme fraiche (or substitute sour cream or Greek yogurt)
1 teaspoon olive oil
1 teaspoon whole grain mustard
2 teaspoons rice vinegar
1 small celeriac, peeled and grated for slaw
2 tablespoons of chopped fresh parsley and celery leaves
1 cornichon, finely minced
Salt and pepper
METHOD
Pat the beef dry on a paper towel.  Season the beef with the caraway seeds, salt, and pepper.  In a braising pan, heat the oil over medium heat.  Sear the beef on both sides, then set aside on a plate.  Add the onion and garlic to the pan, lowering the heat if necessary, and sweat until translucent.  Add the herbs and the wine.  Raise the heat, and reduce the wine by half.  Add the broth and the beef back into the pan.  Bring to a boil, then cover and lower the heat.  Simmer for three hours.
Just before serving, mix all the slaw ingredients together.  Take the beef out of the pot, and discard the bones.  This is optional, but I like to blend the braising liquid in the blender to make a nice gravy.  Then, spoon the gravy into the bottom of two bowls.  Divide the meat between them, and finally, top with the slaw.  Serve with grilled bread and extra cornichons.
print this recipe