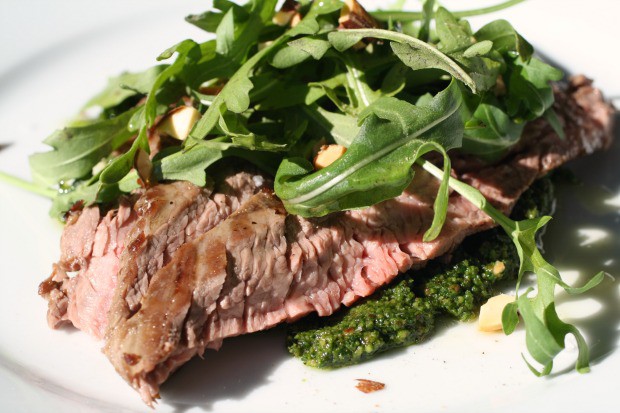 I just got back from my very first trip to Austin, Texas, where I completely undid the effects of my Vegan + Fish January by eating nothing but red meat the entire time I was there.  C'est la vie!
I fell in love with the city (Launderette! La Condesa! Lamberts!) – its food and its shop.  The river / lake.  The bistro lights strung up everywhere indicating a general good time.  So this recipe is a little tip of my (cowboy?) hat to Texas – Grill-Seared Flank Steak with Smoked Almond Greens Pesto and Smoked Salt (if you have it).
I love a flank steak for weeknight cooking.  It's cheap.  You serve it sliced so it goes a long way.  And it takes about 10 minutes to cook – on the grill, under the broiler, in a skillet.  Whatever.
Under this one, I whiz up an easy pesto.  My pesto recipe almost always follows the same recipe: 1 clove of garlic, ¼ cup of nuts, 3 cups of greens, and ¼ cup oil.  Cheese is whatever you feel like that night.  This pesto, which echoes all the woodsy, smoky flavors I ate in Austin, starts with smoked almonds (which I love and keep in the freezer at all time for emergency crap-people-are-coming-over-throw-wine-in-the-freezer-and-do-I-have-nuts moments).  I discovered them on a jetBlue flight and never looked back!
Add a clove of garlic, and 3 cups of greens.  You can really be inventive here.  I used arugula and basil, because I like the mix of peppery and herby.  But you can also use watercress, kale, spinach, parsley.  Whatever you like.  Finish with oil, salt, and pepper.  Smear on a platter.  Arrange the sliced meat on top.  Then top with a few handfuls of the greens you used, whole this time, drizzled with an anointing of olive oil and a crumbling of (smoked, if you have it) salt.  Serve with crusty bread (grilled for extra credit), and you're done!  A kind of inverted steak salad full of smoky summer flavor when it's still (only kinda sorta in New York) winter.
Grill-Seared Flank Steak with Smoked Almond Greens Pesto and Smoked Salt
serves 3-4
INGREDIENTS
1 flank steak, about 1.5 pounds (leave it out for 15 minutes before you grill it to take the chill off)
1 clove garlic, peeled
Brimming 1/4 cup smoked almonds
1 cup basil
2 cups arugula, plus two big handfuls
1/4 cup olive oil, plus extra for drizzling
Salt and pepper, plus smoked salt for finishing
METHOD
If you want to serve grilled bread, drizzle some sliced bread (I like baguette or ciabatta or country boule) with olive oil, and sear on a hot grill pan until marked.  Dust with salt.
Season the steak with salt and pepper and a drizzle of olive oil.  Place on a hot grill pan and don't move it for 5 minutes.  Turn and cook another 3 minutes for a steak that's done about medium.  Set aside to rest.
Meanwhile, make the pesto.  Blitz the garlic in the food processor.  Add the almonds, and blitz those.  Add the greens and some salt and pepper.  Blitz until obliterated.  Then add the olive oil, and blitz to combine.  Spread on a platter.
Slide the steak and arrange over the pesto.  Arrange the whole arugula leaves over the top, and drizzle with olive oil.  Crumbled some flaked smoked salt (or regular Maldon) over the top, and serve alongside the grilled bread, if using.
print this recipe