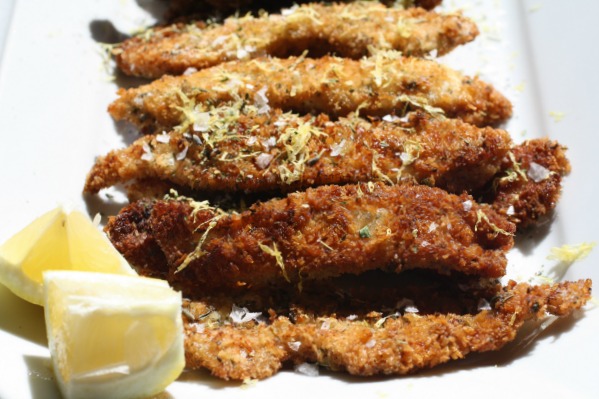 This is a fun recipe!
Some people are young at heart.  I'm young at taste buds.  And there are times when those taste buds are wailing with clenched fists and trembling chins not for foie gras, but for grilled cheese, for oatmeal chocolate chunk cookies (or better yet, rainbow cookies!), and of course, chicken fingers.
Except for one problem.  I'm chicken-intolerant.
Can you believe it!?  Who's chicken intolerant!?  I am.  That's who.  In Paris, I walk by those cases of pirouetting chickens on their rotisseries, with their matching potatoes bobbing in the paprika-stained hot tub of their drippings, and I quail with desire.  I fantasize about running to the door when Mr. English gets home and presenting him with a chicken, roasted and crackling with butter in a cast iron skillet.  (I swear, I am a modern woman, but there is just something romantic about chicken!)  I want to go to Koreatown and eat the whole plate of Korean fried chicken AND lick my fingers (you can tell, I've tried this – we won't discuss).  And I want to eat chicken fingers and chicken nuggets!  (Foot stamp.  Flushed cheeks.  Pout.)  They always look amazing.
So I decided to do something about this, and started on a tirade of turkey.  Turkey noodle soup anyone?  It's on my list.  But first, I went classic with turkey "fingers".  I found some organic thinly sliced turkey cutlets.  I cut these in half, creating long strips.  These, I rubbed stingily in mayonnaise peppered with super savory and herbaceous dried herbes de Provence.  Then I dredged in panko, and pan-fried in olive oil. I topped with shards of Maldon salt, more dried HdP, and fresh lemon zest, serving the rest of the lemon alongside to squeeze on for flavor instead of ketchup.
I've made them twice in the last week.
The turkey is tender and velvety in that way it is.  The hot oil ignites the herbs, and they impart that intense perfuming savoriness.  The panko is satisfying crunchy.  The lemon brightens everything.  We have been packing it for picnics as spring has started to peep out from behind winter.  It's wonderful.
Bon app!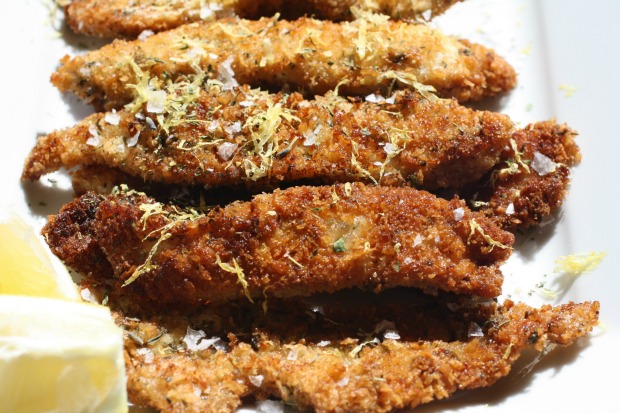 Turkey Tenders with Sea Salt, Herbes de Provence, and Lemon
serves 2 - 4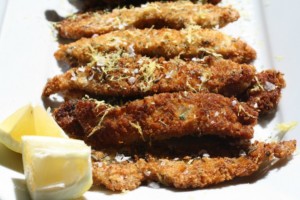 INGREDIENTS
1 pound thinly sliced turkey cutlets
Salt and pepper
¼ cup mayonnaise
1 tablespoon plus ½ teaspoon dried herbes de Provence
¾ cup panko breadcrumbs (preferably whole wheat!)
Olive oil
½ lemon
½ teaspoon Maldon sea salt
METHOD
Cut the turkey cutlets into thick strips (usually, this means halving each cutlet lengthwise), and season with salt and pepper.
In a wide bowl, mix together the mayonnaise and 1 tablespoon of herbes de Provence.  Toss the turkey in the mixture to coat.
Pour the panko into a separate bowl.  Dredge each turkey strip in the panko to thoroughly coat.
Heat an even layer of olive oil in a 12-inch skillet over medium-high heat.  Fry the turkey tenders in batches, 2 1/2 to 3 minutes per side.  Then remove to a paper towel-lined plate to drain.  Season with the remaining herbes de Provence and the Maldon sea salt (just use a couple pinches of regular salt if you don't have flaky sea salt).  Then, zest the lemon over the top.
Cut the zested lemon into wedges and serve alongside.  These are great hot straight from the pan, or room temperature on a picnic.
print this recipe