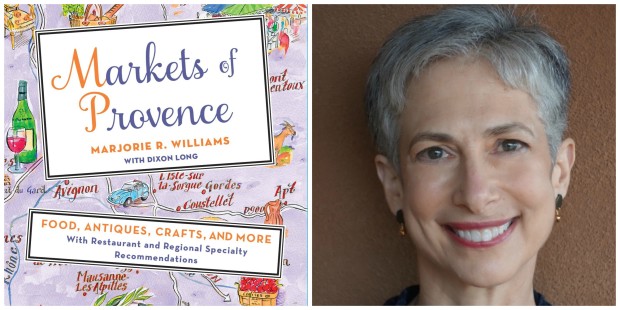 Marjorie Williams
As I wrote last week, Marjorie Williams has written the French shopping bible – a day-by-day guide to the thirty best markets Provence has to offer. And it's so usable – if you're in Provence on a Friday (and who wouldn't want to be!) and in the market for a market, just flip to the Friday chapter, and peruse your options. There are traditional markets, night markets, antique markets. And Marjorie lists the best providers and features of each. Plus, the book is peppered with otherworldly market facts – like the market in Vaison-la-Romaine that has been held every Tuesday since 1532. It marvelously brings history to life, knowing you are linked back to the Middle Age simply by Tuesdays upon Tuesdays of markets. On the occasion of the launch of Markets of Provence, her follow up to Markets of Paris, Marjorie stops by French Revolution to share her Provençal marketing know-how. Next time I head to France, I know who I'm taking with me! Thanks, Marjorie!
Buy Markets of Provence here.  Follow Marjorie on Facebook, Instagram, Twitter, and Pinterest.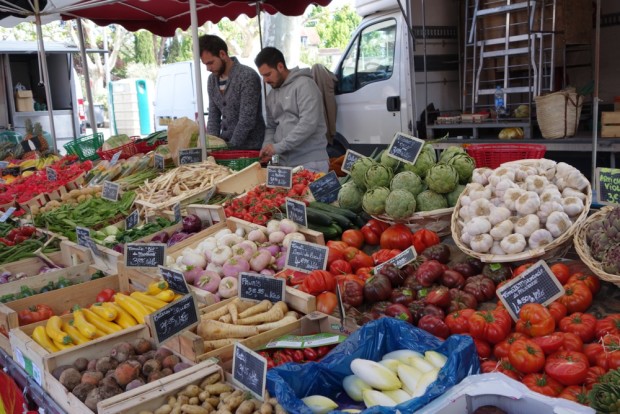 Tête à Tête with Marjorie Williams
When you show up at any market – how do you start?  What's your method for conquering the market?
I bring along a market basket, a small notebook, and camera. I scope out a portion of the market to see what looks best before I decide where I'll make my purchases. I usually make 2 – 3 rounds walking each market: Peruse. Purchase. Chat with vendors and snap some photos.
What's your favorite type of market?  Night markets?  Antique?  Farmer's?  Typical Provençal?  Tell us a bit about the differences.
I truly like them all. Check my book (pp. 3-5) for a description of the different types of markets in Provence.
Do you go knowing what you want to buy, or hoping to make discoveries?
I've learned to go to markets with an open mind and flexible shopping list. I learned this while shadowing a chef as he shopped at the Halles d'Avignon (covered market in Avignon). He had a loose idea of what he wanted to buy, but he allowed himself to be influenced by sellers' recommendations of what was particularly fresh or unusual that day. I've adopted that technique.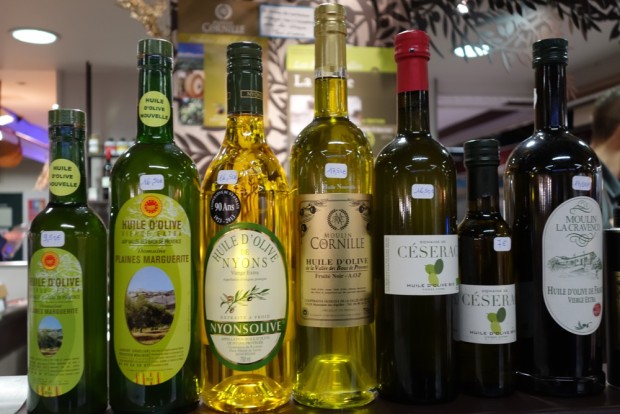 What are your food must-buy items you can get only in Provence (or are best bought in Provence)?  Best markets for them?
I always buy Provençal olive oils. Best to buy them at covered markets because they're sensitive to sunlight and outdoor temperature conditions. I also buy lavender soaps, honey from bees that have been feeding on local wildflowers, and Banon cheese.
What are your tips for picking the right vendor?  For choosing the right product?
Look for lines of customers. That typically indicates a vendor who is popular with the local residents, and they know best. Scope out a portion of the market to gauge where the produce looks the best, etc. before making purchases. Ask questions. Most vendors are knowledgeable and proud of the goods they're selling and happy to explain the differences. If not, move on.
How truly local are Provence markets nowadays?  How much is for tourists, and how much is true local purveyors – both in food, and in other items?
There are differences among them, and in the book I give a sense of each market's character and where it stands in terms of how much it's geared to tourists or to locals or to a mix. Most Provençal markets attract a combination of tourists and locals. They're not tourist attractions but instead a real part of local life.
Secrets for shopping like a local and not a tourist?
Go early when selection is at its best and parking is easier. It's okay to ask for a sample, such as with olives. Interact with sellers, and don't hesitate to ask questions. If you don't speak French, however, don't worry —going to markets is still easy and enjoyable. You don't have to be fluent to be comfortable there. You'll find many more tips in the book.
You also wrote a guide to the markets of Paris.  What are the differences between Paris markets and Provence markets?
There are more farmers selling at the markets in Provence, and a good portion of the goods are coming from the immediate area. For example, the most delicious strawberries, cherries, apricots, melons, goat cheeses, and so much more are grown in Provence. The food hasn't traveled far to get to the markets. The markets in Provence tend to fill the entire village or town, weaving up and down streets, taking sharp turns, and spilling into public squares. The markets in Paris are straightforward to navigate since they're usually a couple of consecutive straight blocks. These are just a few of the differences.
The Epicurean "Marketing!" Proust
1. What is your idea of perfect Provence market happiness?
A sunny day with a bright blue sky (as most days there are), a market with many local producteurs, and charming physical surroundings such as shady sycamores, a chateau in the background, or views of the Luberon.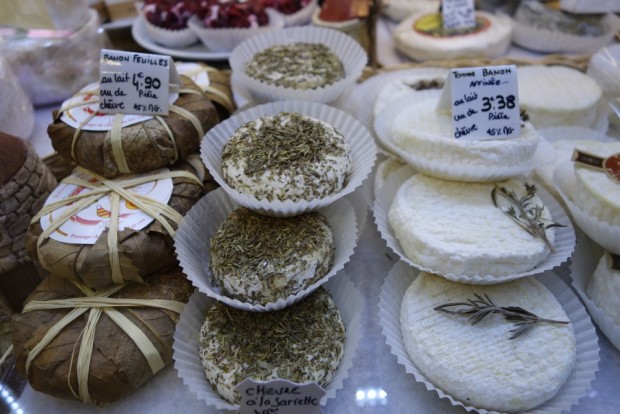 6. What is your greatest market extravagance?
Locally made pottery. And cheese, cheese, cheese. I consume a lot of it when I'm there.
13. What is the quality you most like in a market?
A relaxed atmosphere.
15. What is the greatest market love of your life?
Probably the one in Fontainebleau because that's where I first discovered—and fell in love with—French markets.
19. What do you consider your greatest Provence marketing achievement?
Narrowing down hundreds of markets to 30 that I consider the best. Also, finding a great parking space in Saint-Rémy when I arrived at 11 am on market day.
22. What is your most treasured market-bought possession?
A hand-woven market basket that I bought from a craftsman in Apt.
35. What is your marketing motto?
Go to another one tomorrow.
All market photos by Marjorie Williams.