I can't tell you what a thrill it is for me when Maille launches a new product, and I get the email that they I am invited to taste it.  I comes simply down to, I love Maille.  Their mustards have a sharpness that is all France — some American Dijons are too tame for me.  And strolling through their boutiques — there are now TWO in New York, at Lincoln Square and now in Flatiron — is like sampling the special perfumes at Chanel, but it's the whole store, and instead of smelling, you're dipping little wooden spoons into pots of fantastically named and hued mustards.  Exquisitely displayed, the mustards come in such an array of flavors that I immediately devolve from my Chanel-sniffing stance to full kid-in-a-candy store anticipation.  Even though the stores are so elegant, there is still a pervasive sense of whimsy and passion, and it is just such fun.  Especially when you pull your own mustard from the tap.
I first met Pierette, Maille's American mustard sommelier, a few years ago when Maille opened its first US boutique at Lincoln Center.  It was then that I first glimpsed her encyclopedic knowledge of and creativity with the flavored mustards — always telling me to put them in cocktails or desserts!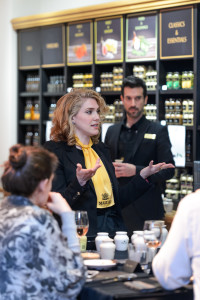 So I was delighted when a few weeks ago I was sat across from her at an intimate table of six at the new Flatiron store, as she walked me and five other food media types through Maille's new Create-Your-Own-Mustard class (click here to sign up!).  I know I'm totally geeking out on mustard, but I had the time of my life.  Little pots of ingredients from around the world were lined up and labeled on all the counters of the store.  The bar was pouring rosé.  Pierette gave me some base mustard, and then counseled me on making my own personal mustard — just like my own personal scent.  For me, that meant a provençal concoction of lemon and orange, fennel seeds, black pepper, and woody herbs.  The flavors may have been very French, but I have been eating it, as Pierette informed me, the American way — sitting on my couch in front of the TV out of its pretty stone jar with a bag of Splits pretzels!  Being Kerry!
I wanted you all to meet Pierette, because there is just no one out there like her.  If you love mustard and cornichons, as I do, you've just met your best friend.  She's engaging, spirited, and passionate about both Maille's inventiveness and heritage.  I wanted to learn a little more about her, and also to share with you her ridiculous ability to suggest perfect ways to use all of Maille's mustards.  It's dangerous — you will want to collect them all.
Pierette, your official title is Mustard Sommelier.  It's such a particular job, and you've told me it is your ideal one.  Tell us how you became a mustard sommelier – where did you start and how did you get here?
My career prior to Maille was in the beauty industry, but my passion outside of work was always around cooking and discovering new recipes and flavors. I used Maille, loved Maille, and was passionate about mustard!  When I knew Maille was coming to the U.S., I thought it was a great opportunity to combine one of my personal passions with my expertise in retail. The beauty industry (specifically fragrances) really prepared me for this role. I have collected perfumes for years and would spend hours sampling, smelling, and dissecting the elements that make up a great or just memorable fragrance. It is this ability to identify notes and flavors that really has made me successful in my role.
Besides being Maille's mustard sommelier, who is Pierette Huttner – sans mustard?
My other pursuits are also very artistic – I love fashion, art, music, and anything that pushes your creativity. I would describe myself as a curious person, so I love to discover and include new things in my life.
What was your sommelier training?  Sounds delicious.
My training was very intense! I had to learn to identify all of the types of mustard that we make and be able to speak to each unique flavor. I spent time in all of our boutiques overseas (Paris, London, Dijon) and worked with the team there to create pairings and tastings for our US customer base.
What did you discover about mustard that surprised you the most while training? 
Most surprising was how complementary it is with sweet dishes and desserts. The spiciness of mustard really complements sweet elements.
And, that there is such a rich history of mustard going back thousands of years!
Tell us about the differences in mustard culture between the US and France.  Maille has so many spectacular special flavors.  Which ones are unique to each country?
In the US, the use of mustard is more casual than in France. In France, it is common to find mustard used even in the most elegant of dishes. Here, it is more commonly found paired with very casual food like pretzels, sandwiches, and hotdogs.  We carry the same flavors around the globe, but I feel the flavors that best represent the US are rich and bold, like our Blue Cheese, Horseradish, and Dijon Originale White Wine Mustard on Tap.
You've told me that the founder of Maille was a scrappy entrepreneur (my words!).  How is Maille continuing that tradition of innovation today with such a legacy product?
It is a careful balance between retaining our 269-year-old heritage and retaining our relevance in a culinary world that is inundated with dozens of new or niche brands every year. We position the mustard in a way that is playful and elegant – like our Maille Mustard Mobile that traveled throughout the US, and new and unusual flavors like our Secret Garden of Chefs Collection, which is based in vegetables.
I love Maille mustard wholeheartedly – but I love the cornichons even more.  What's their story?
Everybody loves cornichons! They are a real treat. We harvest our cornichons within a peak period that ensures we are getting the most crisp and flavorful cornichons. In addition to our Classic and Gourmet Cornichons, this year we have introduced two new flavor variations at the boutique and on Maille.com: Caramelized Onion and Sundried Tomato. They are a perfect snack or as an accompaniment to a summer cocktail.
I found the Create-Your-Own-Mustard class at the Maille boutique in New York to be such an eye-opening experience.  The idea that you can create your own custom mustard out of fresh ingredients, like a signature scent.  For someone who can't make it to the class at the boutique, how can she make her own mustard at home?
I would start with identifying what you would like the end result to pair well with, like grilled fish or a vinaigrette to dress a salad. Make a list of your favorite flavors that could be add-ins. Love Tomatoes? Try, sundried tomatoes as an add-in. Or, are you fan of a particular cuisine? Check out what spices are commonly used. From there, I would go to your local farmer's market and see what is in season in fresh herbs. With those inspirations, you will definitely create an amazing mustard!
Mustard versus ketchup.  Tell us why mustard wins.
Mustard has been used for over 3,000 years in every culture from the Egyptians, to the Greeks, to Chinese. It has a long tradition of use in cooking and in a variety of cuisines. It is has endured due to the unique spiciness of the mustard seeds and the ability of mustard to amplify other tastes within a dish.
If you had to choose a favorite child, which Maille mustard would it be?
Wholegrain Chardonnay wins every time. So simple, so delicious and versatile. An everyday classic.
Instead of the Epicurean Proust, which I usually use to end my Tête à Têtes, I want to share with French Rev readers your uncanny ability to invent recipe ideas (including, impressively, desserts and cocktails) off the top of your head with the mere mention of any of Maille's many mustard flavors.  Here we go on some of my favorites…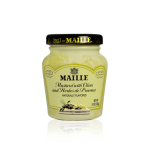 Olives and Herbes de Provence (one of my favorites, from the spring 2016 collection): 
I love grilled fish in the summertime so I would pair this with grilled mahi mahi.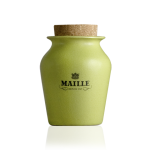 Rosemary Honey (another personal favorite, and currently on tap for summer 2016): 
Fried chicken and waffles….
Black Truffle (a seasonal specialty):  
Best secret ingredient in mashed potatoes ever!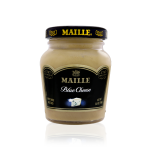 Blue Cheese: 
Wait! You are supposed to eat this with food??? If not, from the jar than I recommend it with a soft pretzel still warm from the oven.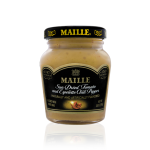 Sun-Dried Tomato, Espelette Pepper, and White Wine: 
Southwestern style scrambled eggs with lots of cheddar cheese.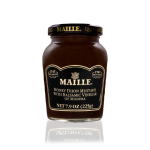 Honey and Modena Balsamic Vinegar: 
An easy hors d'oeuvre like drizzled on top of ricotta and fig crostini.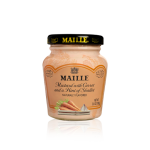 Carrot and a Hint of Shallot: 
Infused into sour cream on top of a great gazpacho.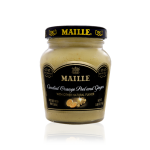 Candied Orange Peel, Ginger, and White Wine: 
I would toss this into a shrimp and rice stir-fry.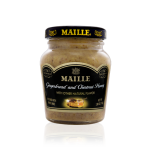 Gingerbread, Chestnut Honey, and White Wine: 
Clearly, this is a base for a decadent ice cream with crumbled ginger snaps on top.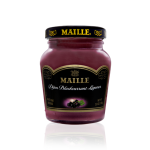 Dijon Black Currant Liqueur and White Wine: 
My top choice for bratwurst or any salty sausage.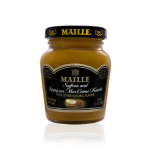 Saffron, Isigny Crème Fraîche, and White Wine: 
Warmed with butter in a pan for scallops. I always add a lot of garlic and fresh tarragon.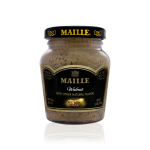 Walnut: 
Super fantastic baked into a banana bread loaf.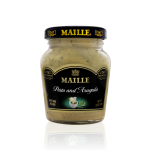 Pesto and Arugula Mustard with White Wine: 
A simple, last-minute brunch and so easy to prepare: mix into cream cheese and pair with a bagel, smoked salmon, and capers.
Maille's new Flatiron boutique is located at 927 Broadway (at 21st Street) – Phone: +1-929-335-6610.  Open Monday through Saturday from 10:00 A.M. to 8:00 P.M. Open Sunday from 11:00 A.M. to 8:00 P.M.  
The Lincoln Square boutique is located at 185 Columbus Avenue (at 68th Street) – Phone: +1-212-724-1014.  Open Monday through Saturday from and 10:00 A.M. to 7:00 P.M. Open Sunday from 11:00A.M. to 7:00 P.M.
Create Your Own Mustard classes are $59 and offered at both locations.  Sign up here!
Photos courtesy of Maille and Filip Wolak.
A huge thank you to Maille and Fraîche for letting me experience the Create Your Own Mustard class, and for making this interview possible.