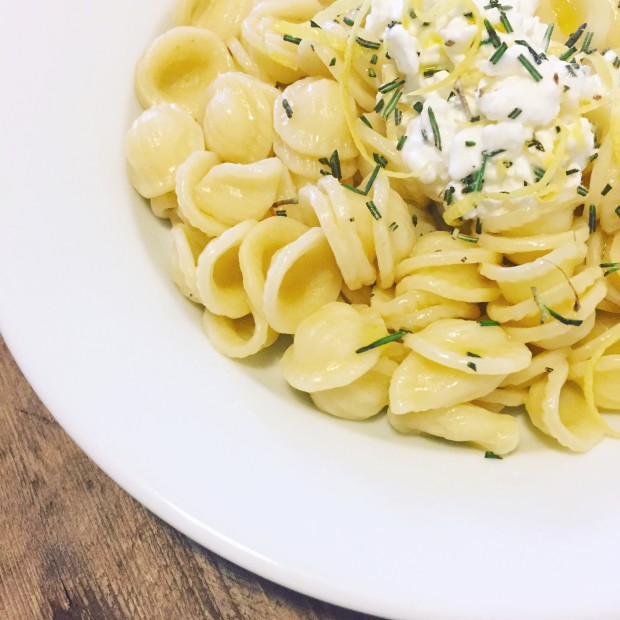 Mr. English and I came back from Puglia a few weeks ago.  The heel of the boot.  The Florida of Italy.  And while I love New York Italian food — or I thought I did before our trip — I am in acute withdrawal from real Italian pasta.
At our hotel, a masseria where all meals were (happily) taken on the premises, I was kept on a continuous drip of pasta.  But it wasn't red sauce pasta.  It wasn't Everests of Parmesan pasta.  It wasn't guilty or heavy pasta.
Instead, the Italian pastas reminded me a bit of those interesting marriages between two personalities — one that seems calm, beige, simple, and the other that seems brash, ebullient, technicolor.  Taken apart, you can't stand either, but together, you have the perfect dose of each.
So it was with my pastas in Puglia.  The pasta may have seemed like a blank canvas, but really it had its own interest.  Chubby little gnocchi.  Mustache twirls of trofie.  Greedy little orecchiette that gathered everything up in their little bowls.  And with these, a punchy pesto of zucchini flowers and summer garlic.  Raw halves of blush-hot cherry tomatoes.  Tangles of regal, bittersweet eggplant.  And that was it — just the two of them, with barely enough sauce to hold them together, or to pull them apart.
Then it was over.  The big skies and flat, shrubby land.  The white domed roofs.  The rustle of olive leaves, exchanging ancient gossip on the breeze.  Traded after a jet ride for hot concrete, glass, asphalt.  I sighed, and opened the fridge to whatever staples I had had to the foresight to order from Fresh Direct.
I love this pasta for being impromptu and unexpected, and kind of crazy.  And for being like those Italian pastas – light and punchy and summer.  I start with orecchiette, which I kind of believe goes with everything.  Although you could certainly use trofie, or anything that has that roughened, grizzled texture.  The sauce is just lemon juice and pasta water, whisked together with cold butter.  It is happy, and comforting – a salty yellow sweater.  To top it off, I mixed cottage cheese (yes, cottage cheese!) that I slightly drained with the zest of the lemon and chopped fresh rosemary.  You could definitely use ricotta in place of the cottage cheese, but I was using what I had, and I can't tell you how unexpected the cottage cheese works in here, holding its own, adding creaminess without dissolving into a cream sauce.  You have to try it.
Lemon Orecchiette with Rosemary...Cottage Cheese
serves 2 – 4 (realistically, depending on how hungry you are)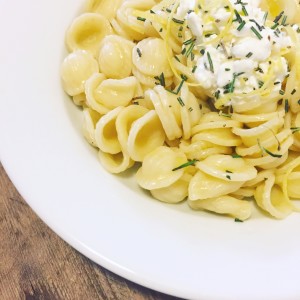 INGREDIENTS
1 1-pound box of orecchiette
1 lemon
2 twigs of fresh rosemary
1 heaping ½ cup of full-fat cottage
2 tablespoons of unsalted butter, very cold
METHOD
Cook the orecchiette according to package instructions in well-salted water until al dente. Reserve 1 cup of pasta water before draining.
In the meantime, zest and juice the lemon, and finely chop the rosemary. Stir the lemon zest and rosemary into the cottage cheese. It's up to you, but I love to drain my cottage cheese in a wide-mesh colander to dry it out a bit. Do that before you stir in the zest and rosemary!
In the same pot in which you cooked the pasta, add ½ cup of reserved pasta water and the lemon juice over high heat. Add the butter and whisk constantly until completely melted and incorporated. Takes a minute or two. Shut off the heat immediately, and stir in the pasta. Season with salt if it needs it.  Add more pasta water if it needs it.  Serve with the rosemary cottage cheese on the side, and spoon into the center of each plate of steaming pasta.
print this recipe