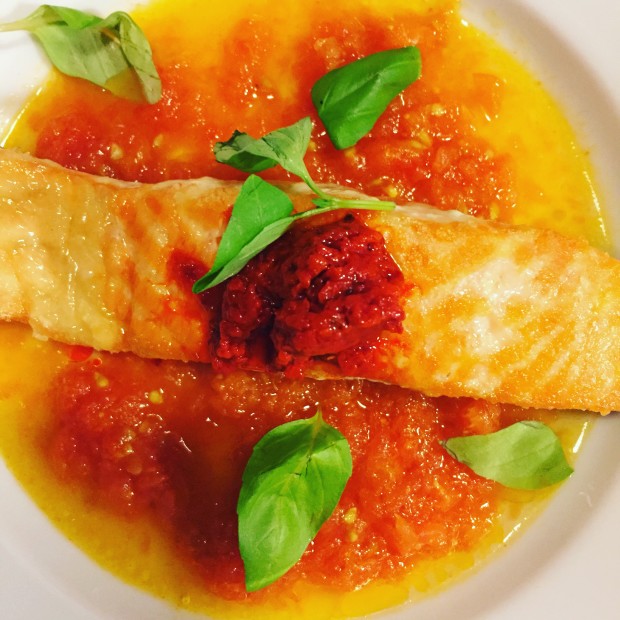 I'm a creature of habit, and when I find something I love, I love it.  I have worn the same black jumpsuit to nearly everything all summer.  Same with this dish – I can't get it out of my weekly rotation, and I would never want to!  Mr. English requests it.  He was gleeful when I made it Monday night.  My uncles were impressed – which impresses me – when I made a crowd-serving version in June.  It's become a signature.
I love it for three reasons.  One: it's so healthy, it's nuts, and few things leave me feeling this guilt-free.  Two: it takes exactly fifteen minutes to make, so I make it nearly weekly after work.  #bestwifeever  And three: it looks very Park Avenue, so I can serve it when people come over and bask in the compliments – even though, as I said, it took me fifteen minutes to make.  Oh, and four!  It makes use of summer tomatoes, which I love and wait for all year long.  Don't want those going to waste.
Ok, it's amazing – but what is it?  It's crispy pan-seared salmon fillets, seasoned only lightly with salt, nestled in a broth of fresh tomato, and topped with Calabrian chili paste and torn basil.  On the side, I serve a bowl of whole wheat couscous that steeps like tea in a bowl while I make the rest of the dish.
The salmon takes no effort.  I sear it in olive oil on both sides while I make the broth.  For the broth, I cut the tomatoes in half, and grate them on a box grater.  This is truly a revelation.  The skin stubbornly refuses to be grated, so you end up with a pile of perfect summer tomato flesh in thirty seconds, and the tomato peel sails into the trash.  I add some olive oil to a small saucepan, and add a whole clove of garlic.  When it's golden, I add in the tomato flesh and some salt, and just cook it as long as it takes you to finish cooking the salmon.  I'm a weirdo who likes my salmon cooked all the way through, so that's about 10 minutes.  The sauce is still fresh, but the raw edge is gone, and it's breathtaking.  I serve it to my mom on zucchini noodles.  It goes with gnocchi.  It's the best.
I serve it in wide, shallow bowls.  I spoon in the tomato broth, throwing away the garlic, which has already done what it set out to do.  Then, I settle the salmon in the middle of the warm broth.  I spoon just a dollop of Calabrian chili paste, spicy and full of olive oil and from the south of Italy, on top, and confetti on some basil (try tiny leaves of Greek or global basil, if you can get them).  The chili paste has a great flavor – I smear it over the fish, but you could also mix it into the broth.  It's hot hot, so tread lightly.  The couscous is optional, but it really takes no work (just pour boiling water and a pinch of salt over the dry couscous in the serving bowl, and cover with plastic wrap for five to ten minutes), and it adds a nice heft the dish – plus it soaks up the extra broth like it was born to do it.  But baguette would work, as would a cool heritage grain, like farro.
That's it!  For a crowd, I serve the broth and chili paste on the side, and roast a whole side of salmon in a low oven (325 degrees), scattering basil over the top before serving.  Then everyone can construct their own bowls.
In my mind, the perfect dinner for two.
Crispy Salmon with Fresh Grated Tomato Broth and Hot Hot Hot Calabrian Chili Paste
serves 2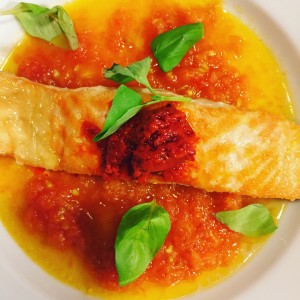 INGREDIENTS
3 tablespoons olive oil
1 clove of garlic, peeled and whole
2 beefsteak or 3 vine-ripe tomatoes
2 6-ounce fillets of center cut salmon
Calabrian chili paste – as much or little as you want
Fresh basil leaves – any kind you want
METHOD
In a small saucepan, add 2 tablespoons of olive oil over medium heat.  At the garlic clove, and saute gently until golden brown.  Meanwhile, half the tomatoes, and light squeeze the halves over the sink to get rid of some seeds.  On the coarse side of a box grater, grate the tomato halves, skin-side-out.  Add the tomato pulp to the olive oil and toasted garlic clove.  Season with salt.  Leave to bubble uncovered, gently.
Season the salmon with salt.  Heat the remaining tablespoon of oil in a 10-inch nonstick skillet.  Sear the salmon, skin-side-up for 5 minutes, then flip and cook 3 to 5 minutes, depending on how cooked you like it.
Spoon the tomato broth into two wide, shallow bowls.  Place one salmon fillet in each.  Top with an angry dollop of chili paste.  And tear basil leaves over the whole thing.  Done!
If you want to serve the couscous, put 1 cup of whole wheat couscous in a serving bowl with a drizzle of olive oil and a good pinch of salt.  Use a fork to mix it all together.  Then, pour over boiling water or vegetable stock, or a mix of both – 1 ¼ cups total.  Cover with plastic wrap.  Do this first, and the couscous will be perfectly fluffy by the time everything else is done.  Just fluff with a fork, and serve alongside.
print this recipe