New Year's Eve is my favorite holiday. I love the start-over aspect. The fresh go. The grown-up's back-to-school blank slate. I was laughing to myself this morning how after spending my teen years growing up in Florida, a decade ago I would have been found nowhere else other than some overpriced Miami club tonight. Now, I prefer to stay home. Make dinner. Make plans. There's no looking back – only the hopeful anticipation of what's to mene.
I rarely cook an Eve dinner without truffles. Their smell always precedes the oohs and ahhs of "truffles!" – they feel festive and luxurious and, of course, auspicious. More often than not I do a kind of truffled pasta alfredo, but this year, I'm going for stovetop truffled mac and cheese.
There are a number of reasons. First, Maille sent me a beautiful black and gold stoneware jar of Black Truffle and Chablis Mustard into which I have been furtively dipping shards of broken pretzel while standing in front of an open fridge for weeks. Time to put the stuff to use in something more worthy of it (although, really, I have never had such delicious pretzels or open-faced grilled cheeses in my life).
Second, and this speaks to why I'm doing stovetop mac and cheese, I find that the baked version can be a little unforgiving! If you don't time it perfectly, it can seize up, go dry. One of my goals for 2017 is definitely to de-stress, to go easy, to forget about the unforgiving. So instead, I created an easier (I think) version that mixes happy, fat rigatoni with a blanketing cheese sauce, stuffed with sharp white cheddar and pecorino, and punctuated of course with that black truffle mustard for a hum of earthy sharpness. And if you need to slightly reheat the mac and cheese because it's a party, and your timing is off, just add a little milk and reheat it. It's so forgiving and consistently creamy and oozy and good.
Of course, I can't forget the crunch of the top layer of traditional mac and cheese; instead, I toast breadcrumbs on the stove, with pecorino and parsley and truffle oil. These, you can sprinkle on each plate as you serve. Voila. As easy and delicious as I hope 2017 is for us all!
Happy New Year!
Easy and Lux Stovetop Mac and Cheese with Truffles and Mustard
serves 8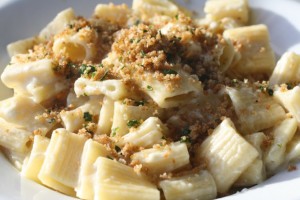 INGREDIENTS
2 lbs mezze rigatoni rigati
2 tbs unsalted butter
2 tbs all-purpose flour
2 cups milk
½ lb grated sharp white cheddar cheese
¾ cup finely grated Pecorino Romano
1 tbs Maille Black Truffle and Chablis Mustard (NOTE: if you do not have truffle mustard, just use regular Dijon mustard and if you like, replace the butter in this recipe with black truffle butter)
1 cup half and half
CRISPY TRUFFLE BREADCRUMBS
2 tbs unsalted butter
¾ cup panko breadcrumbs
¼ cup finely grated Pecorino Romano
2 tbs finely chopped flat leaf parsley
1 tbs truffle oil
METHOD
Boil the pasta to al dente (follow package instructions) in salted water. Drain.
In the same pot, melt the butter. Whisk in the flour. Cook over medium heat until bubbling – 1 – 2 minutes. Whisk in the milk. Cook until sauce coats the back of a spoon. Whisk in cheeses and mustard and half and half. Taste for seasoning and salt as needed.
Meanwhile, make the breadcrumbs. In a small skillet, melt the butter. Add the breadcrumbs and cheese and season with salt. Toast for about 5 – 7 minutes, until the panko is golden. Take off the heat and let cool.
Toss the pasta with the cheese sauce. If it's really thick, thin out with more milk as needed.
Finish the breadcrumbs by mixing in the parsley and truffle oil.
Serve a big bowl of hot, oozing pasta, and top with the crunchy crumbs.
print this recipe