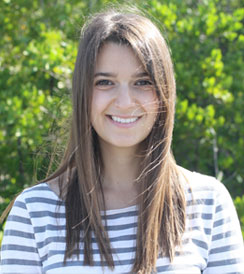 Bienvenue
My name is Kerry, and I was born some time ago in New York City, to a mother with a French accent and a father with one from Brooklyn. Growing up in Manhattan, I couldn't have had a better food education. With my father, I would tour the restaurants, from the corner pizza place to 21. And at my mom's kitchen table, I would stuff myself on French comfort food, from her famous slow-roast duck with fresh hand-cut French fries to her stinky cheese tartines. I was an eater, and when I burned my first steak in an apartment broiler fire at around age 5, I became a cooker too.
I started this blog in 2008 because I love to write—true, and simply put. I knew I wanted to write cookbooks someday, but where to start? The blog was a suggestion from my boyfriend, affectionately known to readers and friends alike as Mr. English. I called it French Revolution because I wanted to write recipes, and memories, of the kind of French-American fusion on which I grew up, to reverse the idea that so many of us have that French food is hard and complicated. Since then, the site has grown into so much more, as I get to share the places I've seen, the foods I've tried, and the recipes I write to fit not only my past, but the present, as a busy twenty-something in a bright city with a big appetite and a small amount of time.
I know everyone can cook—and should cook. Food, for me, is a Hansel and Gretel trail back to home: the home in which I grew up, and the home I make now. And it doesn't matter how many hungry birds devour my crumbs—so long as I can bake the bread, I will always find my way back. I hope you enjoy this blog, and that it gets you in the kitchen. Bon app!