GIVEAWAY!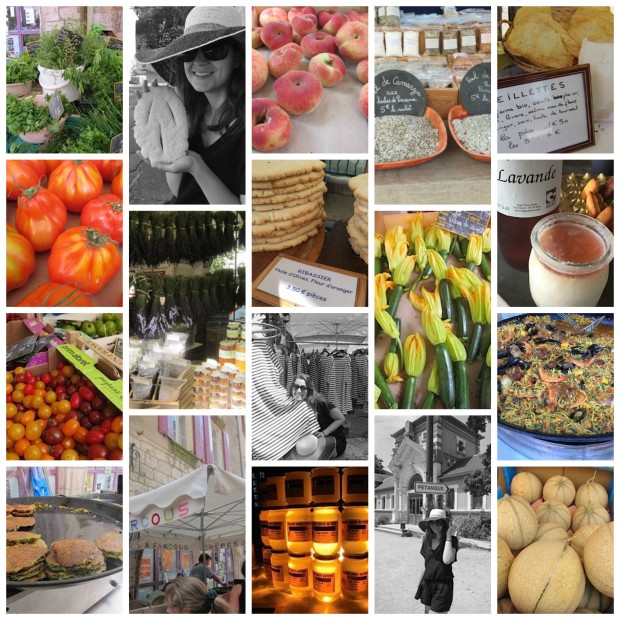 Each year, this is when I start plotting.
I am going to France.  I have limited time, and limited Euros.  How am I going to spend both?
I make a list of what I need.  Or want.  I have difficulty with the distinction when I'm in France.
From the big stores:
I weigh up extravagances (Celine!  Goyard!  Repetto!  Saint-James!) and ponder FX and VAT.  Mentally, I start packing the giant black Longchamp pliage carry-on that I fold up and tuck into my suitcase for this express purpose: carting treasure.
But I always – physically, mentally, financially – leave a little room for markets.  For someone who spreadsheets her vacation, the markets in the South of France are where I truly enter another world, Narnia-like, stepping away from the New York minute, and living in another time.  I cannot plan.  I cannot online shop/stalk.  I can't come back tomorrow.  I can't think about it.  I can only show up and marvel and exclaim.  I can only see and to act.  These oases, springing up from and deflating back into nothing – parking lots, squares, black-tarred streets – are my paradise.  Like water holes in an at-times isolating modern life, Provençal markets are complete anachronisms to me – and I delight in them.  Towns still gather.  Vendors still specialize.  You can truly still find treasure – both in what you bring back, and in the experience of just being there.
Last year in Eygalières, I discovered gibassier, a giant cookie made from olive oil and orange flower water (my two favorite things).  It took me two days to eat.  In Cordes-sur-Ciel, I met a man selling glass bottles of amethyst-hued syrup, steeped with the lavender on his land.  I poured it over yogurt each morning, stirred into wine and Perrier, and yes, carted the rest home wrapped in a t-shirt.  It's still in my fridge.  In Saint-Rémy-de-Provence, I bought a shallow white-glazed ceramic bowl for baking brie.  A basket to hold fruit with a net that pulls over it.  A gray Provencal-patterned breadbasket.  Another hand-woven wooden bread basket (I needed both!).  An olive wood board.  In Vence, vintage Lanvin ads that hang on my wall.  And a little portrait of the port where my mother was born.  I gathered the diaphanous colored plastic bags under arms, from wrists, hinged into elbows.
Mr. English hates this.  He sits in a café with a coffee and an English paper watching the town pétanque game out of the corner of his eye.  I meet him periodically to drop a package or have a Perrier or use the bathroom.  During my peregrinations I pick up a baguette, some saucisson, weeping melons de pays, caviar d'aubergine, and afterwards we find a tree and sit and "pique-nique" – we have a little Laguiole knife bought at the market in Sarlat for just such an occasion.  It is a time out of time.  The bees hum their tune.  The mistral whistles.  We dream of it all year.  My fingers feel electric just typing about it.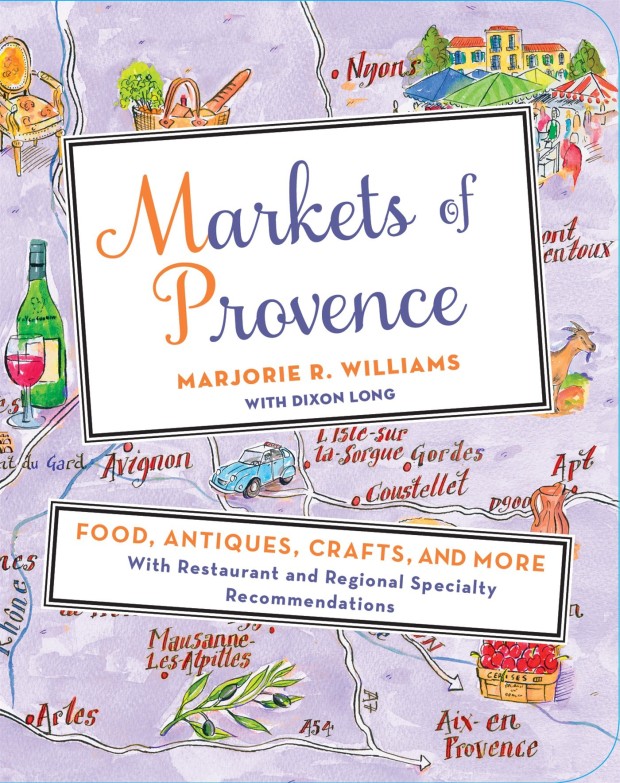 There is one thing that can ruin this perfection: missing the markets!  I'd show up in a town for two days, and find out the market was yesterday.  Then a few weeks ago, in the mail I received Markets of Provence, by Marjorie R. Williams.  I couldn't believe it – someone had written the provençal market bible.  There it all was: Eygalières (Friday) on page 199, Saint-Remy-de-Provence (Wednesday) on page 117.  And all the rest of them!
The book is brilliantly sorted by day.  So if it's Monday, you can look for the market near you.  You can see what the specialties are – is it food or antiques or bric-a-brac or art or craftsmanship?  What shouldn't you miss?  Who are the producers?  Now I will never experience FOMM – Fear of Missing Market – again.
Marjorie will be joining us on May 3 for a special interview.  I can't wait!  Until then, pre-order Marjorie's book here.  And, thanks to Marjorie and her publisher St. Martin's Press, two lucky readers will receive free copies of Marjorie's book.  Head over to Instagram and Facebook to find out how!
More more on traveling in Provence, visit my Papiers Provence!