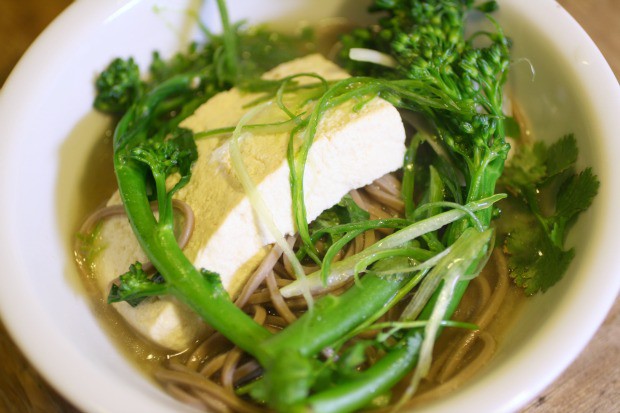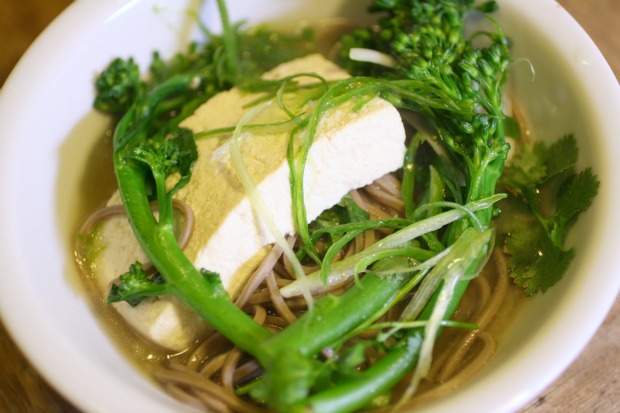 I always want to eat everything. Fondue? I'd swim in the pot! Steak. Butter! Cake. Nests of pasta that I could curl up in. But the truth is, as I get older, some the foods I love just don't love me. It's a head-heart battle. My head says, Kerry, stop. You'll be sick. My heart says, this is what you love. Love trumps all.
I think some part of every one of my New Year's resolutions is to grow up. Is growing up using your head more than your heart? It sounds sad, but actually, maybe it's just wise (and maybe that's why wisdom is always tied up with long beards and gray hair). This January, my mom and I resolved to grow up by doing one month "vegan + fish". There are a number of reasons for this.
Some people go dry in January to prove to themselves that they control alcohol, and that alcohol doesn't control them. I need to do the same – but with my appetite.
I was vegetarian from the age of six to 18, and ever since then I've been experimenting with various combinations. I feel best when I cut out dairy (or cut down), and when I add in a little bit of lean protein. Hence, vegan + fish. The same is true for Maman.
And because I often find a lot of creative freedom in restriction. Necessity is the mother of invention.
I'm notoriously easy to tempt, but I'm going to do it for one month. If vegan + fish makes you feel good too, I hope you'll do it with us. Deprivation is always easier together.
I was in Whole Foods and I saw in the boxed broth section a miso broth – I'd never seen it before, and I immediately thought, I'm going to like that. I love Japanese noodle soups, so I simmered the broth and added a few simple things: buckwheat soba, grassy broccolini, crispy baked shitakes, and crumbly steaks of tofu. A few scallions and cilantro leaves on top. I subsequently sat down to three bowls. What I especially love about this recipe is I can make all the components on a Sunday night, then just simmer my broth any night during the week when I want to eat it, and go from there. Would make a brilliant dinner for when Mr. English is away.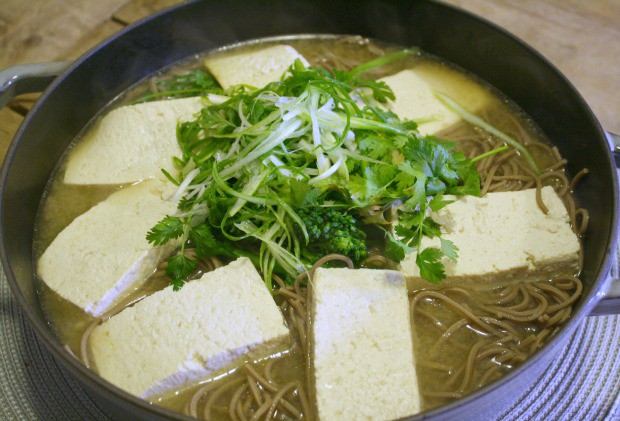 Bon app!
Good-For-You Soba Noodle Soup with Miso, Broccolini, and Charred Shitakes
serves 3ish
INGREDIENTS
1 box of fresh shitake mushrooms, stems discarded (about 10 – 15 mushrooms)
1 14-ounce block extra firm tofu, drained on a paper towel and sliced into 8 slices
Olive oil
1 bunch broccolini, ends trimmed
1 8.8-ounce package soba noodles
1 32-fluid ounce box miso broth (4 cups – I buy this in a carton from Whole Foods)
2 scallions, finely sliced
1 small handful cilantro leaves
Soy sauce for serving (optional)
METHOD
Preheat the oven to 500 degrees F. Bring a pot of water to a boil.
Line a rimmed baking sheet with parchments and place the mushrooms and tofu slices on the sheet. Drizzle with a small amount of olive oil and sprinkle lightly with salt. Use your hands to distribute the oil and salt on both sides of the mushrooms and tofu. Bake for about 10 minutes – this doesn't need to be exact – you just want the mushrooms and tofu to be just cooked through and beginning to go golden at the edges.
Meanwhile, salt the boiling water. Blanch the broccolini for one minutes, then remove to a strainer and run under cold tap water to keep it bright and crunchy. Boil the soba according to package instructions – mine takes 6 minutes. Drain and run under cold tap water so the noodles don't go mushy.
In the same pot add the miso broth and bring to a boil. Add in the noodles and broccolini to warm through, and arrange the tofu and mushrooms on top. Mound the fresh scallions and cilantro on top of it all, in the center of the pot. Serve piping hot!
print this recipe